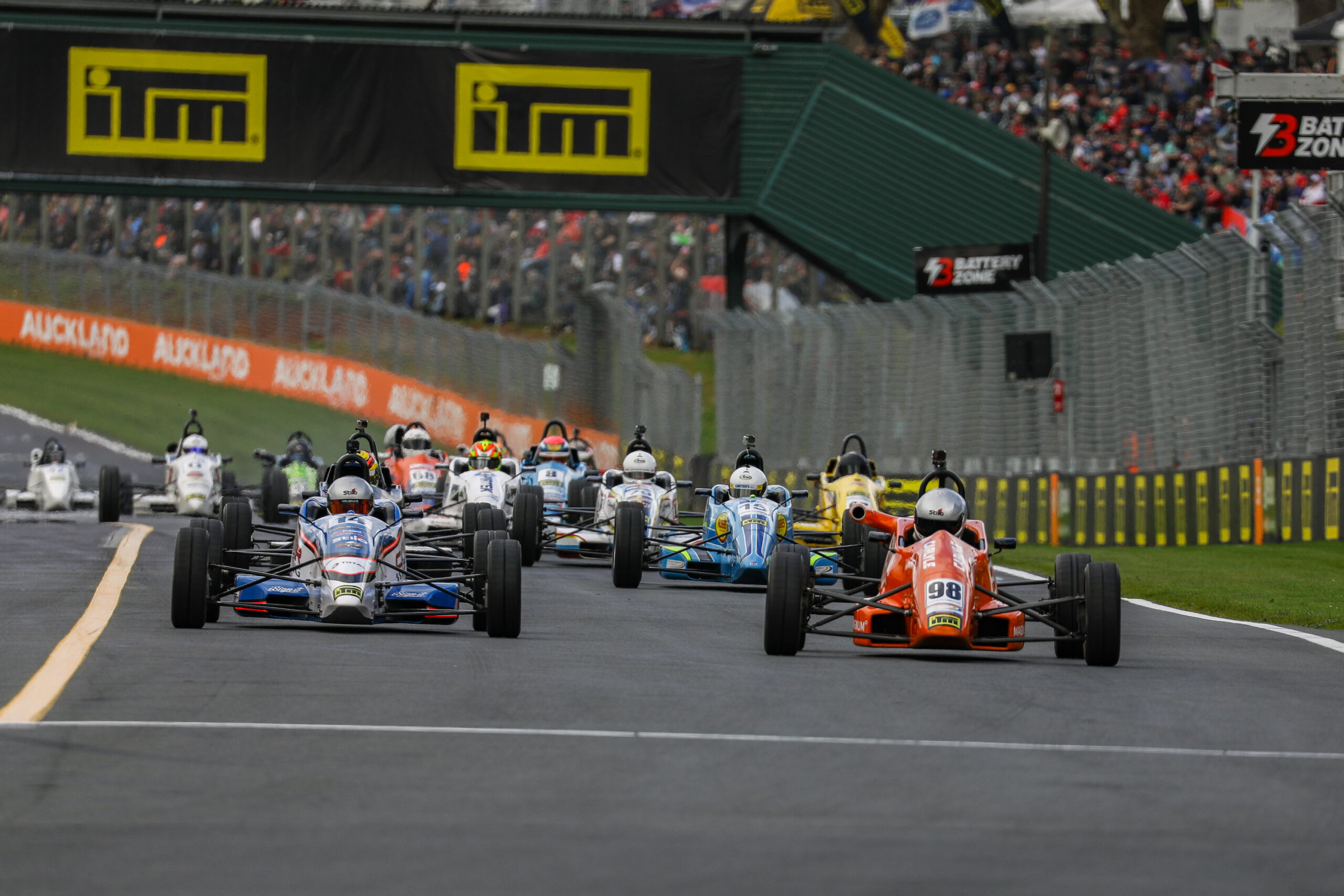 Billy Frazer wins weekend finale as James Penrose establishes championship lead
Billy Frazer has backed up his win in yesterday's race two with a dominant win in the third and final race of the opening weekend of the 2019/20 ITM NZ Formula Ford Championship. But it was James Penrose who walked away with the early championship lead.
Penrose, starting from the second grid position, got the initial jump over the pole-sitting Frazer. The duo ran side-by-side through the first turn before Frazer took the lead into turn two.
The turn five-six complex was again home to contact as Ronan Murphy was unfortunately collected by Brody McConkey. The nose-to-tail effect of the cars in front saw Murphy slow up more than usual. Murphy sustained rear suspension damage that would end his race while McConkey marched on with bent front suspension.
Frazer had checked out by the second lap and at the same time, the great battle for second emerged. Zac Stichbury, Callum Crawley and Kaleb Ngatoa all wanted the position of second place from Penrose. Ngatoa was first to take the fight to Penrose, grabbing second on the third lap before running two-wide and making slight contact halfway around the corner on lap four.
The four drivers then ran two-by-two over the mountain, exciting the large crowd. The final lap saw Crawley dive down the inside of Penrose at turn one, the manoeuvre saw Crawley get right out sideways at the bumpy high-speed corner. The move was ultimately unsuccessful.
Penrose would claim the second position with Crawley rounding out the podium in third. Stichbury claimed fourth over Ngatoa in fifth and Thomas Boniface in sixth. Blake Evans grabbed another top ten with seventh place ahead of Cameron Tanner, Bailey Paterson and Alex Hawley.
Jordan Mountfort, Andrew Mcinnes and Kieth Miller rounded out the field while McConkey failed to finish after he ran off due to his damage.
Penrose has established a small seven-point lead in the ITM NZ Formula Ford Championship over Frazer. Stichbury sits in third, 30-points from Penrose with Crawley and Ngatoa filling the remainder of the top five. Penrose leads the Class 2 honours as well over Paterson and Tanner.
2019/20 ITM NZ Formula Ford Championship Standings (Top 10):
James Penrose – 211pts
Billy Frazer – 204pts
Zac Stichbury – 181pts
Callum Crawley – 165pts
Kaleb Ngatoa – 131pts
Blake Evans – 123pts
Bailey Paterson – 113pts
Cameron Tanner – 100pts
Andrew Mcinnes – 94pts
Ronan Murphy – 93pts
1st = 75pts, 2nd = 67, 3rd = 60, 4th = 54, 5th = 49
Photo: Taylor Burke
Media release: Jordie Peters