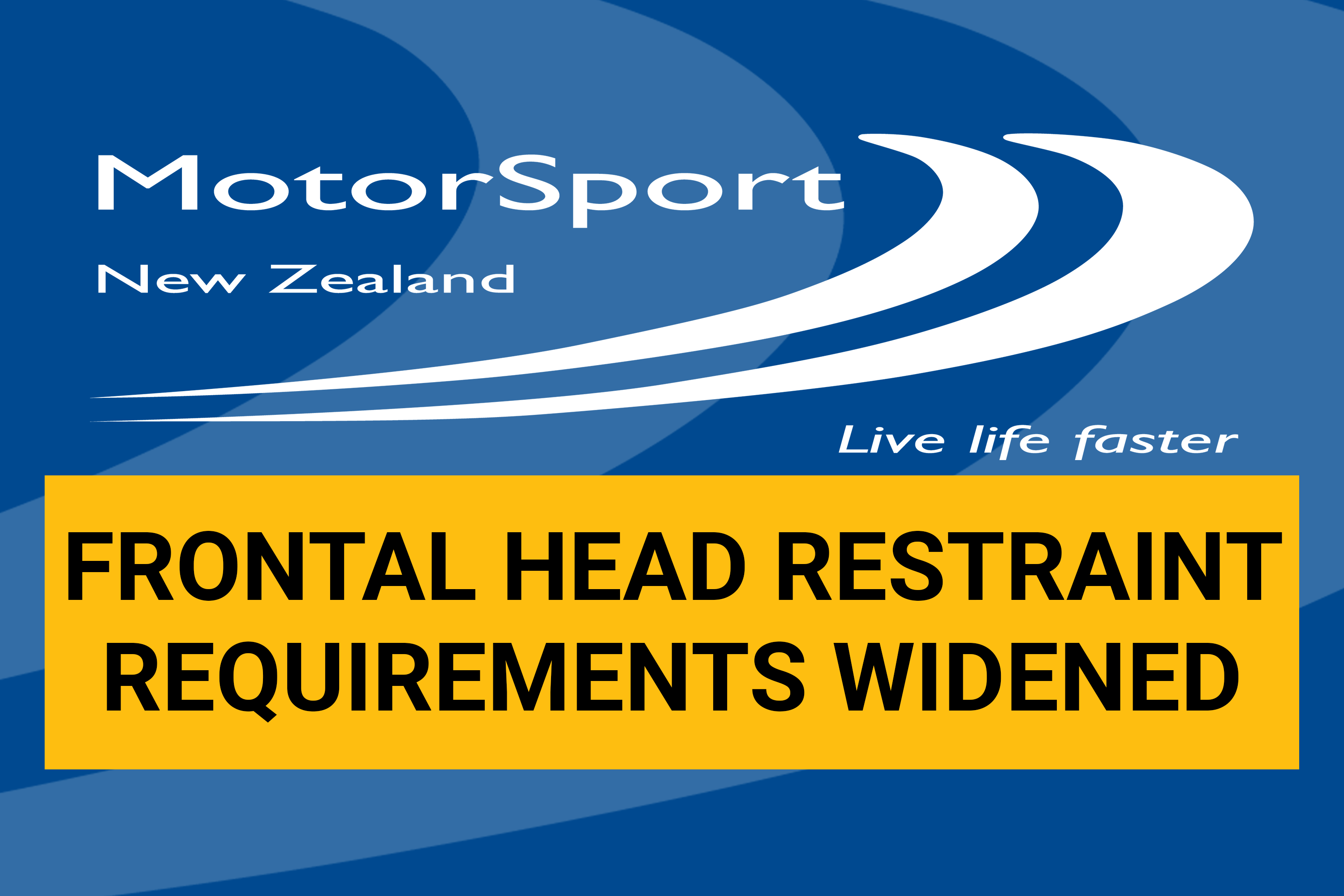 Frontal Head Restraint requirement widened
MotorSport New Zealand has widened its requirement for competitors to use a Frontal Head Restraint (FHR) system in competition vehicles. An amendment (#36048) to Schedule A of the MotorSport Manual issued on 15 July 2022 outlines the phased introduction of the new FHR requirements.
The Frontal Head Restraint is designed to stop a driver's head from violently moving forward during an impact. This safety device is now an incredibly common part of motorsport safety globally and has without a doubt saved countless lives and prevented equally as many serious head, neck and spinal injuries, even during relatively low-speed impacts. The FHR works by limiting the lateral movement of a competitor's head during a frontal impact.
Currently, MotorSport New Zealand requires the use of a complying FHR device for all 'National Race' and 'Championship Rally' and higher event permit grades in New Zealand. The new requirements will be phased in from now until 1 January 2024 as follows:
From 1 January 2023: FHRs will also be required for all 'Clubmans Rally' event permit grades.
From 1 January 2023: FHRs will also be required for all 'National Rally' event permit grades.
From 1 May 2023: FHRs will also be required for all 'Clubmans Race' vehicles with a safety cage.
From 1 January 2024: FHRs will also be required for all 'Rallysprint' event permit grades.
FHRs will remain recommended for all ClubSport Basic & Advanced events
Note: FHRs will not be required in Clubmans Race vehicles that do not have a safety cage. However, it is highly recommended that all vehicles without a safety cage install the minimum safety equipment, detailed below, to install a FHR system.
WATCH: A real-life, side-by-side example of the effectiveness of an FHR device in a low-speed frontal impact. Watch how much the driver's head moves forward compared to the co-driver.
Two common FHR systems are the 'HANS' device and the 'Hybrid' device. These are the only two FHRs approved for use by the FIA. MotorSport New Zealand also permits competitors to use FHRs that comply with SFI – Spec 38.1, which essentially adds the 'NecksGen' device to the eligibility list in New Zealand.
Note: for all FIA sanctioned events/championships such as the World Rally Championship, Asia Pacific Rally Championship and Toyota Racing Series only FHRs that meet the FIA standards are permitted (HANS & Hybrid).
If you do not currently use an FHR system, you may need to install additional safety items in your vehicle in order for an FHR system to be used. The minimum hardware compatibility requirements for an FHR device are:
MotorSport New Zealand homologated harness bar behind the driver's seat
4-point safety harness correctly anchored as per Schedule A (5 or 6-point safety harness HIGHLY recommended)
Seat, harness and FHR installed as per FIA guidelines
MotorSport New Zealand's Technical Department is available from 9am-5pm on weekdays to answer any questions you may have or offer guidance and advice about implementing an FHR device in your vehicle. You can contact them by either emailing technical@motorsport.org.nz or phone 04 815 8015 (opt. 2).
SEE BELOW: Some useful information from the FIA about the popular HANS and Hybrid FHR devices.
Click to watch how to correctly use a HANS device
Click for more information on HANS devices and installation guidelines
Click to watch how to correctly use a Hybrid device
Click for more information on Hybrid devices and installation guidelines
---