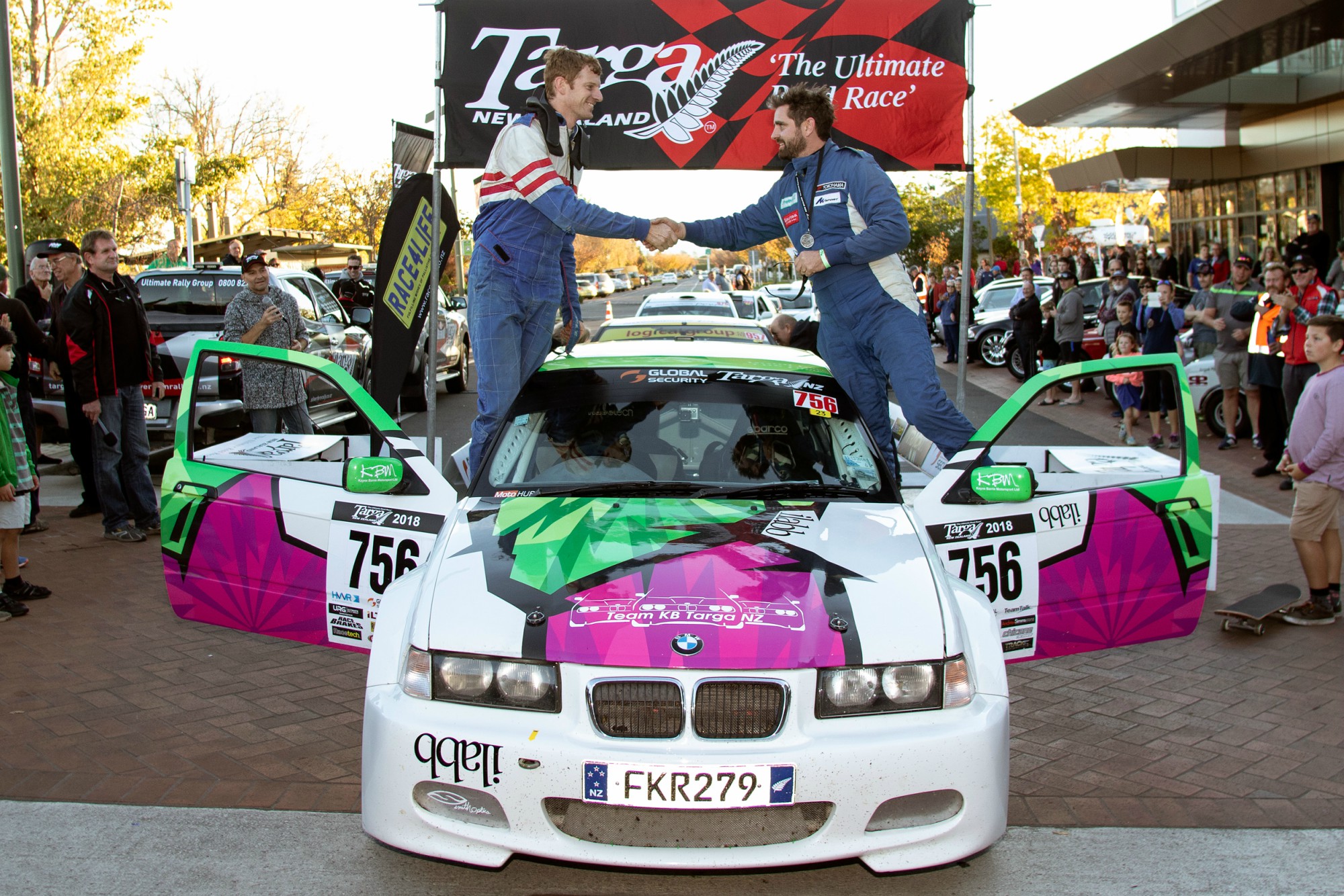 WILL EXTRA DAY AGAIN MAKE A DIFFERENCE TO FINAL RESULT OF TARGA HAWKE'S BAY EVENT?
As competitors in this year's three-day Targa Hawke's Bay tarmac motor rally gather at documentation and scrutineering in Rotorua today the question many are still asking is 'what sort of difference will the extra day make this year?'
For those who are either new to marathon-style motor race events, or have yet to tackle anything longer than a two-day Targa Rotorua or the first two-day Targa Hawke's Bay event, the answer is either 'a lot' or 'a little.'
For veterans of event organiser, the Ultimate Rally Group's annual five-day Targa New Zealand event held in late October and early November each year, however, the answer more often than not is a knowing wink and a 'you'll have to wait and see!'
Certainly the extra day made a big difference to the final result of last year's Hawke's Bay event, the first to run over three rather than two days, with long-time event leaders Martin Dippie and Jona Grant (Porsche GT3 RS) running off the road on the very last stage and handing the lead and event win to Auckland pair Steven Kirk Burnnand and co-driver Mike Hay in their BMW 318ti.
Despite that the general feeling amongst Targa regulars was that adding a day was a good idea so when the CEO and Event Director of the Ultimate Rally Group, Peter Martin, was looking for ways to highlight the fact that this is the 25th year Targa events have been held in this country, as well as focus the attention of competitors and motorsport fans alike on the Hawke's Bay event's new sponsor, Waikato and Bay of Plenty Mitsubishi motor vehicle dealer The Piako Group, he decided to do it again; albeit with a twist.
"Prior to us running our Hawke's Bay event we obviously had built up a strong relationship with councils, businesses and property owners with our Rotorua event, which in that time operated on both sides of the Mamaku and Kaimai Ranges, just as The Piako Group does today. So it didn't take too great a stretch to come up with the idea of basically taking the best bits – the roads, the scenery and the special ambience from each separate two-day (Rotorua and Hawke's Bay) event – and combining them to make an absolute cracker of a three-day one."
The result – starting in Rotorua tomorrow (Friday (May 17) is three full days of competition covering over 440kms of closed special stages and 700km of touring through the central North Island before a ceremonial finish under the Targa arch in Havelock North on Sunday (May 19).
On Friday the close to 80-strong (48 across the competition classes and 30 in the concurrent but non-competitive Targa Tour) field will travel across the Mamaku Ranges for stages in the south and central Waikato before returning to Rotorua for the first overnight stop.
On Saturday the field then completes some traditional 'Targa Rotorua' stages on the eastern side of the Mamakus in the morning before heading south via Taupo and Turangi for the first of the afternoon stages over the Gentle Annie road which brings them to Hawke's Bay and the second overnight stop at Havelock North.
Sunday is then spent criss-crossing Hawke's Bay, before the traditional – and always popular – return to Havelock North down Middle Road mid-afternoon.
Last year's two-day Targa Hawke's Bay event winner, Steven Kirk-Burnnand (BMW 318ti) this time has brother Carl co-driving, and starts as event favourite, though as usual they are up against any number of similarly credentialled pairings.
Included in that list are fellow Aucklanders Leigh Hopper and Michael Goudie (Subaru WRX), David Rogers and co-driver Aidan Kelly (Mitsubishi Evo 10), Jason Gill and Mark Robinson (VW Polo R) and the now Queenstown-based Targa veteran Clark Proctor and co-driver Sue O'Neill (Nissan GT-R35)
There will also be real interest in another Auckland pairing, Haydn Mackenzie and his co-driver Matt Sayers (Mitsubishi Evo 10), who made such a strong impression in the main Targa NZ event in the South Island last year.
The HW Richardson Group Classic class, meanwhile, is expected to again be a battle to the wire between the E30 model BMW M3 of Wellington son and father Mark and Chris Kirk-Burnnand and the AE86 Toyota Corolla of Palmerston North driver Rob Ryan and Auckland-based co-driver Paul Burborough.
The Targa Tour has also again proved popular with the owners of exotic sports, luxury and performance cars, with Porsche the most popular marque with 10 entered, followed by BMW with four, Audi three and Alfa Romeo and Ferrari one each.
Once they complete the new three-day Targa Hawke's Bay event this month the country's tarmac rally specialists will then focus their efforts on preparing for the full five-day 25th anniversary Targa New Zealand event which starts in Taupo on October 29 and is set to finish in Palmerston North on Saturday November 02.
Targa New Zealand events are organised by the Ultimate Rally Group with the support of sponsors AndrewSimms.co.nz, Chicane Racewear, Global Security, HW Richardson Group, NZ Classic Car magazine, Race Brakes, Race4Life Trust, Racetech, TeamTalk, The Piako Group, TrackIt, and Writeraze.
For more information go to www.targa.co.nz.
CAPTION: Stephen Kirk-Burnnand and co-driver Mike Hay (#756 BMW 318ti) won last year's two-day Targa Hawke's Bay event.
Photo credits: Fast Company/ProShotz
Prepared by FAST COMPANY on behalf of the Ultimate Rally Group.