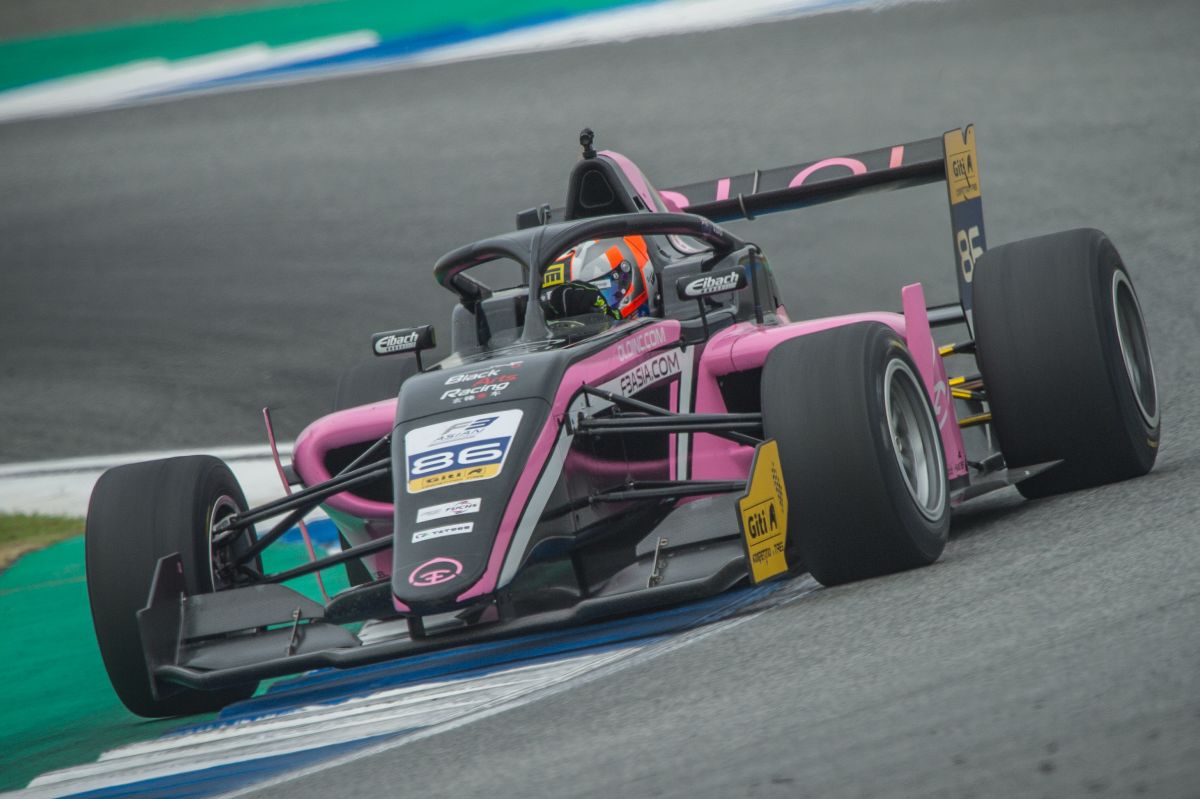 "WE'RE HEADING IN THE RIGHT DIRECTION" – LEITCH
A challenging weekend in Thailand saw Kiwi Brendon Leitch drop out of the top three in the championship chase for the 2019 Asian F3 title, but there were still plenty of positives for the young Kiwi to take away from the second round.
A fifth, a DNF and a fighting third left him fourth in the points after the weekend, but the Dayle ITM backed driver – who is dovetailing his Asian F3 campaign with BlackArts Racing alongside a works drive in the Lamborghini Super Trofeo Asia this season – sits just a single point behind third placed Daniel Cao.
The Invercargill racer had a lot to contend with over the weekend – from a 10 second time penalty in the first race to a DNF in the second race while fighting for a podium and then a near zero to hero victory which didn't quite pan out how he wanted due to escalating tyre pressures and temperatures.
Nonetheless, Leitch proved his passing ability was the pick of the bunch of 17 drivers racing over the weekend with a great drive through the field that was rewarded with the final spot on the podium in the last race of the weekend and the fastest lap of the entire meeting. It was his first time at the Buriram International Circuit.
"I'd hoped for race wins this weekend but you have to take the positives from even the most challenging weekends," he reflected. "This one wasn't too bad but it could have been better. I was a bit dark about the time penalty as it was for excessive use of the track and literally everyone was doing the same thing. In the end it didn't have any bearing on my end result, but still…
"Had a bit of luck gone our way in the second race and we'd have been there or thereabouts for a big result I reckon. I got hung out to dry while making a pass in the second race and ended up damaging the rear suspension and going into the gravel. It was over after that unfortunately.
"There's still a bit of work to do to catch the front guys, but I enjoyed all the passes I made in the third race and got the car really hooked up to get the fastest lap of the meeting, so that showed me and the team we are heading in the right direction on set up and pace."
Long-time backer Dayle ITM concluded a deal before the round with the car sponsor, San Francisco clothing designers Oloi, to keep Brendon in the BlackArts seat for the remaining rounds of the championship, which will take place in China and Japan.
Asian F3 Championship – points after Round 2
| | | |
| --- | --- | --- |
| 1 | Ukyo Sasahara | 136 |
| 2 | Jack Doohan | 122 |
| 3 | Daniel Cao | 65 |
| 4 | Brendon Leitch | 64 |
| 5 | Eshan Pieris | 64 |
| 6 | Yu Kanamaru | 30 |
| 7 | Tomoki Takahashi | 27 |
| 8 | Ayrton Simmons | 26 |
| 9 | James Yu | 19 |
| 10 | Jamie Chadwick | 18 |
| 11 | Tom Beckhäuser | 12 |
| 12 | Akash Gowda | 11 |
| 13 | Miki Koyama | 6 |
| 14 | Jordan Dempsey | 5 |
| 15 | Tommy Smith | 1 |
| 16 | Paul Wong | 0 |
| 17 | Thomas Luedi | 0 |
| 18 | "Dragon" | 0 |
| 19 | Tairoku Yamaguchi | 0 |
Caption – Fastest lap of the weekend  for Leitch. Picture Credit – Asian Formula 3 Championship