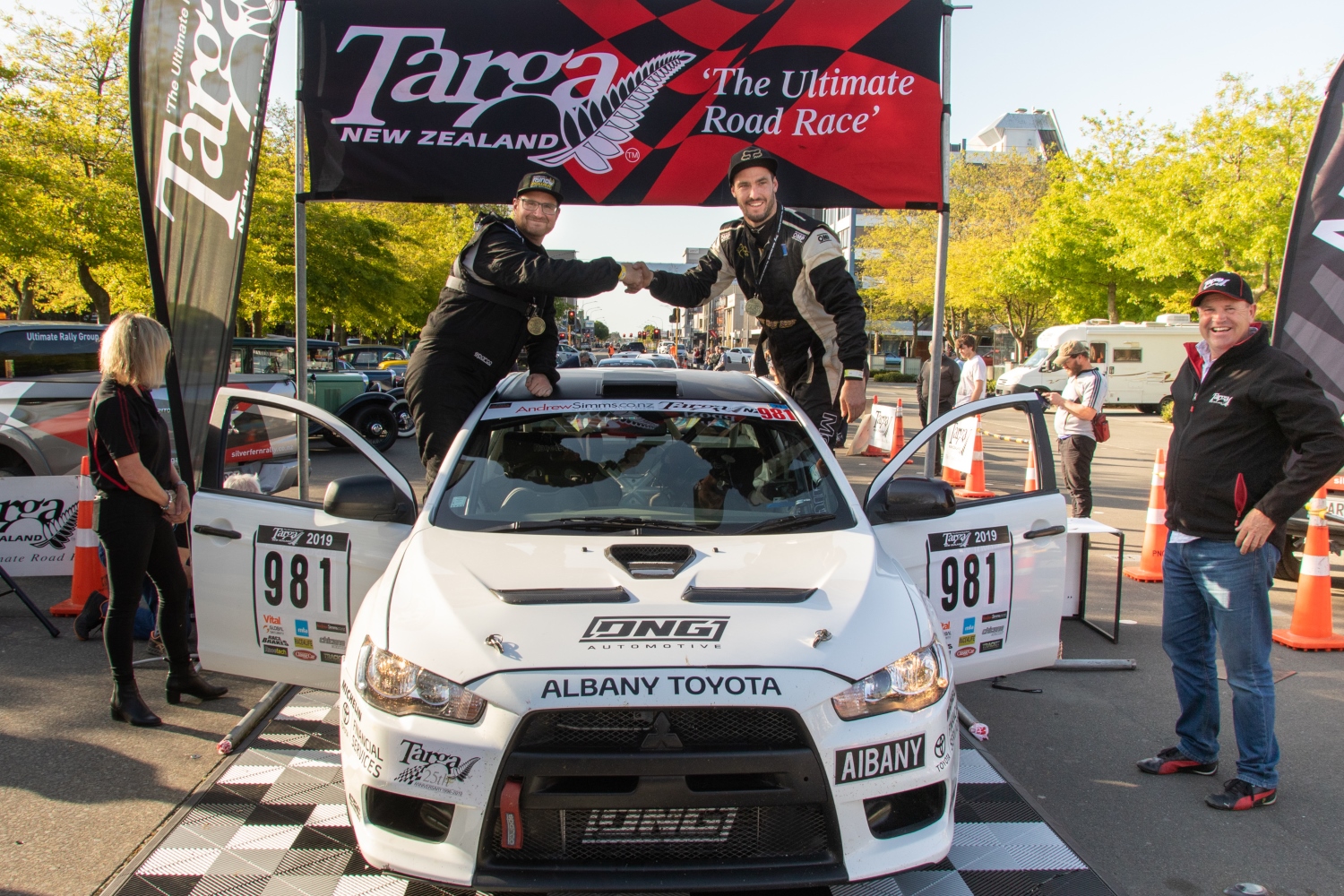 Mackenzie & Sayers make it two-out-of-two with emphatic Targa NZ win
Haydn Mackenzie and co-driver Matthew Sayers (Mitsubishi Evo 10) have won the five-day/1932km 25th anniversary Targa New Zealand tarmac motor rally, the pair crossing the finish line in Palmerston North this afternoon with a lead of almost 12 minutes over the second-placed Porsche 991 GT3 RS of 2103 event winners Martin Dippie and his co-driver Jona Grant.
In doing so, Mackenzie – the 35-year-old dealer principal at his family's Toyota dealership in Auckland's Albany and good mate Sayers, who works in sales in Hamilton – claimed their second major Targa event win in a year, having earned their first, at the three-day Targa Hawke's Bay event in May.
Their impressive from-the-front win also broke the five-event winning streak by fellow Aucklanders Glenn Inkster and Spencer Winn (Mitsubishi Evo 8) who set the pace early on only to fall victim to an engine bay fire on the first stage – Fields Track – on Friday.
In taking over the lead from Inkster and Winn and going on to win this year's Taupo-Palmerston North event, Mackenzie and Sayers have added their names to an exalted list of recent Targa NZ winners which includes circuit-owning Scottish-born entrepreneur Tony Quinn and his Adelaide-based co-driver Naomi Tillett (Nissan GT-R35) who won the event four-times in a row between 2009 and 2012, and this year's runners-up, Dunedin duo Martin Dippie and co-driver Jona Grant (Porsche 991 GT3 RS) who won it outright in 2013.
That said, before they blew a power steering pump and the resulting engine bay oil fire stopped them in their tracks on Friday morning the event belonged to Glenn Inkster and Spencer Winn.
Gunning for a record-making sixth consecutive win, the pair had set a punishing pace from the start in Taupo on Tuesday and as they headed into the Field's Track stage had a four-and-a-half minute lead over Mackenzie and Sayers and a frankly incredible buffer of 10.59.5 minutes over third placed Leigh Hopper and co-driver Michael Goudie (Subaru Impreza WRX).
Hopper and Goudie had held second place with Mackenzie and Sayers in third up until half way through the third day of the event. But damage to the car's cooling system sustained after a heavy landing off the first of the event's famous Inglewood "yumps' the day before proved terminal and like Inkster and Winn, Hopper and Goudie were out with two full days of competition still to go.
Inkster and Winn still won the most stages – 15 out of 31 – but Mackenzie and Sayers were next best with 10, including a title-affirming blast through the final 23.95km Mangatainoka stage on the way back to event's end in Palmerston North, the margin over penultimate stage winner and final and event runners-up Dippie and Grant, just 0.4 of a second!
Heading into the final day today Mackenzie and Sayers' teammates, fellow Aucklanders David Rogers and Aidan Kelly (Mitsubishi Evo 10), closed to within eight seconds of the Dippie/Grant Porsche. But the dynamic Dunedin duo eased away on the more open roads of the Manawatu and western Hawke's Bay today to secure the runner-up spot.
As it turned out Rogers and Kelly had problems of their own, ending up back in fifth place (and third in class) after engine issues in the penultimate stage.
That left event specialist Jason Gill and his co-driver Mark Robinson (VW Polo R) to move up another spot to third with Marcus van Klink and his co-driver Matt Richards following through to fourth in van Klink's triple rotor 20B-powered Mazda RX8
After early marque pace-setter Eddie Bell and co-driver Bair Forbes crashed out of the event on the third day in Bell's late-model BMW M3, the first BMW home this year was the E46 M3 of Perth driver Robert Darrington and Kiwi co-driver David Abetz in sixth place overall, just 6.8 seconds – mind – in front of the six cylinder-engined '330ti' Compact model of Jeremy Friar and Katrina Renshaw.
Enjoying one of their highest finishes, not to mention best events in a number of years, in eighth place, meanwhile were Subaru Impreza WRX pair Graham Wong and Kim Blatchley
If ever there was a battle royal for class honours that raged from the first stage on Tuesday until the final one today, it was the one between Classic 2WD class winners Bevan Claridge and co-driver Campbell Tannock (Holden Commodore SS V8) and event stalwart Barry Kirk-Burnnand and his co-driver Dave O'Carroll (BMW E30 M3).
Early on it was Barry Kirk-Burnnand's Wellington-based nephew Mark and his co-driving father Chris in their own E30 BMW M3 who were setting the pace in the Classic 2WD category. However they were out of the event on the start of the third day when a front left suspension strut collapsed, leaving Auckland-based Barry the only driver capable of running at the (too 10 overall) pace Claridge and do-driver Tannock were setting,
In the end Claridge and Tannock had a winning buffer or just over five minutes but a comparison of stage times across all five days showed that sometimes the margin between the two cars was down to 0.2 of a second.
This year's 25th annual Targa NZ event was again a multi-faceted one with three separate starting groups – Competition, the Targa Tour and now a Time Trial organised in conjunction with the Vintage Car Club of New Zealand.
A separately scored but concurrently-run two-day 'Regional Targa' – complete with its own eight-strong Targa Tour group – was also run this year over the final two days of the main event.
Former New Zealand rally champion Bruce Herbert and co-driver Bevan Parker (Mitsubishi Lancer) from Palmerston North won the two-day Regional Targa event from the Subaru Impreza WRX of Richard Gillies and Stephen Burr.
The concurrent Time Trial organised and run by the Vintage Car Club of New Zealand in association with Targa NZ, meanwhile, was won by Russell Yates and Alise Inger in an MGB Roadster.
Targa New Zealand events are organised by the Ultimate Rally Group with the support of sponsors AndrewSimms.co.nz, Chicane Racewear, Global Security, NZ Classic Car magazine, Race Brakes, Race4Life Trust, Racetech, TrackIt, Vital and Writeraze.
For more information go to targa.nz or check out the Targa NZ page on Facebook.