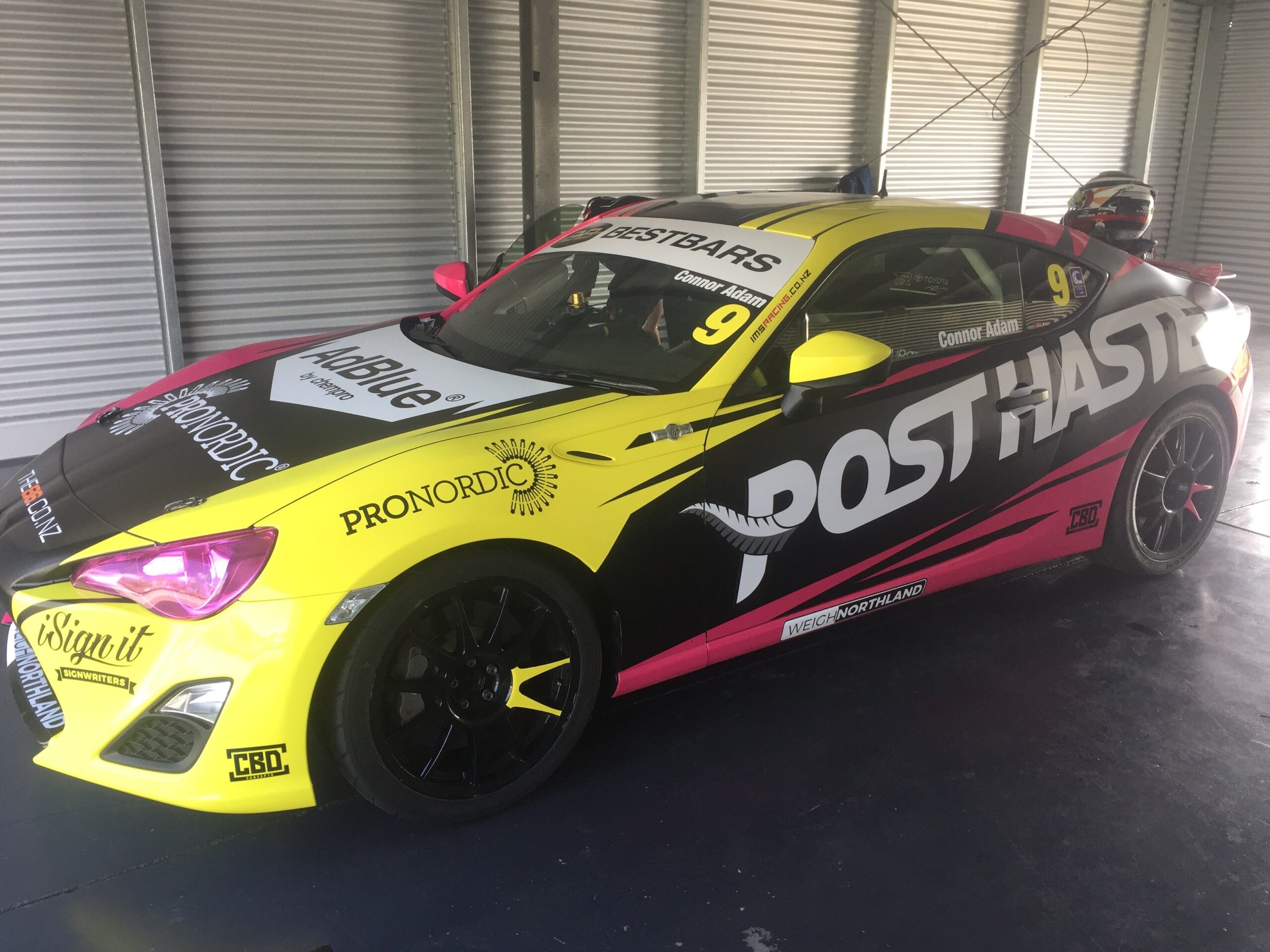 A week in the life of Connor Adam
For many of us, a week is simply a week, work rest and play however for up and coming Auckland racer Connor Adam its anything but that. Working for New Zealand's longest-running race team the famed International Motorsport operation in Auckland he serves as an apprentice and plays a part of that racing operation. Along with this, he has his own racing season in the Toyota Gazoo Racing New Zealand 86 Championship to balance. Life is never dull for Connor Adam that's for sure. Connor a graduate of the MSNZ Elite Academy (Class of 2016) has used all the skills learnt during his Academy year to refine is own career and learnt that racing is as much outside the car as inside the car. His hard offseason work will be put to the test in the coming weeks in the SpeedWorks Championship Series.
This past week saw Connor at work at the Grey Lynn Headquarters of IMS on Monday and Tuesday working on racing machinery in the workshop under the watchful eyes of the master Lyall Williamson and his team.
Wednesday Connor became part of an invited panel to assist Toyota NZ in the finding of this years four scholarship winners to run along side him in the 86 Championship this season. "It was a real honour to help out on that and hard to think I will be racing against these guys in just over a month when the series kicks off" commented Connor on Wednesday afternoon.
Thursday saw the annual pre-season media day at Pukekohe Park Raceway for the 86 Series and it also marked the unveiling of the all-new looking race car that Connor and his team have created for the 2019/20 season. "I think you should be able to spot us pretty easy out there" said Connor at the unveiling of the brightly multi-coloured car. Straight after that he was out in the car and taking a series of guests on hot lap experiences around Pukekohe and the chance for the ultimate ride. Similes were aplenty when they returned from a few laps with him and the respect for a race car driver went up another notch as wells always good for the sport's profile. It also provided Connor a chance to run on the series newly selected NEXEN tyre for this season and shake the car down after the offseason rebuild. "It was a great day and its always enjoyable to take guests for a ride."
Friday and an early start as it was off to Auckland airport and down to Christchurch and first stop was the local PostHaste branch. PostHaste is a long-time supporter of Connor so it meant that it was a chance to meet some of the local Canterbury-based staff while in town and a surprise giveaway for them all with race team shirts for everyone at the branch. "They were rapt with them and really cool to see them in decked out in them before I left the branch as well it was a lot of fun" said Connor. From there it was straight to Mike Pero Motorsport Park and into the car yet another Toyota 86 that he shares with Todd Foster for this weekend's final round of the South Island Endurance Series in the 3 Hour event. Afternoon practice went well setting second on the timesheets within his Class, the Class A section of the field for 0 – 2 litre naturally aspirated cars.
Saturday and Canterbury didn't let anyone down with blue skies and the most ideal conditions for racing around the technical race track. Starting the car for the first stint in the South Island Endurance Series final 3hour race Connor established a good solid pace and dealt with the early traffic situations to turn in constant lap times. The main aim was to stick to the game plan and get the car back to Todd during his 1.5 stints behind the wheel. Connor running second for most of his stint in the car only ever dropping from this due to pit stops for fuel. It became a real nail biter of a finish and a true race to the line as Todd brought the car home second in class after he claimed second on the second to last lap after a safety car period and traffic closing what was a 57-second gap to second to a real tense finish for everyone. Just another day in the week for Connor Adam.