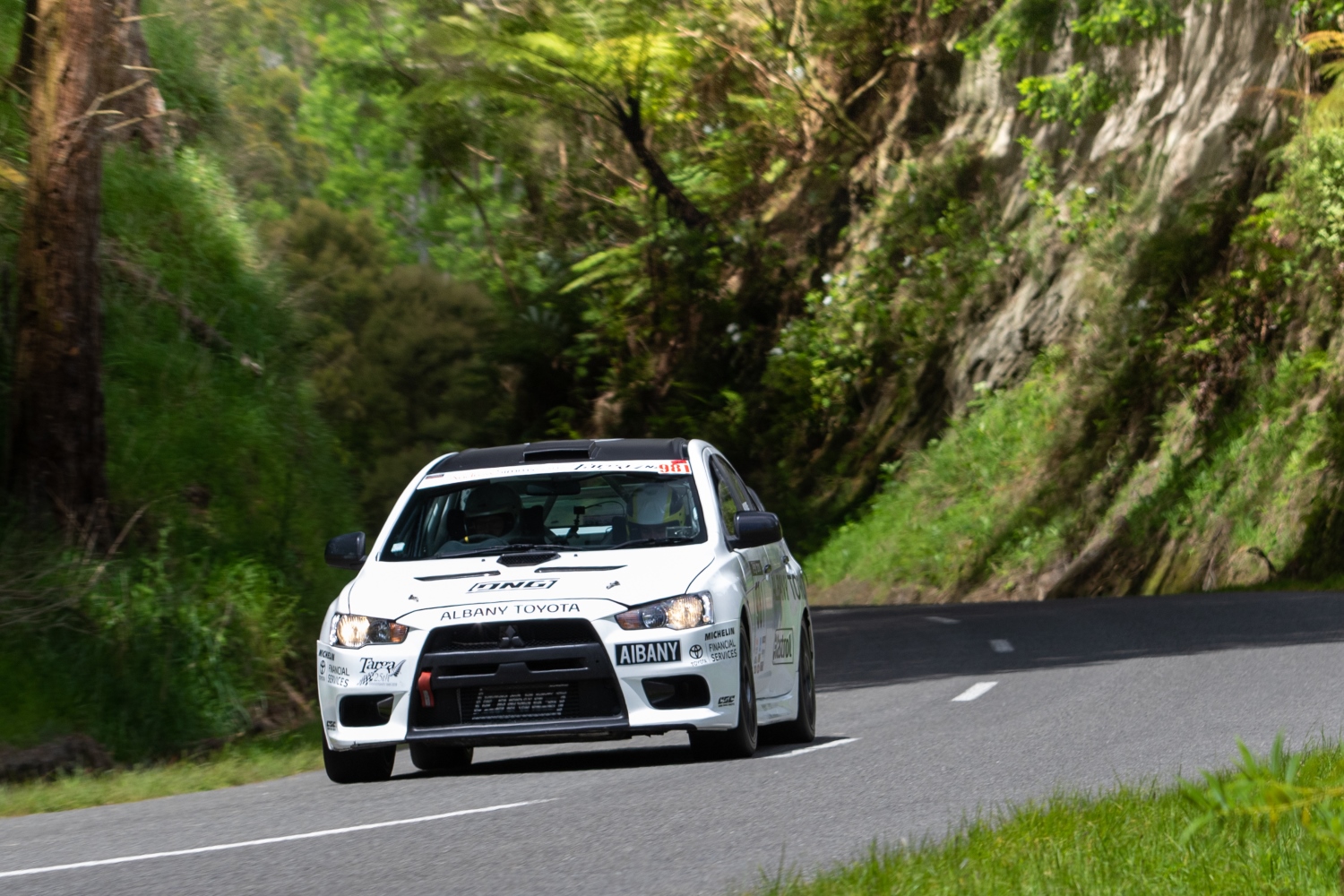 Shock Targa NZ exit for Inkster & Winn; all eyes now on battle for second behind leaders
Bang, and that was it. Sitting forlornly on the side of the road with its bonnet up in the first of today's stages east of Whanganui, the previously all-conquering Mitsubishi Evo 8 of five-time consecutive Targa NZ winners Glenn Inkster and Spencer Winn wasn't going anywhere. And the Auckland pair's dream of creating a new benchmark of six consecutive wins was over.
At the same time fellow event veterans Leigh Hopper and co-driver Michael Goudie (Subaru Impreza WRX) also lost their long-held second place – also to a mechanical issue – the high profile pair effectively gifting the event lead (or rather passing the baton) to fellow North Shore, Auckland, driver Haydn Mackenzie and his Hamilton-based co-driver Matthew Sayers (Mitsubishi Evo 10).
In only his second full 'main Targa' event, Mackenzie – dealer principal at his family's Toyota dealerships – was very much the dark horse of this year's 25th anniversary Targa NZ event. On his main Targa event debut in the South Island last year he held an early lead before a crash at the end of the second day. That put him out of overall contention but on his return in a hastily repaired car he continued to set fast times.
Earlier this year Mackenzie also claimed his first Targa event win in the three-day Targa Hawke's Bay event. And after taking over the mantle of pace setter today from Inkster and Winn he and Sayers arrived in Palmerston North this evening with a frankly incredibly lead of close to 12 minutes (11:49.0 to be exact) over the second-placed Porsche 991 GT3 RS of 2013 event winners Martin Dippie and co-driver Jona Grant.
If Mackenzie holds his nerve and his Mitsubishi Evo 10 remains as reliable as it has – so far – been then it is hard seeing anyone take more than the odd second here or there out of that 11:49.0 minute lead on the final day of this year's five-day Targa NZ event tomorrow.
As it is Dippie and Grant had their hands (and mirrors) full of Mackenzie and Sayers's teammate, fellow Aucklander David Rogers and his co-driver Aidan Kelly, for most of the day today.
In fact, by winning the classic 'Cops Corner' stage outright and finished second to Mackenzie on the 36.07km final stage of the day from Ohingaiti to Kimbolton, Rogers cut the 11-second lead Dippie had on him at the start of the day to just 8.1 seconds at the end.
Other performances of note today came from Jason Gill and his co-driver Mark Robinson who are now up to fourth place in former Mitsubishi stalwart Gill's recently acquired VW Polo R, and from gravel rally ace Marcus van Klink and his co-driver Matt Richards in van Klink's 20B (triple rotor) powered Mazda RX8.
After problems with his car's flywheel on the Wednesday it looked like van Klink's event was over, however the flywheel issue was sorted and the Christchurch ace spent yesterday and today making up -literally – for lost time.
Early today he was consistently in the top three as far as ultimate stage times were concerned, and he and Richards head into the final day tomorrow fifth overall, just over a minute behind Gill and Robinson.
They also have a handy buffer now of just over four minutes over the two BMWs of impressive top ten newcomer Jeremy Friar and co-driver Katrina Renshaw (BMW 330ti Compact), and the E46 model M3 of Aussie event regular Robert Darrington and his long-time Kiwi co-driver David Abetz.
The latter pair appear finally to have gotten into their stride and are now running in seventh place just 30.6 seconds behind Friar and Renshaw.
With usual class pace-setters Mark and Chris Kirk-Burnnand (BMW M3) out of the event with a broken front left suspension strut in the first stage on Thursday the 2WD Classic class has been led by Horowhenua market gardener Bevan Claridge and co-driver Campbell Tannock is Claridge's ungainly-looking but surprisingly effective Holden Commodore SS.
Claridge bought the car new back in 1992 and after always regretting selling it bought it back (off the side of the road in Cambridge) several years later with the stated intention of 'turning it into a Targa car.'
He has already won the 2WD Classic class once since debuting the car six years ago and not only does he hold a 4:31.5 minute lead over the other Kirk-Burnnand E30 BMW M3 (piloted by Mark's Auckland-based Uncle, Barry and his long-time co-driver Dave O'Carroll), Claridge now holds ninth place overall, just over a minute behind the Subaru Impreza WRX of Graeme Wong and Kim Blatchley.
Tomorrow the field heads north then east of Palmerston North for seven stages
This year's 25th annual Targa NZ event is again a multi-faceted one with three separate starting groups – Competition, the Targa Tour and now a Time Trial organised in conjunction with the Vintage Car Club of New Zealand.
A separately scored but concurrently-run two-day 'Regional Targa' – complete with its own eight-strong Targa Tour group – is also being run this year over the final two days of the main event.
Targa New Zealand events are organised by the Ultimate Rally Group with the support of sponsors AndrewSimms.co.nz, Chicane Racewear, Global Security, NZ Classic Car magazine, Race Brakes, Race4Life Trust, Racetech, TrackIt, Vital and Writeraze.
For more information go to targa.nz or check out the Targa NZ page on Facebook.