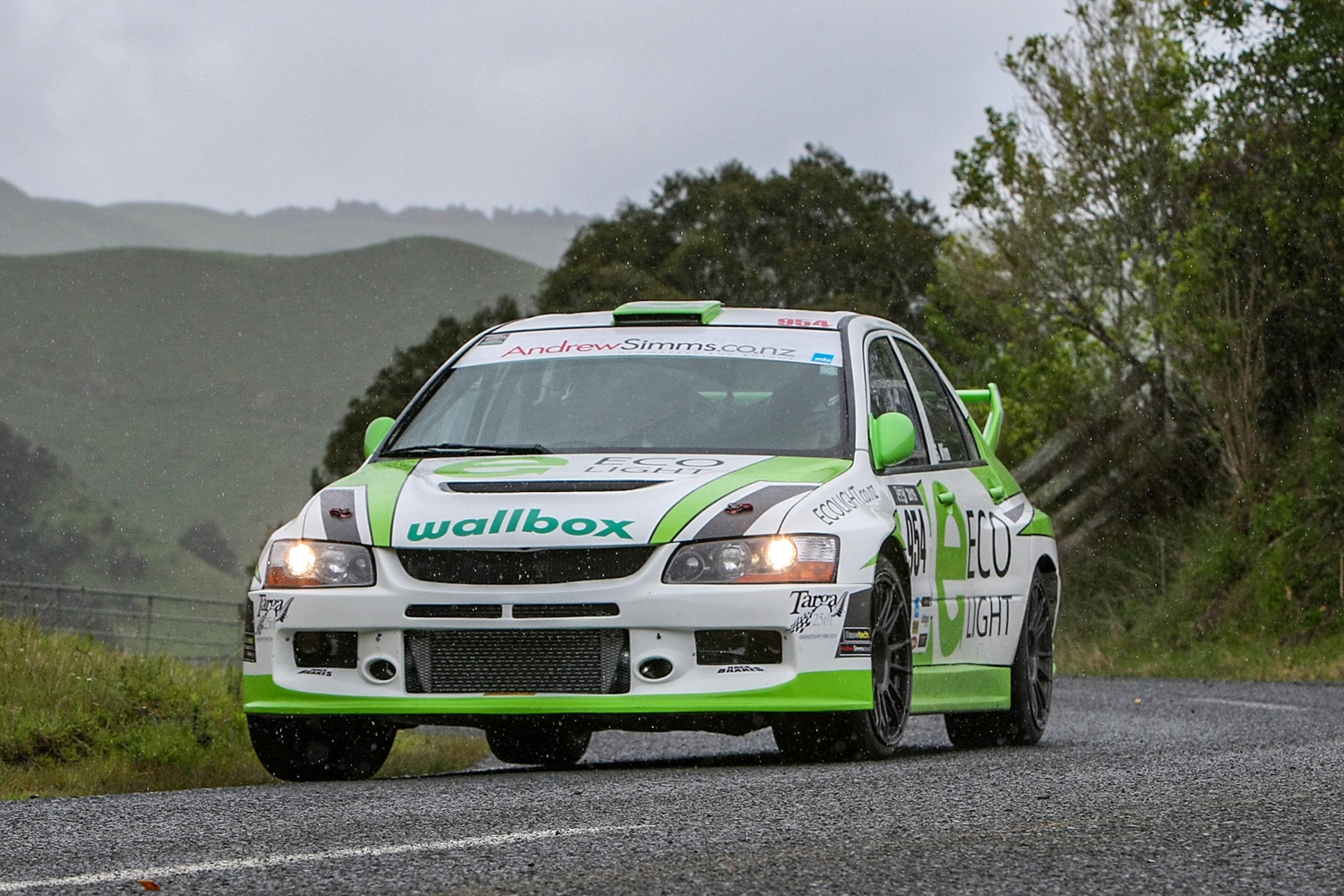 Inkster & Winn set cracking pace on first day of 25th anniversary Targa NZ event
Catch us if you can – or you dare! That seemed to be the message defending – and five-time consecutive – Targa NZ winners Glenn Inkster and co-driver Spencer Winn (Mitsubishi Evo 8) were putting out to all-comers on the first day of competition on this year's 25th-anniversary event which started in Taupo today.
The Auckland pair, gunning for a record-making sixth consecutive win in the annual five-day tarmac motor rally marathon, won all six stages today to arrive at parc ferme in New Plymouth this evening with a hitherto unprecedented Leg 1 lead over second-placed Leigh Hopper and his co-driver, Michael Goudie (Subaru Impreza WRX), both also from Auckland, of almost two minutes (1:57.5)
Last year's early event leaders, and the winners this year of the three-day Targa Hawke's Bay event, Haydn Mackenzie from Auckland and his Hamilton-based co-driver Matthew Sayers (Mitsubishi Evo 10) were just 10 seconds slower through the day's 12km opening stage. But they were slotted back into third place in the next three stages by Hopper and Goudie.
Former South African rally ace, Nic de Waal, who now lives in Auckland, was also quick, he and co-driver Shane Reynolds (Subaru Impreza WRX) pipping Hopper and Mackenzie for second in the longest stage of the day, the epic 47km run from Kawhia in the north to Marakopa in the west. Brake issues in other stages blunted his attack but he and Reynolds are still very much in the hunt in 4h place/
With the 4WD Mitsubishis and Subarus setting the pace up front the battle for first 2WD car home was won by former V8 SuperTourer driver Eddie Bell and fellow Cantabrian Blair Forbes in Bell's late model BMW M3, the pair ended their day in 5th place overall and 1st in class.
Though well aware that today was just the first of five full days on the road and therefore not for doing anything silly, Bell and Forbes were consistently quicker than rivals, and 2013 Targa NZ overall winners, Martin Dippie and his co-driver Jona Grant (Porsche 911 GT3 RS) from Dunedin. Both pairings have their work cut out if they want to seriously challenge Inkster and Winn for the lead though, the gap back to Bell and Forbes over five minutes, back to Dippie and Grant over six in 6th place overall.
In 7th place is Auckland pair David Rogers and Aidan Kelly in the sister car to Haydn Mackenzie and Matthew Sayers's Mitsubishi Evo 10, with rally ace Marcus van Klink and his co-driver Matt Richards showing their versatility in van Klink's 20B triple rotor-powered Mazda RX8 in 8th. Ninth are event stalwarts Jason Gill and Mark Richards in Gill's recently acquired VW Polo R while rounding out the top ten at the end of the first of five days are Perth-based event regular Robert Darrington and Kiwi co-driver David Abetz in Darrington's BMW M3.
True to predictions Horowhenua/Manawatu pair Bevan Claridge and Campbell Tannock have again taken the battle in the Classic 2WD category to the E30 model BMW M3s of Mark and Chris Kirk-Burnnand from Wellington and Chris' Auckland-based brother Barry and his long-time co-driver Dave O'Carroll.
Mark and Chris were running as high as 12th on the road before lunch too, only to strike trouble in the first stage after lunch and lose over 7 minutes. They were back to their best in the final two stages of the day, the 47.5km Kawhia to Marakopa marathon, (9th overall) and the final 36km run from Marakopa to Awakino (13th).
By then the damage was done however, the consistent Claridge/Tannock Holden Commodore SS arriving in New Plymouth this evening 13th overall and leading the Classic 2WD class.
This year's 25th annual Targa NZ event is again a multi-faceted one with three separate starting groups – Competition, the Targa Tour and now a Time Trial organised in conjunction with the Vintage Car Club of New Zealand.
A separately scored but concurrently-run two-day 'Regional Targa' – complete with its own eight-strong Targa Tour group – is also being run this year over the final two days of the main event.
Tomorrow (Wednesday) brings the first of two full days in Taranaki, with four stages including the famous Inglewood Jumps in the morning and trip to then back from Whangamomona in the afternoon.
Targa New Zealand events are organised by the Ultimate Rally Group with the support of sponsors AndrewSimms.co.nz, Chicane Racewear, Global Security, NZ Classic Car magazine, Race Brakes, Race4Life Trust, Racetech, TrackIt, Vital and Writeraze.
For more information go to targa.nz or check out the Targa NZ page on Facebook.