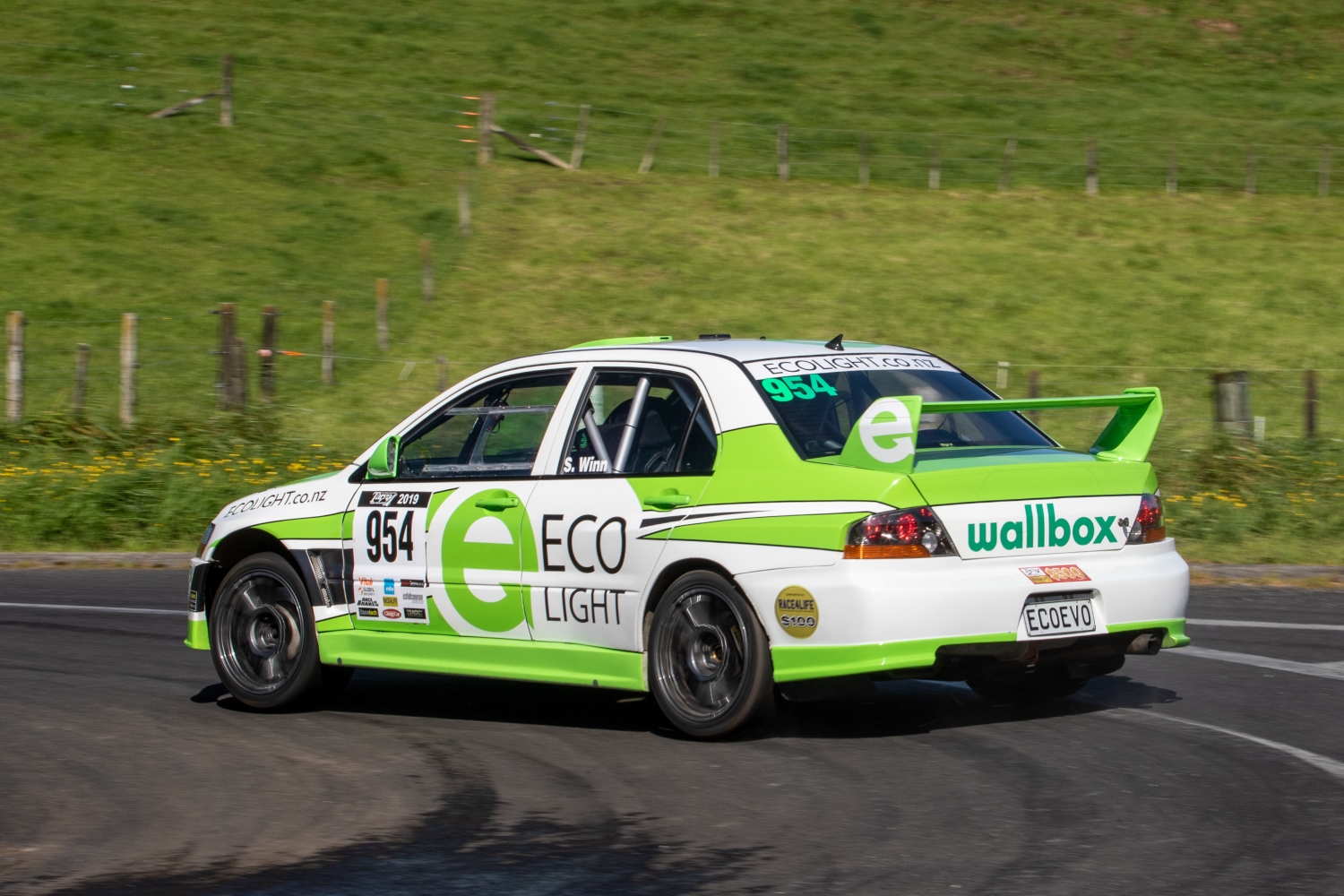 Inkster & Winn shrug off 'toughest day' tag to further extend Targa NZ lead
Shrugging off the traditional 'toughest day' tag, defending Targa NZ title-holder Glenn Inkster and co-driver Spencer Winn (Mitsubishi Evo 8) made light work of the seven timed stages on the third leg of this year's 25th Anniversary event between New Plymouth and Whanganui today.
Though the Auckland pair did concede a second stage win to a rival – in this case the 15.35km Douglas stage east of Mt Taranaki early in the afternoon to Leigh Hopper and co-driver Michael Goudie (Subaru Impreza WRX) – by day's end in Whanganui this evening they had actually increased their already handsome lead in the five-day/1932 km tarmac motor rally marathon from Taupo to Palmerston North.
Heading into the first stage this morning the pair – who this year are gunning for a record-setting sixth consecutive win – held a 3.34.5 advantage over Hopper and Goudie with this year's Targa Hawke' Bay event winner Haydn Mackenzie and his co-driver Matthew Sayers (Mitsubishi Evo 10) looming just 18-and-half seconds back in third.
Despite taking the win in the Douglas stage off the leading pair, Hopper and Goudie were struggling with an engine overheating issue. And when the Subaru finally succumbed (on the second to last stage east of Waverley this afternoon) second place was Mackenzie's for the taking.
Such has been the pace of the leading trio that Hopper and Goudie remain third in the overall event standings. But after taking maximum stage times in that stage, and in the final one this afternoon – Bushy Park – near Kai Iwi, they will have to sort the Subaru's cooling issues out overnight to stand any chance of retaining the position on tomorrow's six-stage run through to the next overnight stop in Palmerston North.
Mackenzie and Sayers meanwhile will be trying to work out to how to close what is now a four-and-a-half-minute margin between themselves and runaway event leader Inkster.
Behind the fascinating battle for a place on the podium, today's stages were all about who could stay on the road in a bulletproof car.
Despite drive line dramas (a centre diff issue for one, and a flywheel problem for the other) on Wednesday both Nic de Waal and co-driver Shane Reynolds (Subaru Impreza WRX) and Marcus van Klink and his codriver Matt Richards (Mazda RX8 20B) were not only back on the road today, both retained their places in the top ten overall classification.
Jason Gill and co-driver Mark Robinson also had a productive day in Gill's purpose-built VW Polo R, easing up the leader board to make it into the top six
With early event pace-setters Eddie Bell and co-driver Blair Forbes (M3) crashing out of this year's event on Wednesday, and fellow front-runner Mike Tubbs and co-driver Brooke Walden (M2) following suit early today the first BMW to arrive in Whanganui this evening was the remarkably standard-looking '330ti' Compact of Jeremy Friar and co-driver Katrina Renshaw.
Friar had the remarkably effective six-cylinder re-powered Compact as high as seventh overall in one of the stages today and heads to Palmerston North tomorrow in ninth place, just a minute behind the Mazda RX8 of gravel rally champion Marcus van Klink.
There will be no repeat of previous years' Classic 2WD class wins his year for E30 BMW M3 stalwart Mark and his co-driving father Chris Kirk-Burnnand however, the Wellington pair completing their day with their car on a trailer after breaking a suspension strut this morning.
Auckland-based cousin – and event veteran – Barry Kirk-Burnnand and his co-driver Dave O'Carroll definitely did their bit in Barry's E30 M3 to uphold the reputation of the K-B clan and their old-skool BMWs. But despite twice finishing within half a second of the Holden Commodore SS of early event class leader Bevan Claridge and co-driver Campbell Tannock the latter pair still had an advantage of almost three-and-a-half minutes as they arrived in Whanganui this evening.
Tomorrow the field heads into the Manawatu for six stages, including the always popular 27.73km run from just north of Turakina via the infamous 'Cop's Corner' to Hunterville, on the way to the final overnight stop of the event in Palmerston North.
This year's 25th annual Targa NZ event is again a multi-faceted one with three separate starting groups – Competition, the Targa Tour and now a Time Trial organised in conjunction with the Vintage Car Club of New Zealand.
A separately scored but concurrently-run two-day 'Regional Targa' – complete with its own eight-strong Targa Tour group – is also being run this year over the final two days of the main event.
Targa New Zealand events are organised by the Ultimate Rally Group with the support of sponsors AndrewSimms.co.nz, Chicane Racewear, Global Security, NZ Classic Car magazine, Race Brakes, Race4Life Trust, Racetech, TrackIt, Vital and Writeraze.
For more information go to targa.nz or check out the Targa NZ page on Facebook.