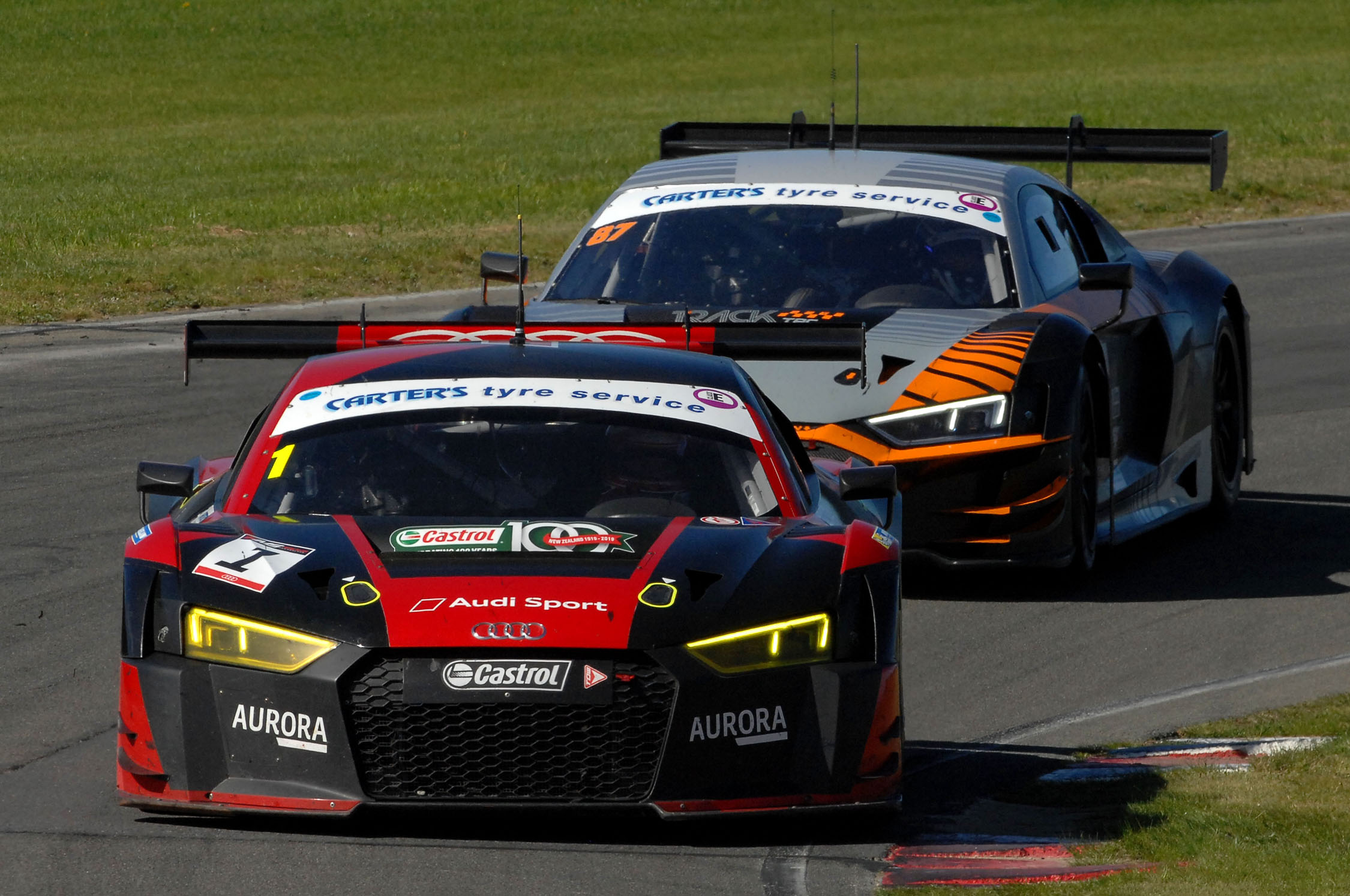 Close racing expected as Three Hour South Island Endurance Series titles are decided on Saturday
Just one point separates the two top teams heading into the final round of the Three Hour Carter's Tyres South Island Endurance Series title fight on Saturday in Christchurch. Mike Pero Motorsport Park at Ruapuna hosts the fourth round with five different driver combinations fighting for the overall title. Neil Foster/Jonny Reid (Audi R8 LMS GT3) are just one-point ahead of Dale Chapman/Marc Doran/Andrew Waite (Audi R8 LMS GT3 Evo) with Christina Orr-West/Ben Byers (Audi R8 LMS Ultra) in third, a further 31-points back.
There is 75-points on the line for the win and the series sponsors, Matt and Dwayne Carter (Mercedes SLS) and Graeme Rhodes/Paul Rickerby (Ford Falcon SuperTourer) both have a chance at the overall title should all three Audi teams falter in a race where you must finish.
"We are looking forward to the battle," commented Andrew Waite. "The key to finishing first at Ruapuna is to first finish. Getting a good clean run is also important."
While the two top Audi have shared the first three race wins, it has been the Orr-West/Byers pairing that have proved that consistency always pays. They find themselves with a real chance at the title while other and arguably quicker cars have struck problems along the way.
Notable entries for the finale include the return of Anthony Leighs/Paul Kelly (Porsche 991 Cup) who finished third at the opening round at Teretonga Park in Invercargill.
Grant Williams/Ben Williams/Rick Matheson (Mazda V8) will be on the grid along with the RaceLab team of Shane Helms/Rob Bolland (Ginetta G55 GT4) who return after missing the Timaru round.
Dennis Chapman will campaign his Audi RS3 TCR in both the One and Three Hour races. Joining him for the Three Hour will be Rowan Shepherd, back from racing in Europe.
Also competing in both endurance races on Saturday will be Marco Schelp (Porsche GT3 Cup S), winner of the last two One Hour Series rounds. He will be joined by Christchurch's Matt Hamilton.
There are five Class titles to be decided within the Three Hour Series. The top three Audi drivers will also compete for Class E (GT3 Type) honours. Rhodes and Rickerby have already tied up the Class D (GT Type) title having gained an unassailable lead at the third round in Timaru a fortnight ago.
In Class C (+3500cc) it is likely to be a fight between Perry Scarfe/Grant Silvester (Ford Falcon BA) and Victor Cattermole/Richard Simpson (Merc 190E 2.3 s/c 194). Just seven-points separate the two top contenders who both struck problems in Timaru.
It's likely to be a three-way fight for Class B (2001-3500cc) with Tim Mackersy/Barry Moore (VW Golf Gti TCR) on 264 points, Jared Pyke/Ben McConochie (Mazda RX8) on 243 and Rhys Gould/Gene Rollinson (Hyundai i30N TCR) on 210. The Gould/Rollinson Hyundai has been the car to beat in this class, winning the first two rounds as well as being the leading non-Class E car overall. An accident at Timaru a fortnight ago saw them retire from the race and drop to third in Class and 10th overall.
Arron and Stuart Black (BMW E46 WTC) have a handy 29-point lead in Class A (0-2000cc) over Mark Taylor/Vaughan Moloney (Honda Integra R) with Grant Moore/Matt Moore/Phil Schumacher (Toyota Altezza) 45-points off the lead.
Qualifying gets underway on Saturday morning with the three-hour race in the afternoon.