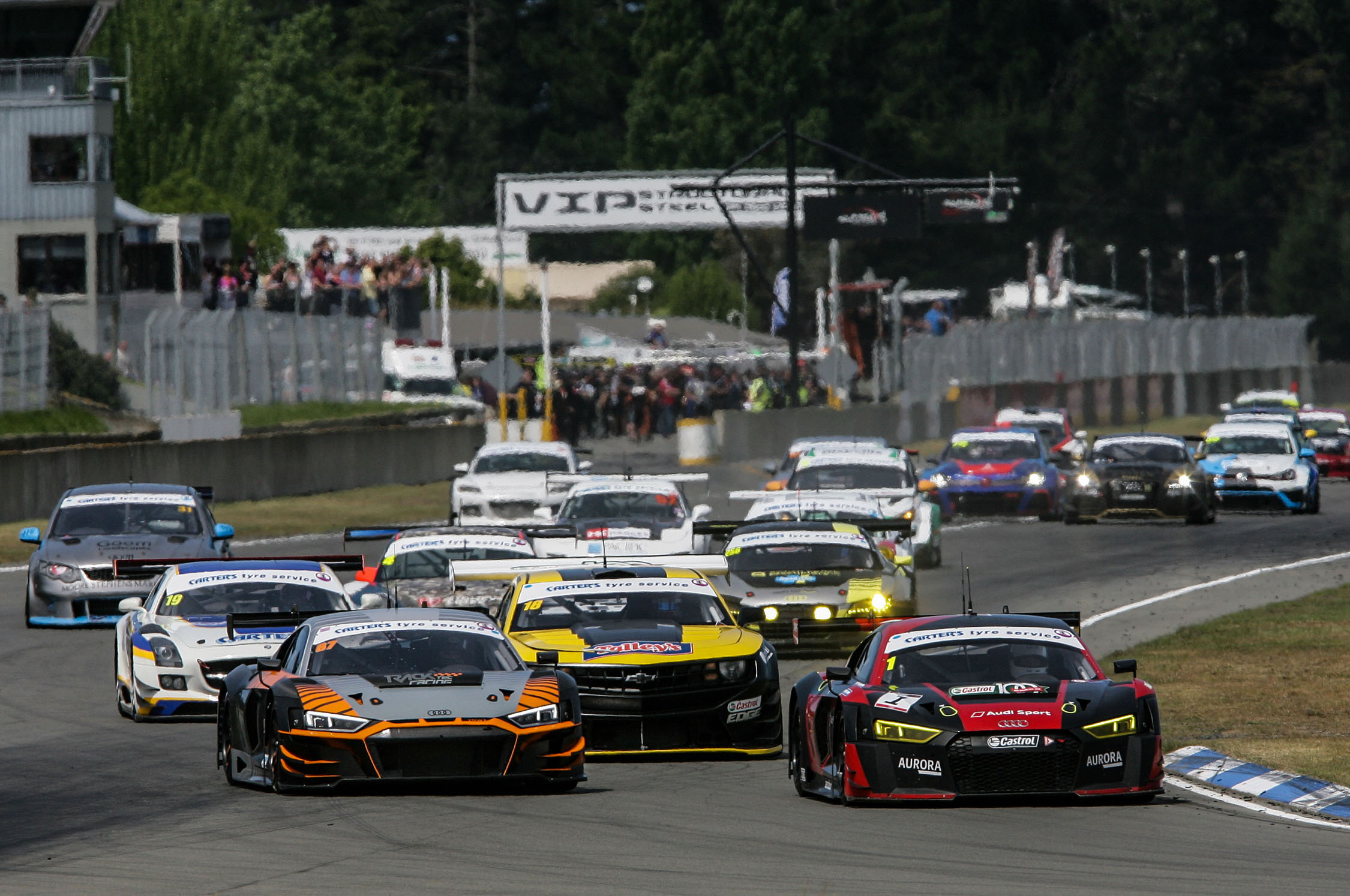 Foster and Reid retain Three Hour South Island Endurance Series title
Neil Foster and Jonny Reid (Audi R8 LMS GT3) have retained their Carter's Tyres South Island Endurance Three Hour Series title after a close race for honours in Christchurch on Saturday. The overall points table shows an Audi 1-2-3 with Dale Chapman/Mark Doran/Andrew Waite (Audi R8 LMS GT3 Evo) second and Christina Orr-West/Ben Byers (Audi R8 LMS Ultra) third overall.
Foster and Reid won the race at the Mike Pero Motorsport Park, their third of the series after winning at Teretonga Park in Invercargill and in Timaru a fortnight ago.
"It's great," commented Foster. "It wasn't a straight forward race, but we got there in the end. It was close, and we had to stay ahead of them. Obviously, we have been competitive in all the rounds. We have had to be first or close to it to stay in the hunt.
Heading into the finale there was just one point between Foster/Reid and Chapman/Doran/Waite. Whoever finished ahead of the other would take the overall title.
"Sensational," said Reid. "There's a lot of competition down here, arguably stronger than the North Island series. Our aim was to defend our title and we have had the pace to do it. Our rivals have done an outstanding job and got closer and closer, so we have had to lift our game as well."
"It was a great series," commented second placed Dale Chapman. "We struggled with pace at some points but other than that we were pretty good. It is our first season so pleased with that."
Third home was series sponsors Dwayne Carter/Matt Carter (Mercedes SLS) who almost upset the overall Audi trifecta.
Christina Orr-West/Ben Byers were in a comfortable top five position for the first half of the race. However, just after halfway, Byers pulled off onto the grass. It immediately looked like their race was done but under a safety car period, their car was towed back to the pits.
"It wasn't ideal as the car went into limp mode and shut down," commented Orr-West. "The great track crew here got us back to the pits and we plugged the computer in and cleared all the faults. It took a bit to get it started as well as into gear. Once back on track I was keen to push hard, and we were able to make ground and get a top ten result."
Once back on track they were several laps down and in 13th position which would effectively give the Carter's third overall. Orr-West was on a flyer and slowly hauled in each place ahead of her to finish 10th in the race and third overall by just three-points.
Within the Three Hour Series there are five separate Classes. The top three Audi filled the first three Class E (GT3 Type) places with George McFarlane/Jack Milligan (Porsche 997 Cup R) fourth.
Class D was won by Graeme Rhodes/Paul Rickerby (Ford V8 SuperTourer) who sealed the title after the first three rounds.
Class C (+3501cc) was a close battle between the quick Perry Scarfe/Grant Silvester (Ford BA Falcon) and the much slower Mercedes 190e of Victor Cattermole/Richard Simpson. Both had reliability issues over the series and it was a matter of making sure they finished the final race. Cattermole and Simpson have been campaigning their Mercedes for several seasons and have finally been able to step up onto the podium. Third was Grant Williams/Ben Williams/Rick Matheson Mazda RX8 who were the first Class C car home on Saturday.
Barry Moore/Tim Mackersy (Volkswagon Golf GTI TCR) held onto the Class B (201-3500cc) title 41-points ahead of Jared Pyke/Ben McConochie (Mazda RX8). Third and quickest car of the Class was Rhys Gould/Gene Rollinson (Hyundai i30N TCR). They finished seventh in the race but a retirement two weeks ago at Timaru dented their overall chances to win the Class title.
Arron Black/Stuart Black (BMW E46 WTC) won all four rounds in Class A (0-2000cc) and finished ahead of Mark Taylor/Vaughan Moloney (Honda Integra DC2) and Grant Moore/Matt Moore (Toyota Altezza).
A number of drivers and teams will now look to the New Zealand Endurance Championship race at Hampton Downs 16th November where the best endurance racing drivers and cars from both the North and South Island will come together for one 'winner-takes-all' decider.