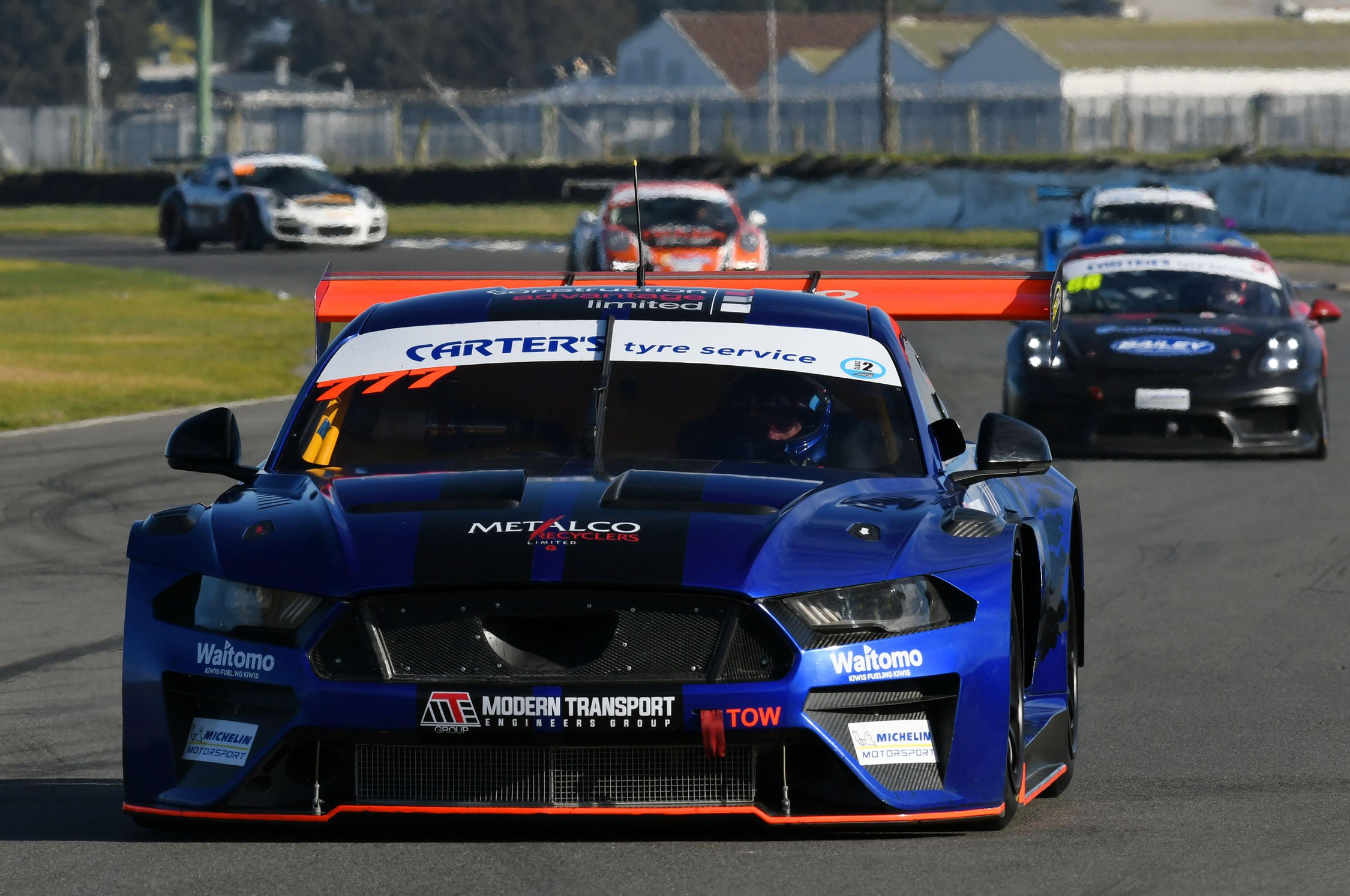 Collins and O'Donnell on track for One-Hour South Island Endurance Series titles at Timaru
Two separate One-Hour Carter's Tyre Service South Island Endurance Series titles are up for grabs at the Timaru International Raceway, Timaru, on Saturday. The first of two One-Hour races will see 23 cars take to the grid with 16 having a mathematical chance of winning the Class 2&3 title, although, Sam Collins (Marc Mustang) will be hard to beat having already won both rounds so far this season. In the separate race for the outright Class 4&5 title, Southland's Scott O'Donnell (Hyundai i20N TCR) is the in-form driver having won the opening round and finished second three weeks ago on his home track.
Collins has a 14-point gap to Ronan Murphy (Porsche 991 Cup) and Heremana Malmezac (Porsche 991 MR) who are second equal, with Marco Schelp in fourth (Porsche 997 Cup S). Collins also leads Class 2 (GT Type) although 11 cars are also in contention.
Nigel Cromie (McLaren 570s GT4) leads Class 3 (>3500cc including GT4) from Grant Williams/Ben Williams (Toyota 86 V8) and Angus McFarlane/M Bushell (Porschevy 996 V8). Fourth and fifth are Grant Aitken and Oliver Saxton/Racing Ray Williams, both in GT4 Porsches' which are likely to suit the tight Timaru circuit. With just 42-points covering the top five cars, the Class title will be hotly contested.
Scott O'Donnell leads Class 4 (2000-3500cc) and has a narrow 13-point lead over Mike Hall (VW Golf GTi TCR) for the overall Class 4&5 title with Warren Black (Audi RS3 LMS TCR) fast emerging also as a title contender, just seven-points behind Hall. Fourth overall and leading Class 5 (0-2000cc) is the ever-consistent Honda Civic of Brad Rule. Rule finished third overall in Round 1 and fourth in Round 2 to not only put himself in title contention but also hold a 21-point Class 5 lead over James Mitchell (Honda Civic) and Donovan Istead (Honda Civic).
Qualifying takes place at 9:00am (Class 4 & 5) and 9:25am (Class 2 & 3) with the Class 4 & 5 race starting at 10:20am and the Class 2 & 3 race at 11:40am.