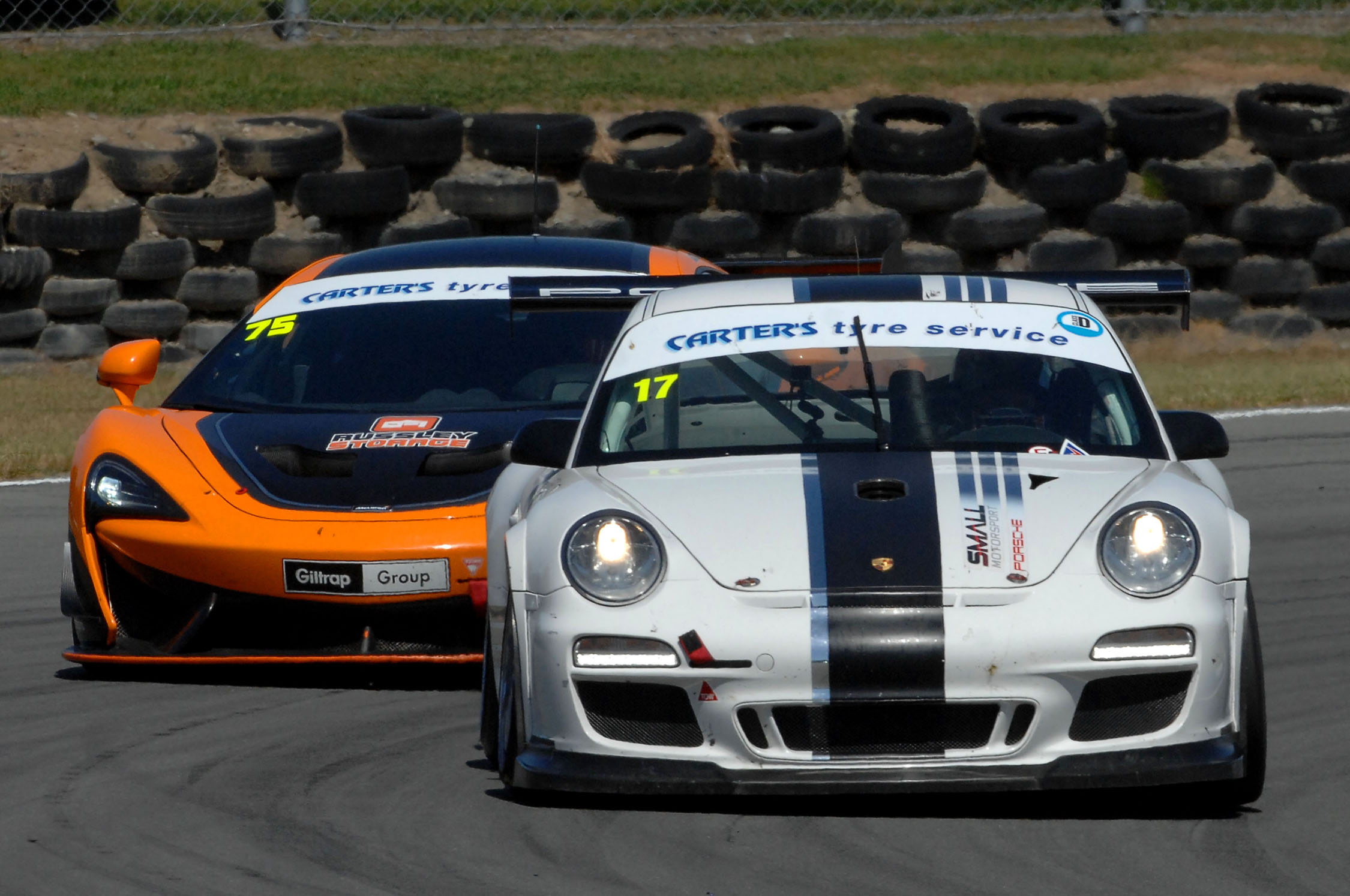 Small brothers win One Hour Series while Class titles get shake up
Chris and Johnny Small (Porsche 997 Cup) have won the Carter's Tyres South Island Endurance One Hour Series title after taking victory in the final fourth round in Christchurch on Saturday. The Timaru pairing won two of the four rounds beating home rival Jarrod Owens (Porsche 997 Cup S) by 18-points at the Mike Pero Motorsport Park.
"Thrilled to take the title," commented Johnny Small. "We've worked really hard over the off-season towards this. It's showed today, so massive thanks to the team and supporters. Really stoked!"
Strategy was the key for the Small's which saw them shadowing Owens for much of the race until the latter punctured with less than five minutes to go.
"Jarrod (Owens) was really fast and deserved the win so was unlucky to get a puncture near the end. We came here to win the championship and that's exactly what we have done."
"I felt it start pulling to the right, so we came in and changed it," commented Owens who still came home second. "Lucky to not lose more positions. Credit to these boys, they have been quick all season and deserve to win."
Winner of the second and third rounds Marco Schelp had problems in qualifying with his Porsche 997 Cup S and was unable to turn a lap. Living locally, he quickly brought in another car (BMW) and started from the back of the grid only to strike problems in the first lap and retired out of the race.
Owens had shown that he was quickest in the opening round at Teretonga Park in Invercargill in September but spun, allowing the Small's through to win.
"I think we gained an advantage at Invercargill with Jarrod getting fourth," commented Chris Small. "It gave us momentum and flexibility to push when we needed to in the next two rounds."
While Schelp won the following two rounds he was never in contention for overall honours not having competed at Teretonga.
Third overall was the pairing of Allan Dippie/Scott O'Donnell (Porsche 997 Cup S) followed by Jonas Patterson (Porsche 991 Cup) and Steve Nicolas (Porsche 997 Cup). The first non-Porsche finisher in sixth overall was Steve Scoles (Ginetta G55).
Four Class titles were also in contention which saw a number of changes in the overall standings. The Small brothers took out Class D (GT3 Type) from Owens and Dippie/O'Donnell.
In Class C (>3501cc), Alexandra's Bruce Davidson (Chev Corvette C6R) had a narrow five-point advantage over Murray Beeby/Karl Beeby (Nissan Skyline R32 GTR) heading into the final fourth round. Davidson was also fifth overall and first non-Porsche driver.
However, with just over 15 minutes into the race, Davidson pulled into the pits and eventually retired, seemingly handing the title to the Beeby's who only needed to finish to take the title. This nearly didn't happen with the car limping home with a drive-chain issue with minutes to go. The Beeby's took the Class C title from Davidson with Brayden Phillips (Ford Falcon BA NZV8) third overall.
In Class B (2001-3500cc) Jordon Michels went into the round with a 23-point advantage over Dennis and Debbie Chapman. Drama struck Michels in the last half of the race with brake issues. Time was lost in the pits dropping him down the order, seven laps behind the Chapman's and last in Class. However, sixth place in Class was enough to win the 2019 Class B title by four points. Robert Gjaja (Lotus Exige turbo/Integra 2.4) finished third.
There was also a shake-up in Class A (0-2000cc) with Mark Meadows (Lotus Exige) taking out the title honours from Andrew Kitching (Honda Civic). It was Tim Dossett (Honda Civic EF) who had a one-point lead over Meadows heading into the finale. However, a puncture within the first three laps saw Dossett into the pits. While he re-joined a lap down on Meadows, he never looked likely to catch the Lotus Exige and then eventually retired. Third overall was Andrew Wright (Toyota TR86) ahead of Dossett.