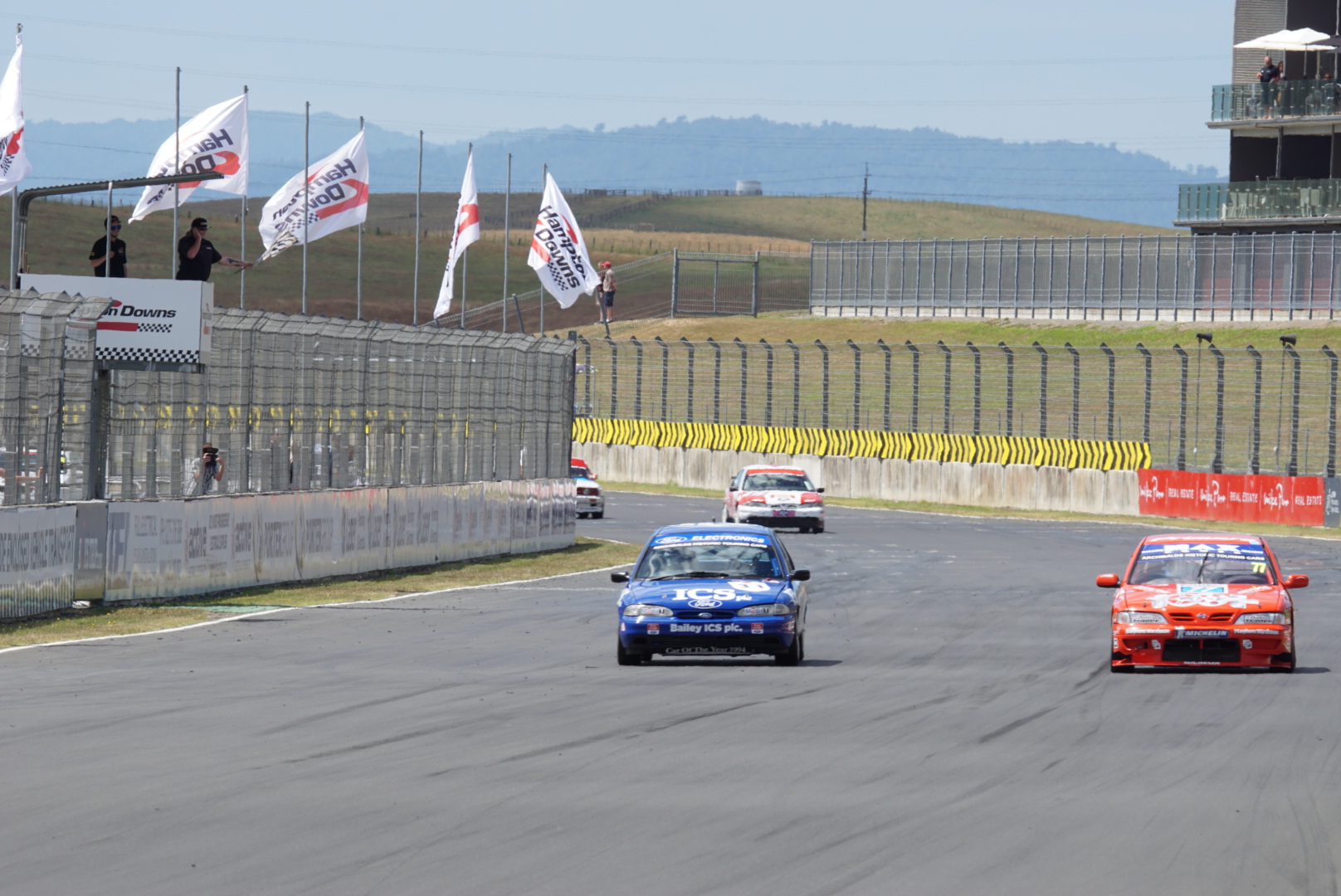 RADISICH AND RICHARDS SHARE HTC LIMELIGHT AT HAMPTON DOWNS
Former World Touring Car Cup winner Paul Radisich (Ford Mondeo SuperTourer) and current Bathurst 1000 co-champion Steven Richards (Nissan Primera SuperTourer) shared the limelight in the Historic Touring Car (HTC) category on the first day of competition at the big Legends of Bathurst classic motor racing meeting at Hampton Downs today.
Richards – who with famous father and fellow multi-time Bathurst 1000 winner Jim Richards is one of the special guests at the meeting – got the ball rolling, claiming pole position for today's six lap HTC race in the morning qualifying session behind the wheel of the Phil Mauger-owed ex BTCC Primera.
But after an entertaining six laps in which the pair constantly changed positions it was Radisich who got to the finish line first, albeit by a margin of just 0.045 seconds, in one of the very same Ford Mondeos he drove in period.
Third – in both the morning qualifier and the afternoon race -was the man who now owns the Radisich Mondeo, Invercargill businessman Scott O'Donnell driving another Ford Mondeo SuperTourer – from Arron Black driving the first of the 21-strong field's E30 BMW M3s then Scott O'Donnell's uncle Lindsay O'Donnell in a Volvo S40 SuperTourer.
O'Donnell, from Christchurch, enjoyed the distinction of setting the quickest race lap – 1.46.962 – as he edged away from an early race battle pack which had included Australian series regular Charlie O'Brien, driving the ex Gianfranco Brancatelli DTM-spec 2.5 litre BMW E30 M3 owned by Peter Sturgeon, and former Australian Touring Car champion and Bathurst winner John Bowe driving the Mark Petch-owned Volvo 240T.
As Lindsay O'Donnell edged away from O'Brien and Bowe, Jim Richards worked his way closer to Bowe in Peter Sturgeon's other classic BMW touring car, the Group C spec 635, crossing the finish line  in eighth place.  Ninth was Lindsay O'Donnell's son Matthew O'Donnell enjoying a strong run in his ex Tony Longhurst ATCC BMW E36 SuperTourer with Christchurch's Trevor Crowe working his way up through the field to finish 10th after failing to post a qualifying time and starting from the back of the grid.
Series newcomer David Hopper driving a Group A-spec Ford Mustang proved the worth of V8 power in 11th place after a race-long battle for the position with Christchurch's Steven Kelly in the first of the NZTC-spec 2-litre 6-cylinder E36 BMW 320i's with Simon Crampton, Nick Young, Warren Good and Graeme Clyde next in line in their BMWs.
Concluding the finishers were Christchurch pair Gary Wilkinson (Gp A Jaguar XJS V12) and Austin McKinley (Gp A Holden Commodore V8) who enjoyed a race-long battle of their own crossing the finish line just 0.072 of a second apart.
Nelson's Brett Stevens (Gp A Ford Sierra RS500) and Auckland's Graeme Cameron (DTM-spec BMW M3) both missed out on qualifying with mechanical issues and though they lined up on the dummy grid Stevens managed only two laps before blowing an intercooler hose and pitting, while Cameron failed to make the start thanks to a battery/alternator issue.
The Historic Touring Cars will be back out on track at Hampton Downs for two more six lap races tomorrow.
2019 NZ HISTORIC TOURING CAR SERIES
Rnd 1: Jan 12-13, 2019 Legends of Bathurst Festival meeting Hampton Downs Nth Waikato
Rnd 2: Feb 01-03, 2019 Skope Classic meeting Mike Pero Motorsport Park ChCh
Rnd 3: Feb 15-17, 2019 Evolution Motorsport Classic Speedfest Teretonga Park Ingill
CAPTIONS
Paul Radisich (Ford Mondeo ST) leads home Steven Richards (Nissan Primera ST) in the first NZ Historic Touring Car Series race at Hampton Downs today. This year Richards is driving a Nissan Primera SuperTourer. The fastest race lap today went to the Volvo S40 of Lindsay O'Donnell who finished  fifth. Photo credit: Fast Company/Stephen Gyde.
Produced by FAST COMPANY on behalf of the Historic Touring Car (NZ) Association