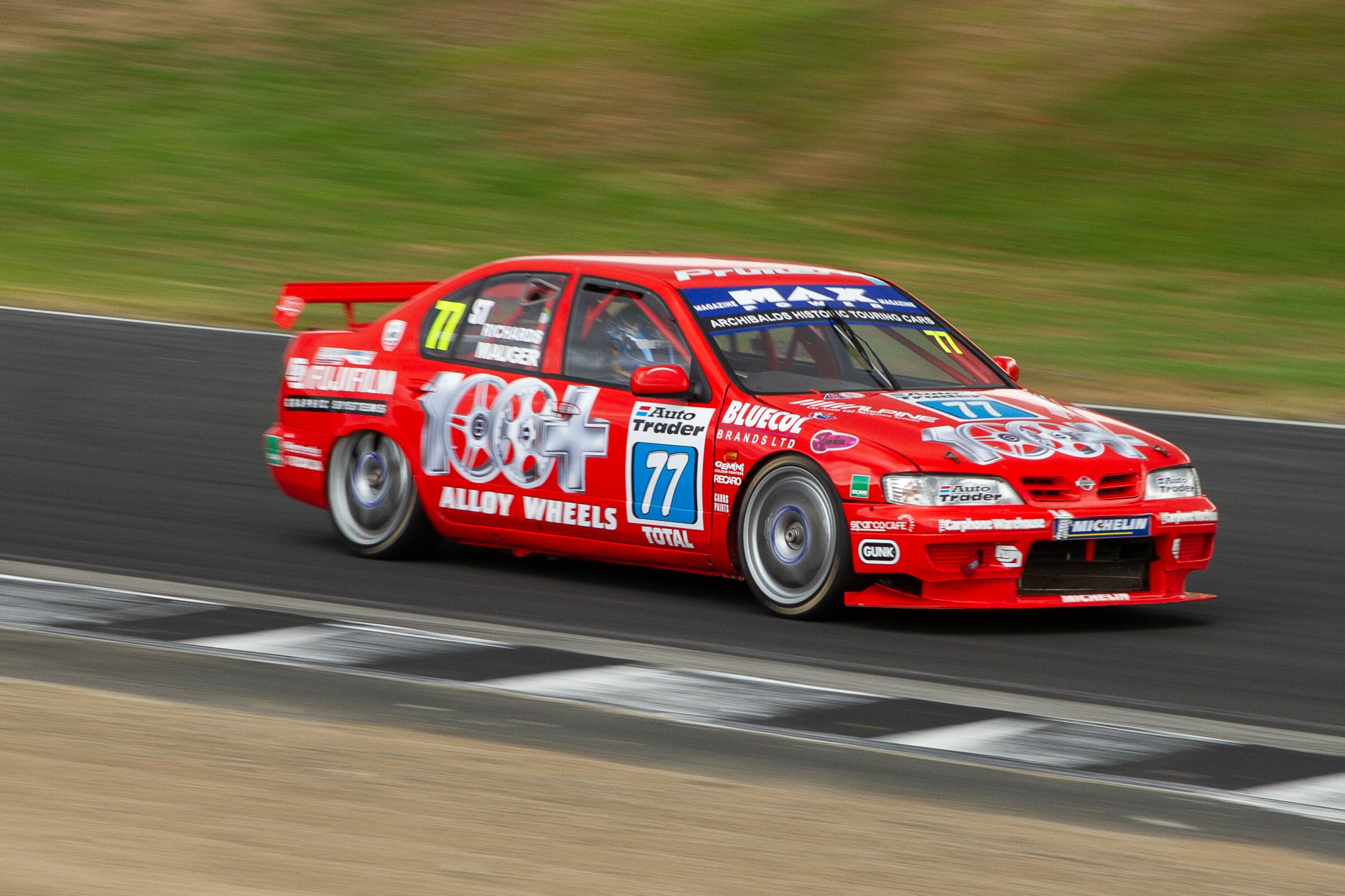 RICHARDS HAS TO WORK HARD FOR HTC WINS AT HAMPTON DOWNS
He won Bathurst last year with fellow Supercars legend Craig Lowndes. And he qualified Phil Mauger's late model Nissan Primera SuperTourer on pole for the opening round of this year's New Zealand Historic Touring Car Series (HTC) at the Legends of Bathurst classic motor racing meeting at Hampton Downs on Saturday. But second-generation Kiwi-born touring car ace Steven Richards had to work extra hard for his two wins today.
In the weekend's second HTC race this morning the 46-year-old had to fend off a four-car challenge from fellow guest driver Paul Radisich (Ford Mondeo ST) and category fast men Arron Black (Gp A BMW E30 M3) and Scott O'Donnell (Ford Mondeo ST). Then in the final 6-lapper this afternoon Brett Stevens (Gp A Ford Sierra) swapped the lead with Richards until the final lap only to make a small mistake and lose just enough time to negate the advantage his turbocharged old-school rear-wheel-drive Gp A Ford had over the later model front-wheel-drive Nissan SuperTourer.
"I thought I had him too, 'said Motueka man Stevens who had spent the weekend in catch-up mode after replacing his car's turbo then having an intercooler hose blow off in the Saturday race.
In the morning race he spent all his time working his way forward after starting from the back of the grid. But he quickly converted his P6/row 3 start in the final to second place before storming past Richards for the first time on lap four on the long run up the Hampton Downs hill to the start-finish line on the front straight.
Richards was able to claim the place back through the eight other corners but with a lap to go must have been wondering what to do about the rampant Sierra on the final run to the chequered flag.
As it turned out, however, Stevens pushed a little too hard and ran wide through the final complex of corners, allowing Richards to pull just enough of a gap to hold the Sierra off, albeit the gap at the finish line just  0.292 of a second.
Having had issues of his own in qualifying and failing to make the start of the first race, Graeme Cameron (Gp A DTM-spec BMW E30 M3) started the final race from P5 but ended up third overall after spending most of his race working his way past Arron Black, Scott O'Donnell and Paul Radisich.
Radisich enjoyed another strong run in the car (now owned and fully-restored to original full-race condition by Invercargill businessman and keen HTC racer Scott O'Donnell) he won the World Touring Car Cup in at Donington Park in the UK in 1994, adding a fourth place finish to his win on Saturday and close second place (the margin was just 0.089 of a second) in the race on Sunday morning.
O'Donnell himself crossed the finish line in the final race in fifth while, after briefly leading the morning race and ending up third, multi-talented Dunedin driver Arran Black slipped back to sixth at the line in the final, with race-winner Steven Richards' father Jim again seventh in car owner Peter Sturgeon's Group C BMW 635i.
Christchurch's Lindsay O'Donnell (Volvo S40 ST) ended up a hard -won eight after driving through from the back of the grid because of a dnf in the morning race caused by a loose front wheel while fellow Cantabrian Trevor Crowe was 9th behind the wheel of the Gp A-spec BMW 635i he also drove in period.
Australian series regular Charlie O'Brien also had wheel trouble (breaking the left rear BBS three-piece) in that race, and unfortunately had to sit out the final one when his crew was unable to source a new rear brake rotor and caliper to repair the Peter Sturgeon-owned ex DTM Gp A-spec BMW E30 in time.
Fellow Australian and event guest John Bowe finished the morning race in eighth place just behind Jim Richards but like O'Brien sat out the final – in his case when the new owner of the Gp A Volvo 240T he drove this weekend came to collect it!
Warren Good, meanwhile, was an early dnf in the final race thanks to a fuel starvation issue with his ex Tim Harvey BTCC-winning BMW 318iS. After a diff issue saw him end the morning race in the pits, series newcomer David Hopper (Gp A Ford Mustang) had a much better final, spending most of it locked in an entertaining scrap over 12th place with Nick Young in his Gp A BMW 325i
Christchurch's Steven Kelly, meanwhile ended the weekend claiming NZTC category honours, finishing 10th in the morning race and 11th in the final, in the latter just 1.720 seconds adrift of fellow Christchurch driver Matthew O'Donnell (BMW 318i ST) and well ahead of the battling Hopper and Young.
Rounding out the field in the final race were three more Cantabrians, Gary Wilkinson in the Gp A Jaguar XJS, Graeme Clyde in the second International Motorsport-built NZTC BMW E36 2-litre, and Rob Broek in his Gp A DTM BMW M3.
The 2019 NZ Historic Touring Car Series now heads south for rounds in Christchurch and Invercargill in February.
Ends
2019 NZ HISTORIC TOURING CAR SERIES
Rnd 1: Jan 12-13, 2019 Legends of Bathurst Festival meeting Hampton Downs Nth Waikato
Rnd 2: Feb 01-03, 2019 Skope Classic meeting Mike Pero Motorsport Park ChCh
Rnd 3: Feb 15-17, 2019 Evolution Motorsport Classic Speedfest Teretonga Park Ingill
CAPTIONS
Steven Richards (Nissan Primera ST) on his way to his second NZ Historic Touring Car Series race win at Hampton Downs today. Second in the final HTC series race was Brett Stevens in his Gp A Ford Sierra RS500 Cosworth. Third in the final race was Auckland's Graeme Cameron in his Gp A BMW E30  M3 seen here leading Jim Richards and Trevor Crowe in their BMW 635i cars. Photo credit: Fast Company/David Whitham-Great South Photography
Produced by FAST COMPANY on behalf of the Historic Touring Car (NZ) Association