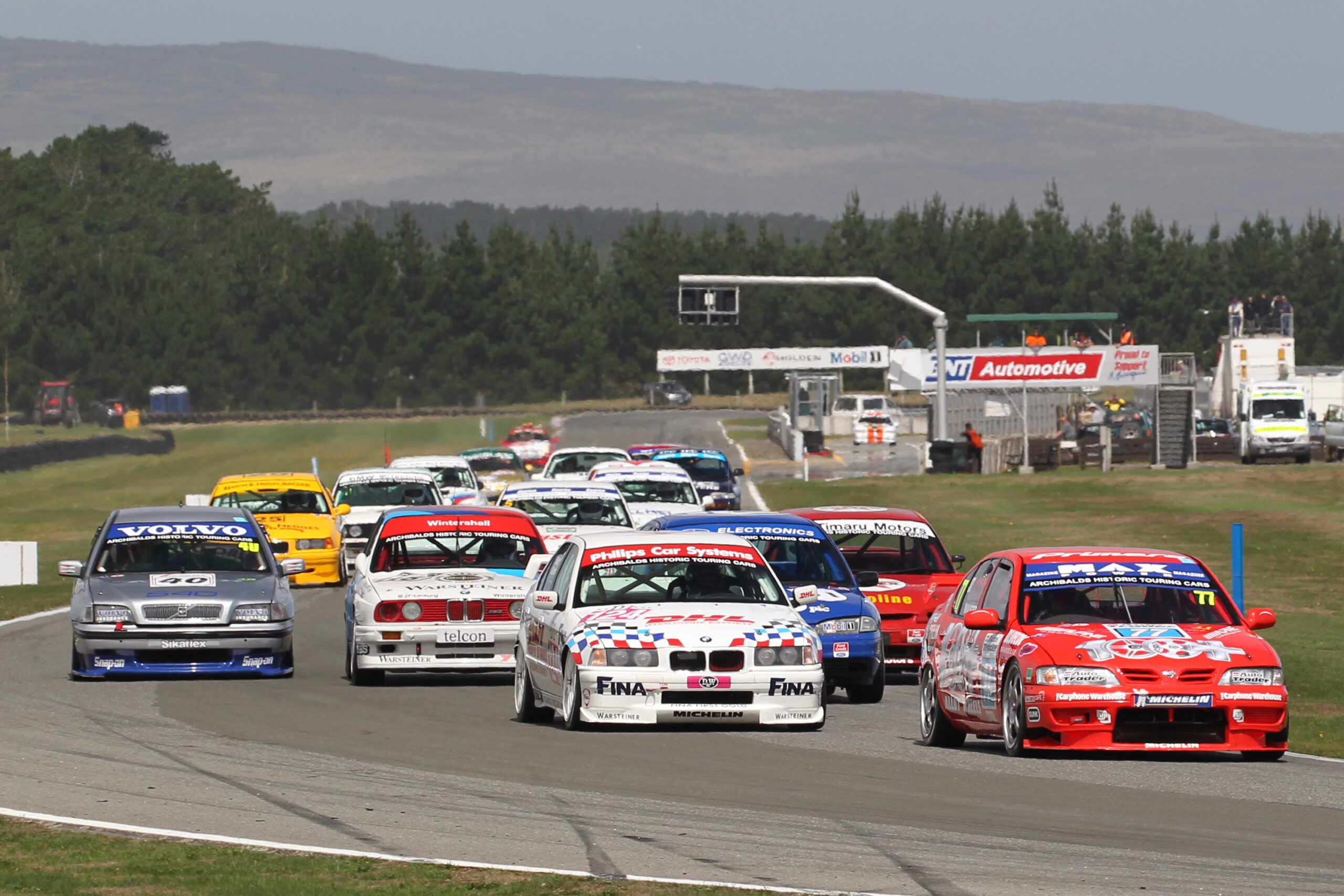 'GOLDEN AGE' TOURING CARS IN ACTION AGAIN IN NZ THIS SUMMER
Kiwi motor racing fans still talk fondly about the 'Golden Age' of touring car racing – the Group A and Super Tourer era from 1985 to 2000.
It was a time when some of the best teams and drivers in the world shipped their cars here for rounds of the Nissan Mobil series at Pukekohe and the Wellington waterfront circuit, and rounds of the British Touring Car Championship (BTCC) were compulsory viewing on free-to-air TV just days after they had screened in the UK.
It was an era, too, when the cars looked – on the face of it anyway – just like the ones you could buy from Holden (the VK Commodore), Ford (Sierra & Mondeo) and/or BMW (320 & 325i).
This summer those same motorsport fans will be able to see many of the very same cars in action at events around the country courtesy members of New Zealand's Historic Touring Car (NZ) Association.
The Association was set up in 2015 to promote the purchase and active use of Touring Cars from the various categories which were run through the 1980s and 1990s.
Included in this catch-all group are the two most familiar to Kiwi fans, Group A (1985-92) and Super Tourers (1992 to 2000), as well as Group C (Australia) and NZTC (NZ's own 2 litre Touring category)
This season the Association is running a three-round series with rounds at the biggest and most prestigious historic motor racing meetings on the calendar.
The first is the Legends of Bathurst meeting at Hampton Downs in the northern Waikato this weekend, (January 12 & 13),  the second the Skope Classic at Mike Pero Motorsport Park in Christchurch between Feb 01 & 03, and the third at the Evolution Motorsport Classic Speedfest at Invercargill's Teretonga Park between Feb 15 & 17.
Event-goers can expect to see over 20 purpose-built Touring cars from the '85-2000 era, including Peter Sturgeon's Group C BMW 635i, the Group A Ford Sierra Cosworth RS500 of Brett Stevens, the World Touring Car Cup-winning Ford Mondeo Super Tourer of Paul Radisich, and the BMW 320i NZTC of Steven Kelly.
Paul Radisich will be one of at least six period original drivers who will drive cars at rounds of this season's series. At the Legends of Bathurst meeting at Hampton Downs, for instance, seven-times Bathurst winner Jim Richards will drive Peter Sturgeon's JPS-liveried Group C BMW 635i, son Steven Richards (with Craig Lowndes the current Bathurst title-holder) will drive a Nissan Primera SuperTourer, two-time Bathurst 1000 winner John Bowe will be behind the wheel of  a  Group A Volvo, and fellow Australian tin-top star Charlie O'Brien will drive Peter Sturgeon's other Group A-spec BMW, an E30-model M3.
With interest in buying, where necessary restoring, then race preparing these well-loved and remembered racing cars at an all-time high, Association spokesman Stephen Grellet, who owns and races an ex BTCC Peugeot 406 2.0 SuperTourer, says that the series is a timely addition to the programme at classic motor racing meetings around the county.
"It really was a fantastic era and we are very fortunate that many of the cars that were raced in period are still available for us to buy and run in our series here."
2019 NZ HISTORIC TOURING CAR SERIES
Rnd 1: Jan 12-13, 2019 Legends of Bathurst Festival meeting Hampton Downs Nth Waikato
Rnd 2: Feb 01-03, 2019 Skope Classic meeting Mike Pero Motorsport Park ChCh
Rnd 3: Feb 15-17, 2019 Evolution Motorsport Classic Speedfest Teretonga Park Ingill
CAPTION: Phil Mauger (Nissan Primera ST) leading the NZ Historic Touring Car Series field into the first corner at the final 2017/18 series round at Teretonga last year.  Photo credit: Fast Company/Alex Mitchell
Produced by FAST COMPANY on behalf of the Historic Touring Car (NZ) Association