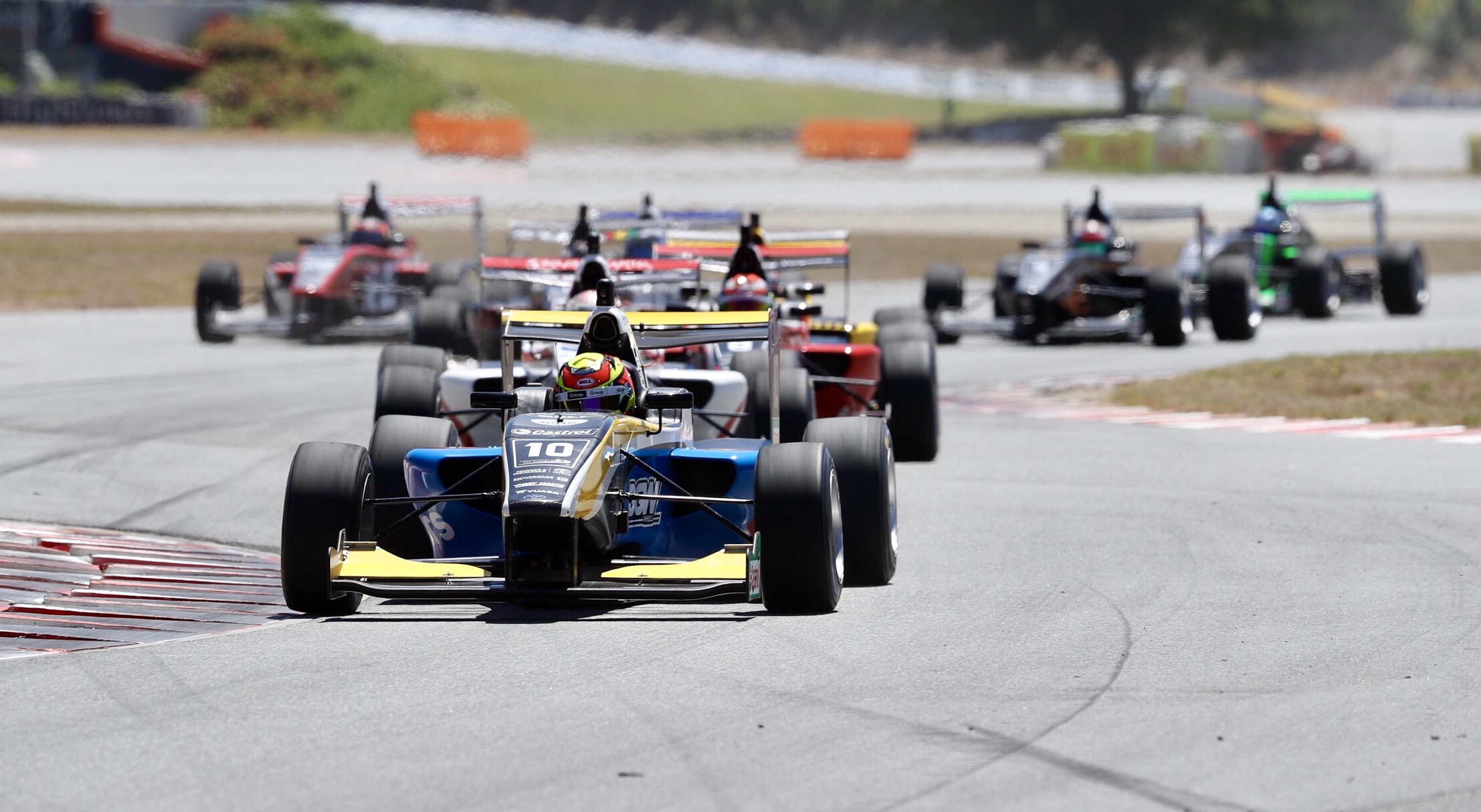 Awesome Lawson opens Castrol TRS account with dominant win
New Zealander Liam Lawson has won the first race of the 2019 Castrol Toyota Racing Series, taking a dominant lights to flag home victory at Highlands Motorsport Park in Cromwell.
Starting second on the grid, Lawson timed his start to perfection and was already ahead of pole position sitter Raoul Hyman – the current Asian Formula 3 champion – as the field poured into the high speed chicane. Also making great starts were Brendon Leitch (New Zealand) and at the back Dev Gore from the United States who went jumped from 13th on the grid to tenth place as the dust settled after the start.
At the end of the first lap it Lawson had already gapped second placed Hyman, with Marcus Armstrong in third and on a recovery drive after being stripped of pole position in qualifying for achieving his fastest lap under yellow flags. Belgian Esteban Muth crossed the start/finish line at the end of the first lap in fourth with Austrian Lucas Auer in fifth, Leitch in sixth having lost his start line gains, Cameron Das from the United States looking very quick in seventh, Czech Republic racer Petr Ptacek in eighth, Japan's Kazuto Kotaka in ninth and Gore rounding out the top ten.
The early laps, however, were all about Lawson as he streaked away from the field clocking fastest lap after fastest lap. Hyman had no answer to his pace and within a handful of laps was focussing on holding off Armstrong as the front three built up an impressive lead on the pack behind. It was Leitch and Das doing battle in the early laps that caught the attention of the fans, but that switched on lap six when Super Formula-bound Lucas Auer pulled a great pass on Muth at the final section of the super-fast Highlands track. Muth lost momentum and fell into the clutches of both Leitch and Das and a fierce battle ensued which eventually saw Das onto the dirt and falling back to ninth.
Auer, now free of Muth, made quick work of catching Armstrong and both were mounting increasing pressure on Hyman, who seemed to be struggling to match the pace of the two more experienced racers behind. It took until lap 12 for the two to get by the impressive Hyman, however and by then any faint hopes they might have had of catching the flying Lawson were long gone, the young Kiwi over seven seconds ahead.
At the flag it was a dominant Lawson who bagged an impressive first win to begin 2019 where he left off in 2018 in the final Asian F3 Championship race, with a win. And he secured a new outright lap record around the Highlands track in the process.
"I'm stoked! Since I started racing I've wanted to race TRS and to finally be able to do that today is pretty cool," explained the 16 year old. "After qualifying on the front row, I was focusing on my start, making sure I was going to get away cleanly and then make sure I could either move forward or hold my position into the turn two. Going into the bus stop alongside Raoul was pretty cool but luckily I was able to pop out ahead of him.
"From there it was just about getting into my grove and getting a gap on the field. I think we looked after our tyres pretty good. I can't thank the M2 Competition enough, they've provided another winning car in this series and I'm privileged to be a part of it."
Armstrong finished second to make it a home 1-2 for New Zealand, holding off a challenging Auer. Hyman held on to take fourth, with Leitch coming home in fifth – not a bad result at all for the track specialist after his 2019 Castrol Toyota Racing Series deal came together late in the day. Muth claimed sixth, Ptacek seventh, Kotaka eighth, Das a disappointed ninth and Artem Petrov closed out the top ten after a major rebuild on his car following a significant testing crash in the build up to the race weekend.
Race 1 Result – Highlands Motorsport Park Round 1
1.            Liam Lawson (New Zealand)
2.            Marcus Armstrong (New Zealand)
3.            Lucas Auer (Austria)
4.            Raoul Hyman (United Kingdom)
5.            Brendon Leitch (New Zealand)
6.            Esteban Muth (Belgium)
7.            Petr Ptacek (Czech Republic)
8.            Kazuto Kotaka (Japan)
9.            Cameron Das (USA)
10.          Artem Petrov (Russia)
11.          Calan Williams (Australia)
12.          Petru Florescu (Romania)
13.          Parker Locke (USA)
14.          Dev Gore (USA)
15.          Thomas Smith (Australia)
Caption:  Liam Lawson makes good his escape to dominate the first 2019 Castrol Toyota Racing Series race. Picture John Cowpland.
Release: Toyota Racing NZ