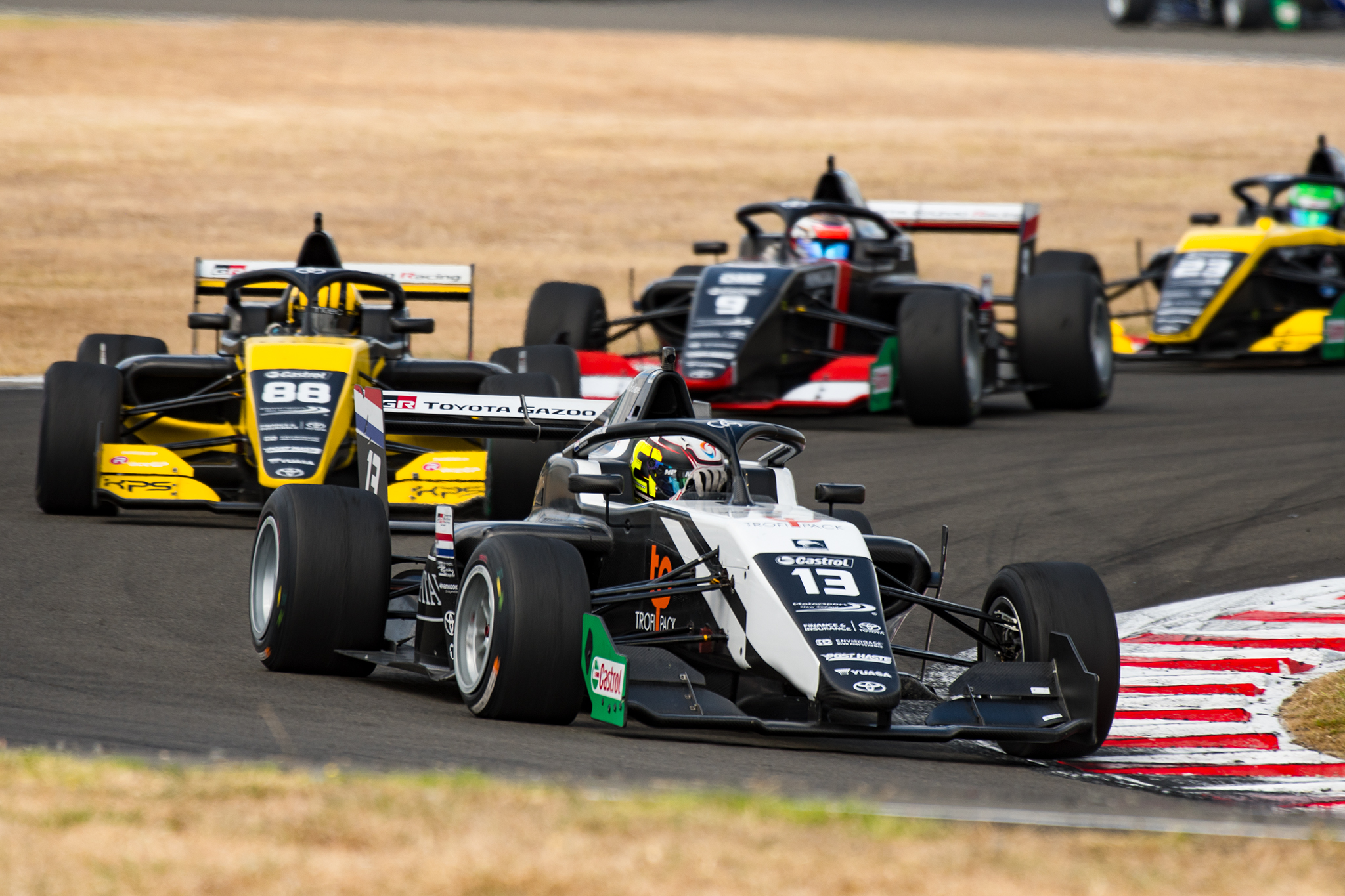 All to play for in GP as van der Helm becomes eighth 2020 TRS winner
Tijmen van der Helm – the youngest driver in the Castrol Toyota Racing Series – took an impressive first win in the championship on Sunday morning in the penultimate race of the New Zealand Grand Prix weekend.\
With Argentinian Franco Colapinto in second place after another great drive in the 20 lap race, it ended as a 1-2 result for Kiwi Motorsport. Van der helm, who was too young to take part in the first two race weekends of this year's championship and only raced from Hampton Downs onwards, became the eighth winner of the super competitive 2020 championship.
Behind the top two, there was plenty of drama and through it all, M2 Competition's Igor Fraga beat championship leader on Liam Lawson for the second time of the weekend and narrowed the points gap between the pair to just two points with only the 65th New Zealand Grand Prix remaining in this year's championship.
The grid for the race was formed based on the top eight from Saturday's race staring in reverse order and that put Lucas Petersson on pole position with Lucas Petersson alongside him on the front row.
As the lights went out and the field sped away, Petersson made a good start, but Ptacek got a better one. As they battled through the first turn Petersson took the lead from Ptacek, but van der Helm found a way by the Czech Republic racer on the first lap too.
Further back the crowd gasped as Fraga and Lawson touched on the run to the first corner. After parting, they still entered the first turn side-by-side but it was Fraga who emerged in front. Lawson immediately set off after him and for several laps the champion looked like he would find a way past. The two sat side by side several times during the early laps as Lawson desperately tried to find a way by but it was the Brazilian who always emerged from the corner in front.
Both had to contend with slightly slower cars in front as the race progressed and each had to make passes on both Lucas Petersson and Caio Collet before settling into their eventual finishing spots with Fraga in fourth and Lawson in fifth. Lawson's team mate Yuki Tsunoda got himself into the thick of the action too, dicing with Collet in the latter part of the race and eventually coming home in seventh.
Petersson came off worst in most of the battles and as he fell away from the lead seemed to lose momentum in the race. His eventual eighth put him only half a second ahead of Jackson Walls at the flag. Spike Kohlbecker also suffered in the early part of the race and dropped back, but recovered and joined the battle pack mid field for an eventual tenth place finish.
Further back Emilien Denner put in a great drive after a pit lane start and forged his way up to 14th while 78 year old Kenny Smith's rotten day continued with engine gremlins. He'll be hoping they are sorted out so he can start an unprecedented, and almost certainly unmatchable, 49th New Zealand Grand Prix.