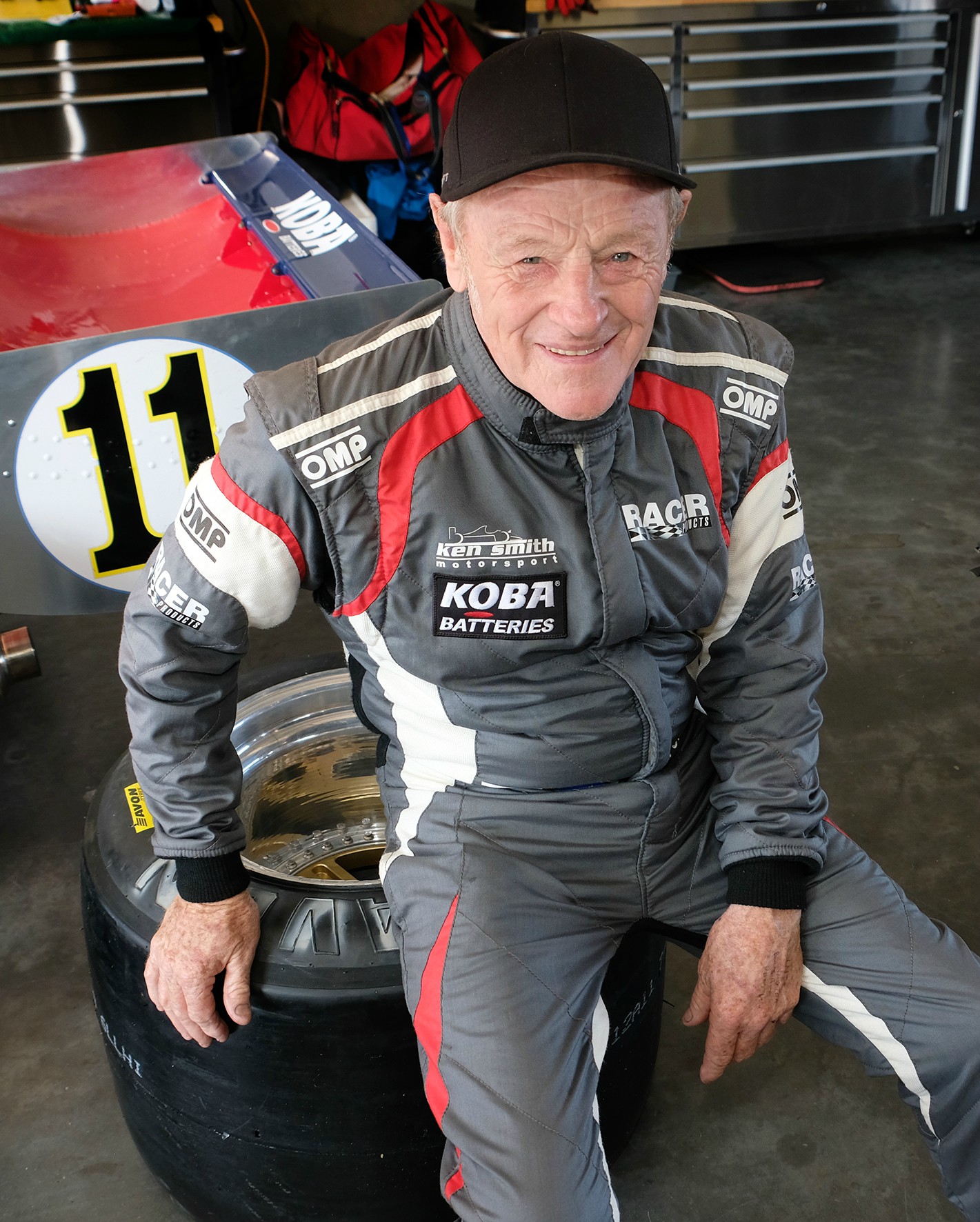 'LEGEND OF LEGENDS' HEADS F5000 ENTRY AT SERIES' FINAL THIS WEEKEND
It's called the Legends of Speed meeting so it is only fitting that bona fide local motor racing legend Ken Smith heads the SAS Autoparts/MSC NZ F5000 Tasman Cup Revival Series entry list for the final round of the 2018/19 title chase at Hampton Downs this weekend.
Now 77-years-of-age and contesting his 61st consecutive season of national level motor racing in this country, Smith – who was awarded an MBE for his services to motorsport way back in 1987 – is a five-time winner of the New Zealand Gold Star Driver Award, a four-time winner of the SAS Autoparts MSC NZ F5000 Tasman Cup Revival Series and a three-time winner of both the New Zealand Grand Prix, and the Lady Wigram Trophy.
Still with absolutely no plans of slowing down, stepping back or (perish the thought) 'retirement' Smith is also enjoying a real purple form patch at the moment, dominating the first three rounds of this season's SAS Autoparts MSC F5000 series and heading into the final round this weekend with a sizable lead in the 2018/19 points standings.
Though the only driver who has beaten him to the chequered flag in an SAS Autoparts MSC series race this season, series young gun Michael Collins (McRae GM1), cannot be at the final round this weekend, and the only other driver who has led Smith in a race (Greg Thornton) has returned to the UK, the wily veteran will not exactly lack for competition this weekend.
Joining him on the grid at the meeting are series regulars David Banks (Lola T332), Brett Willis (Lola T330), Aaron Burson (McRae GM1), Tony Roberts (McLaren M10B), Frank Karl (McLaren M10B), Shayne Windelburn (Lola T400), Glenn Richards (Lola T400), Tim Rush (McLaren M22) and former New Zealand Formula Ford champion Kevin Ingram (Lola T332).
With neither Collins (currently 2nd) and Thornton (4th) in attendance there will be real interest this weekend on who ends up third overall.
Smith remains the champion-elect with 752 points with Collins looking safe in second with 627 points. Willis however, only held third place after the penultimate round in Christchurch by a single point over Thornton, (519 v 518) and though the Chevron ace is not competing this weekend David Banks (currently 5th on 501) and Kevin Ingram (6th on 473), are.
Aaron Burson, currently 7th in the points standings with 465, could also make up both ground and placings if things go his way over the weekend.
A bonus as far as spectators at the meeting are concerned will also be the appearance with the SAS Autoparts MSC F5000 cars of the BRM P207 Formula One machine in the hands of proud owner Peter Burson, Aaron's father.
Also on a packed programme at the annual Legends of Speed meeting at Hampton Downs on Saturday and Sunday are races for Formula Libre/Sports Cars/Historic Formula Fords, Historic Sports Sedans and Historic Muscle Cars/Historic Saloon Cars, as well as BMWs (E30/2-litre/Open), Alfa Romeos (Toorace Trofeo Series), and the Arrow Wheels, AES Trade Zone, PPG Classic Trial and Hooters Vintage Race Series classes.
There will be cars on track from 9.00am on Saturday and 8.30am on Sunday.
Points after Rnd 4 of 5
Ken Smith (Akld) Lola T332 752 points
Michael Collins (ChCh) McRae GM1 627
Brett Willis (Rot) Lola T330 519
Greg Thornton (UK) Chevron B24 518
David Banks (Akld) Lola T332 501
Kevin Ingram (Fldg) Lola T332 473
Aaron Burson (Akld) McRae GM1 465
Tony Galbraith (Akld) Lola T332 439
Tony Roberts (Nap) McLaren M10B 390
Glenn Richards (Akld) Lola T400 372
Shayne Windelburn (Akld) Lola T400 326
Peter Burson (Akld) McRae GM1 306
Russell Greer (Blen) Lola T332 266
Frank Karl (Akld) McLaren M10B 215
LeRoy Stevenson (Qtwn) Leda LT27 188
Class A
Tony Roberts (Nap) McLaren M10B 199 points
Frank Karl (Akld) McLaren M10B    122
Calendar:
Rnd 1.  2-4 Nov 2018 – Supercars ITM Auckland SuperSprint – Pukekohe, NZ.
Rnd 2.  19-20 Jan 2019 – Historic Grand Prix – Bruce McLaren Motorsport Park Taupo, NZ.
Rnd 3.  25-27 Jan 2019 – Speedworks NZ Champs/HRC – Hampton Downs NZ – Short Track, Waikato, NZ.
Rnd 4.  2-3 Feb 2019 – Skope Classic – Mike Pero Motorsport Park Ruapuna, Christchurch, NZ.
Rnd 5.  23-24 Mar 2019 – HRC Legends of Speed Hampton Downs NZ – Short Track, Waikato, NZ.
CAPTION: SAS Autoparts MSC NZ F5000 Tasman Cup Revival Series 2018/19 points leader heading into this weekend's final round is legendary New Zealand racing driver Ken Smith (#11 Lola T332). Third overall is Rotorua's Brett Willis (Lola T330), fifth Aucklander David Banks (Lola T332). Photo credits: Fast Company/Geoff Ridder
Prepared by FAST COMPANY of behalf of the New Zealand Formula 5000 Association