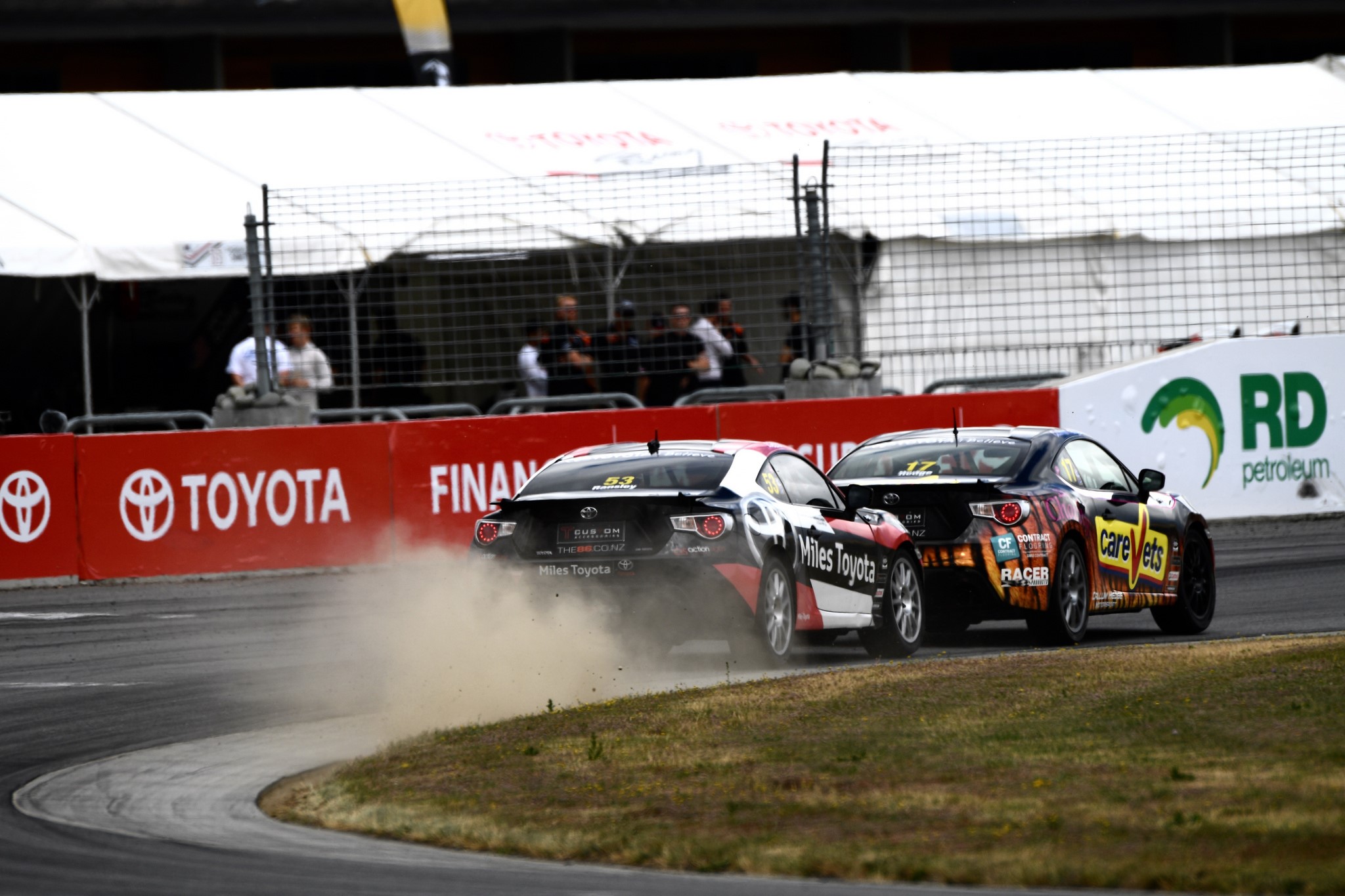 Hedge ahead as championship chase heads to Invercargill
CareVets Scholarship racer Callum Hedge extended his series lead in the Toyota 86 Championship at the third round of the series at the Highlands Motorsport Park in Cromwell over the weekend, but missed the opportunity for a clean sweep of three victories when a Race 2 indiscretion proved costly.
It was a bitter sweet weekend for Hedge, who was the fastest man at the impressive South Island track throughout the weekend. He headed qualifying and the first race before incurring the wrath of the stewards in the second race for being a little too rough in getting past Jaden Ransley for the race lead. A five second penalty proved highly significant, not only pushing him down the finishing order to fourth for Race 2 and gifting title rival Ransley the win, but also compromising his starting position for the final race of the weekend.
That win went to Peter Vodanovich – like Hedge not only a contender for overall honours in the series but also a Rookie. It was his first race win of the Championship and one which he will remember having held off both Hedge and Ransley in an absolute thriller.
Heading to the fourth round at Teretonga Park next weekend, Vodanovich now rounds out a top five in the championship battle that consists of Hedge, with a 54 point buffer over Ransley, with Jordan Baldwin a solid third just two points behind and Round 1 winner Connor Adam in fourth, now 90 points behind Hedge after a challenging weekend in the Post Haste car.
Championship positions after 3 rounds
1 Callum Hedge – CareVets NZ Ltd – 574
2 Jaden Ransley – Miles Toyota/Kitchen Studio – 520
3 Jordan Baldwin – Intermach NZ/Carters Tyres – 518
4 Connor Adam – Post Haste/Weigh Northland – 484
5 Peter Vodanovich – CMC Markets/MacClure's ITM – 449
6 Arran Crighton – CareVets NZ Ltd – 388
7 Brock Gilchrist – NEXUS Logistics/Giltrap Group – 385
8 Kaleb Ngatoa – JJ Wallers/Capture Signs – 319
9 Jacob Cranston – Best Bars/Vista Lite – 297
10 Campbell Stewart – NZPGS/Hydraulink – 292
11 Sam Wright – Tony Richards Toyota/Premier – 278
12 Connor Davison – Hampton Downs/Highlands Park – 277
13 Mitch Hughes – Gilpin Cartage Contractors – 215
14 Justin Allen – Battery Town/Thunder Adventure
15 Leo Bult – North Shore Toyota – 164
16 Jake Klein – SpeedWorks/Toyota – 143
17 Andrew Jackson – North Shore Toyota – 111
18 Tony Austin – Genweld – 102
Caption:  Jaden Ransley is chasing Callum Hedge for title honours, but the CareVets rookie holds the advantage heading to Teretonga. Picture Bruce Jenkins.
Release: Toyota Racing NZ