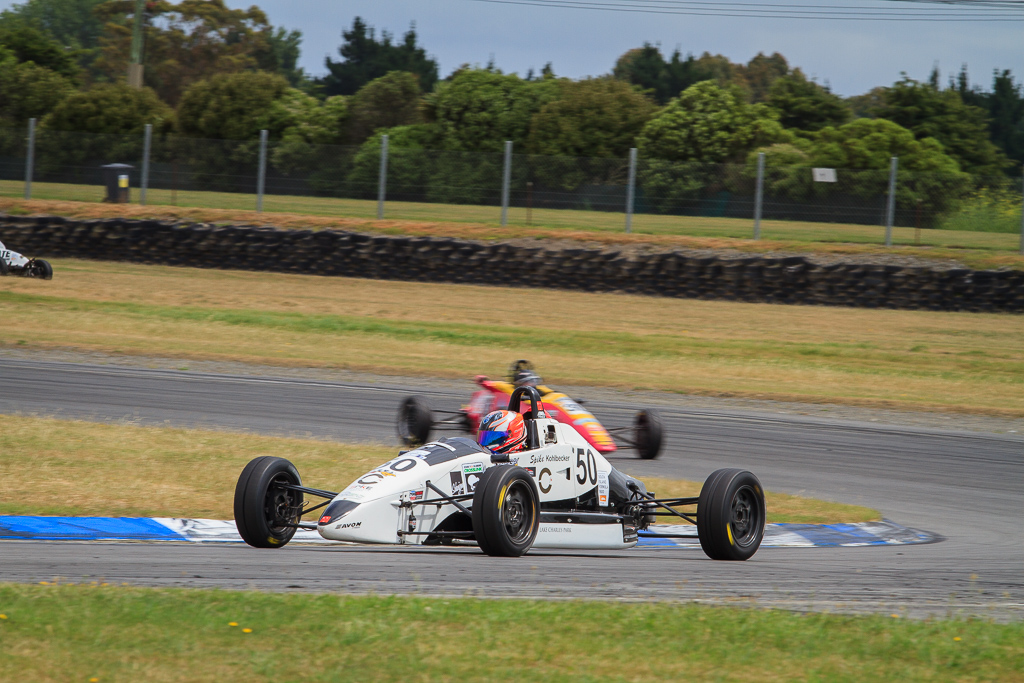 Rookie Penrose wins; Kohlbecker shines
Rookie driver James Penrose has won the opening race at the second round of the New Zealand Formula 1600 Championship held at the Mike Pero Motorsport Park this afternoon. Penrose was able to hold out championship leader Josh Bethune who took second from pole-sitter Jordan Michels.
"I couldn't be happier," exclaimed Penrose. "He (Bethune) was pushing me all the way and was particularly quick on the straight."
Twenty-eight cars took to the track for qualifying, one of the largest fields seen for some time in the category.
"That race went much better than qualifying," said Bethune. "Happy with how the race went, particularly on old tyres. I kept trying to figure out a way to get past him (Penrose) but he was particularly quick through the 'Dipper'."
Fourth home was international driver Spike Kohlbecker who is in New Zealand to contest the final four rounds of the national championship. Having recently competed in Formula 1600 in Canada, Kohlbecker is keen to gain racing experience in the class here in NZ.
The sixteen-year-old American qualified fourth fastest in Bethune's Mygale from last season.
"It is a really nice track here which I am really enjoying," commented Kohlbecker. "It has a great mixture of turns, some fast, some tight. I love the 'Dipper'.  It is complicated but if you get it right its really satisfying. So the aim tomorrow is to move up into the top three."
Two other internationals are also competing. Australian Kyle Gurton (VD RF91) retired early after coming in contact with another competitor while Ben Stiles from the UK finished ninth overall.
The weekend round also doubles as the fourth round of the South Island Formula 1600 Championship. Drivers face two more races on Sunday including the 12-lap feature with the Wigram Cup up for contention.
ENDS
Qualifying (Including the Dipper)
1 Jordan Michels Mygale SJ13 1:37.615
2 James Penrose VD Stealth 1:37.805
3 Zac Stichbury Mygale SJ08a 1:37.848
4 Spike Kohlbecker Mygale SJ08a 1:38.202
5 Josh Bethune Ray GR17 1:38.378
6 Bailey Paterson VD Stealth 1:38.405
7 Kurt Peterson VD Stealth 1:38.901
8 Ben Stiles VD Stealth 1:39.344
9 Jack Noble-Adams VD Stealth 1:39.454
10 Callum Crawley Spectrum 1:39.546
11 Kyle Gurton VD RF91 1:40.236
12 Cameron Freeman VD RF92 1:40.269
13 Robert Toshach Spectrum 08 1:41.037
14 Simon Spencer-Bower VD Stealth 1:41.188
15 Dyson Freeman VD RF92 1:41.544
16 Andy Downs Lola 642e 1:41.806
17 Grant Campbell VD RF03 1:41.823
18 Noel Atley Crossle 55F 1:42.569
19 Steve Edwards Mygale SJ08a 1:42.614
20 Corey Hodges VD RF92 1:42.899
21 Dominic Robertson VD RF92 1:43.343
22 Steve Heffernan VD Stealth 1:43.505
23 Graham Dickie Begg FM3 1:45.117
24 Greg Inwood VD RF 91 1:45.135
25 Gary Love VD RF88 1:47.149
26 Roger McKenzie Begg FM3 1:48.405
27 Dave MCKenzie Begg FM3 1:49.056
28 Blake Evans Mygale SJ11 No time
Race 1 results (10 laps)
1 James Penrose
2 Josh Bethune
3 Jordan Michels
4 Spike Kohlbecker
5 Zac Stichbury
6 Kurt Peterson
7 Jack Noble-Adams
8 Callum Crawley
9 Ben Stiles
10 Cameron Freeman
11 Grant Campbell
12 Simon Spencer-Bower
13 Dyson Freeman
14 Robert Toshach
15 Noel Atley
16 Dominic Robertson
17 Steve Edwards
18 Corey Hodges
19 Steve Heffernan
20 Andy Downs
21 Gary Love
22 Roger McKenzie
23 Dave MCKenzie
DNF Graham Dickie
DNF Greg Inwood
DNF Kyle Gurton
DNF Bailey Paterson
DNS Blake Evans
2018/19 New Zealand Formula 1600 Championship Calendar
Rnd 1 10 November 2018 Timaru International Motor Raceway
Rnd 2 12-13 January 2019 Mike Pero Motorsport Park, Christchurch
Rnd 3 18-20 January 2019 Teretonga Park, Invercargill
Rnd 4 23-24 February 2019 Manfeild Circuit, Manawatu
Rnd 5 3 March 2019 Pukekohe Park Raceway, Pukekohe
2018/19 South Island Formula 1600 Championship Calendar
Rnd 1: October 27-28 2018, Mike Pero Motorsport Park, Ruapuna, Christchurch
Rnd 2: November 10 2018, Timaru International Raceway, Timaru (also Rd 1 NZ Formula 1600 Championship)
Rnd 3: December 1-2 2018, Teretonga Park Raceway, Invercargill
Rnd 4: January 12-13 2019, Mike Pero Motorsport Park, Ruapuna (also Rd 2 NZ Formula Ford Championship)
Rnd 5: January 18-20 2019, Teretonga Park Raceway, Invercargill; (also Rd 3 NZ Formula Ford Championship)
Rnd 6: April 6 2019, Timaru International Raceway, Timaru
Attached images are free to use. Please credit Craig Crew
Prepared by SB Networks on behalf of the South Island Formula Ford Club