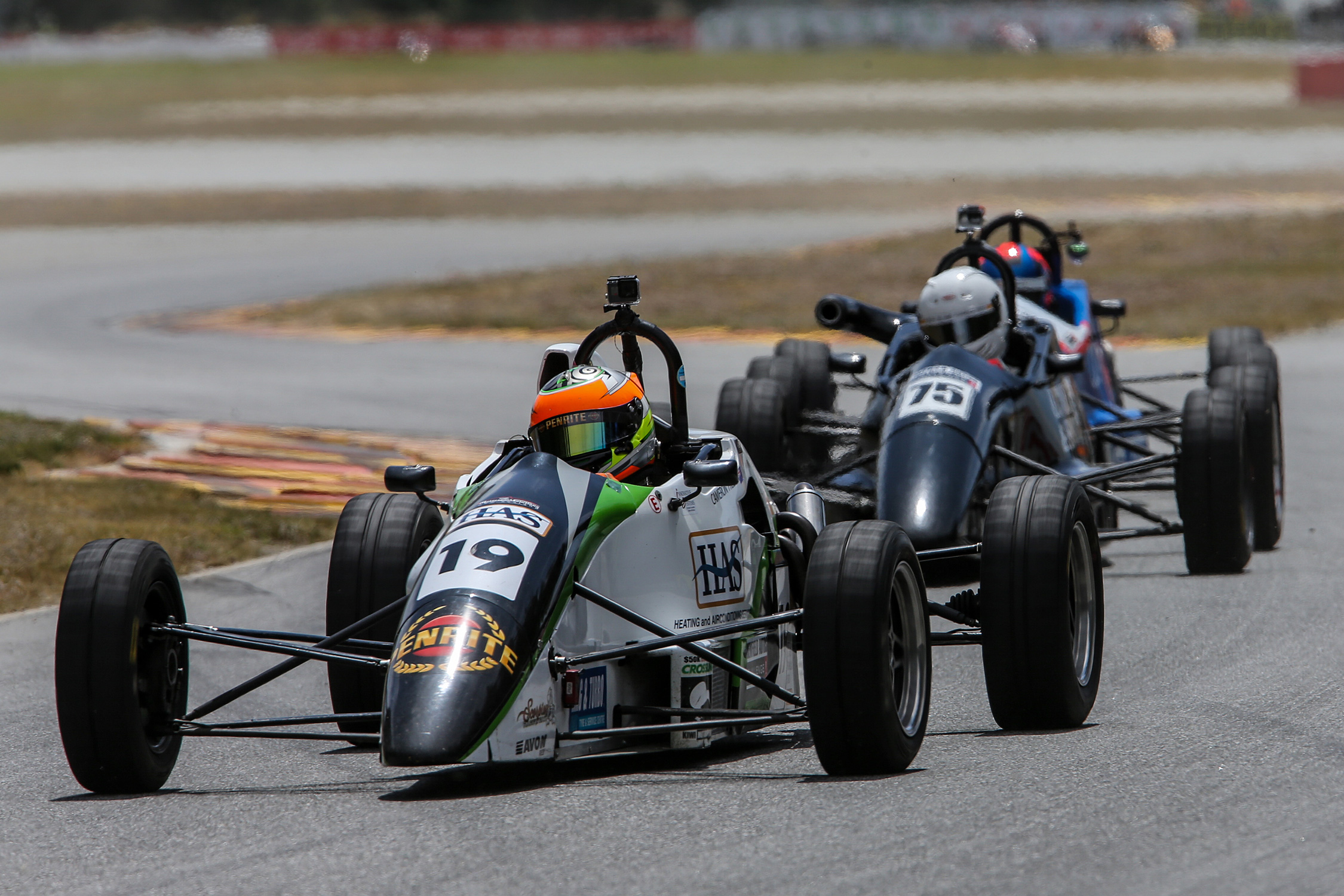 Freeman's South Island F1600 title rivals set to take their chances at Teretonga
With just six races remaining and a maximum of 244 points on offer, eight drivers in the 2019/20 South Island Formula 1600 Championship have a mathematical chance of winning the title. Teretonga Park hosts the penultimate round of the series and, it should come down to the top four drivers on the points table to fight it out for podium placings. Dunedin's Cameron Freeman (#19 Van Diemen RF92) holds a narrow 19-point margin over Christchurch's Bailey Paterson (#86 Van Diemen Stealth).
"Draughting is a key part (of Teretonga), but also you cannot make a mistake around there as you will lose big time," commented Paterson. Having held the series lead through the first three rounds, Paterson dropped key points after electing not to contest the fourth round due to a date clash. He has clawed points back at Highlands but still has some work to do.
"We'll take the head off the engine this week, check it thoroughly and hopefully it should be all good for the weekend."
Jack Noble-Adams (#75 Van Diemen Stealth) has been the mover over the last two rounds and has progressed to third and a title contesting position, 45-points off the lead.
"I've got the speed with the car and confidence heading to Teretonga," said Noble-Adams. "It's a very fast flowing circuit, high speed corners and about being on the limit. Qualifying doesn't matter all that much. The key is staying with the front pack because if you lose the draught it is hard to get it back."
Rookie Zac Christensen (#21 Van Diemen RF92) has showed consistent form in his first year in the category but has slipped back to fourth overall.
Freeman knows very well that Teretonga Park presents drivers with few opportunities.
"Getting a draught in qualifying definitely is a key as it helps to start further up the field," said Freeman. "This weekend is a matter of keeping on collecting points and maintaining the lead."
Outside of the top four Anna Collins (Van Diemen Stealth) continues to hold fifth overall but maybe threatened by Cameron Freeman's cousin, Dyson, who proved very quick last weekend at Highlands and battled for podiums.
Mixing it up will be the addition of three national championship contenders Billy Frazer, Callum Crawley and Ronin Murphy, all in late model Spectrums'. All three are contending the separate NZ Formula Ford Championship races at the same meeting and have elected also to race in the South Island category. Frazer was unbeatable at Highlands last weekend winning all three South Island series races.
Within the category there are three Classes also competing for honours. Christchurch's Steve Edwards (Mygale SJ08) looks likely to extend his Class 1 (post 2000) lead over Auckland's Grant Campbell (VD RF03) who won't be on the grid this weekend. However, Tauranga's Kim Crocker (Ray GR14) may be a threat.
Cameron Freeman leads Class 2 (1990-1999) from Paterson, Noble-Adams, Christensen and Collins. Rookie Ryan Low (Van Diemen RF88) extended his lead at Highlands in the Historic Class 3 (pre 1990) but could well come under pressure from Southland's Noel Atley (Crossle 55F) who has always gone well on his home track.
A field of nearly 30 cars will take to the grid for three races over the weekend.