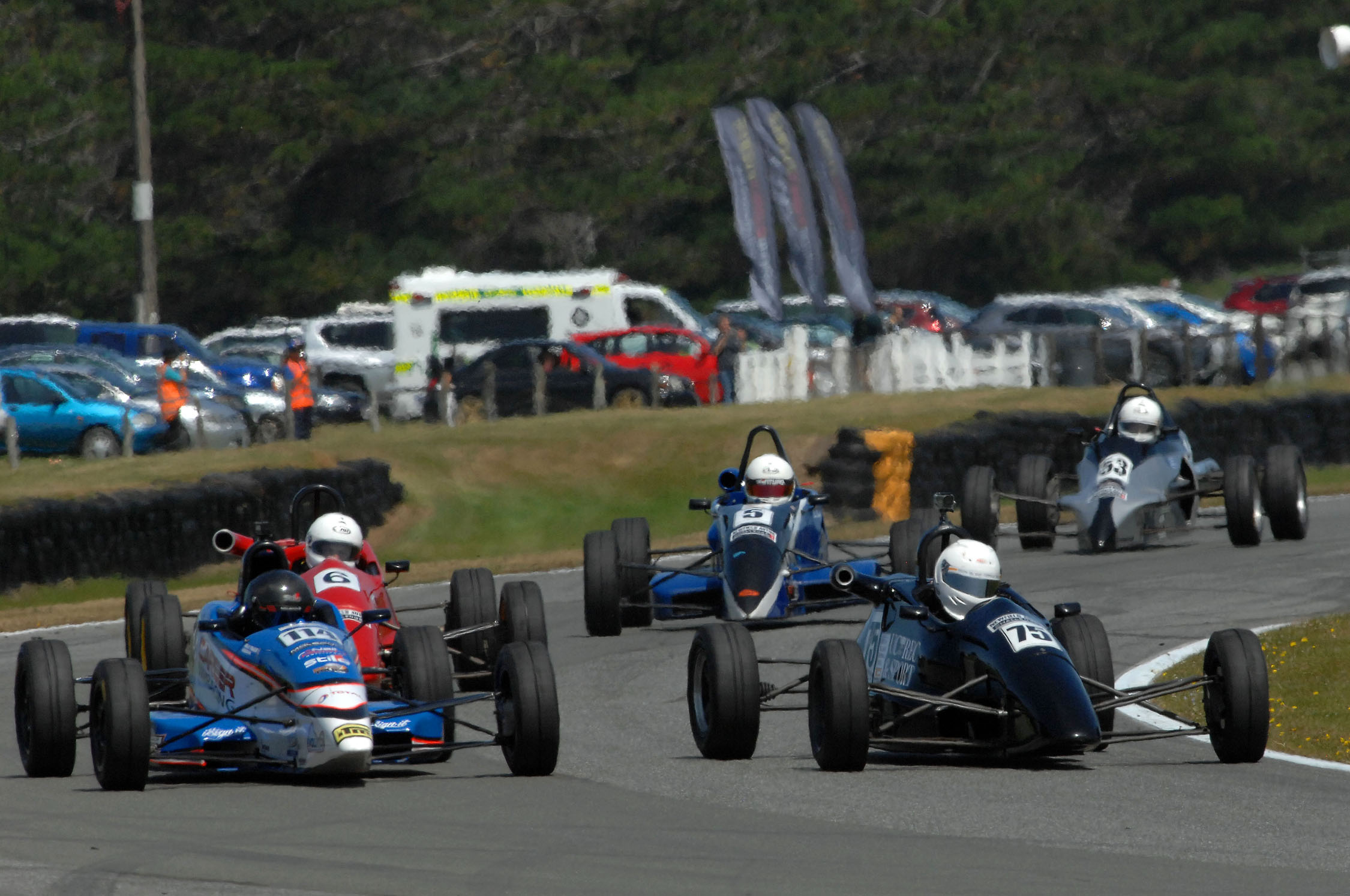 Frazer wins three as Noble-Adams grabs South Island F1600 points lead at Teretonga
Pukekohe's Billy Frazer has been rewarded for his journey south with three more race wins, this time at the penultimate round of the 2019/20 South Island Formula 1600 Championship. Teretonga Park in Invercargill hosted the sixth round of the series which has seen a shake-up of the overall points table.
Frazer (Spectrum 015) is currently competing in the 2019/20 NZ Formula Ford Championship, which also held their third round at Teretonga, and chose to gain more race experience competing in the South Island series.
"Really happy with the weekend," said Frazer. "It's been a great southern tour. I've been impressed with the racing in the South Island. It's been a great test of skills and I've got some great experience."
Heading into the weekend, Dunedin's Cameron Freeman (Van Diemen RF 92) held a 19-point lead from Christchurch's Bailey Paterson (Van Diemen Stealth) with fast moving Jack Noble-Adams (Van Diemen Stealth) having moved up into third at the fifth round the previous weekend. With finishing second to Frazer in all three Teretonga races, Noble-Adams now leads the series heading to the final round in Timaru, 7th March 2020.
"We're very happy with the weekend," commented Noble-Adams. "I'm surprised I got the car home as I lost the left front brake pads near the end. Every time I braked, the car veered right. Otherwise, the car is quite strong heading to Timaru where we have a great winning record."
His gain was also helped by Freeman having a poor round finishing 19th, 6th and a retirement in the final race. While Paterson crashed out of the first race, he finished third in both following races and holds on to second, 17-points behind Noble-Adams. Freeman has slipped to third, 29-points from the lead.
"I just didn't have enough straight-line speed this weekend, so lost too much down the main straight," commented Paterson. "If we hadn't had the 'off' in race 1 then we would have had a great weekend."
Rookie Zac Christensen (Van Diemen RF 92) had a poor round with two retirements due to gear issues but holds on to fourth overall.
Also having a strong run at Teretonga was Christchurch's Anna Collins (Van Diemen RF94) finishing fifth, eighth and seventh. "It's been a lot of fun. Great to have that extra pace and keep with the front pack. I'm happy with a consistent weekend and staying out of trouble. We changed the shocks recently and that has helped. Really happy with the position in the championship and look forward to a top five finish in Timaru."
Within the category, there are three separate Classes. In Class 1 (post-2000) Steve Edwards (Mygale SJ08a) holds on to second with Auckland's Kim Crocker (RayGR14) moving into second after a successful round including a podium in race 1. As well as leading overall, Noble-Adams moves into first place in Class 2 (1990-1999) from Paterson, Freeman and Christensen. Ryan Low (Van Diemen RF88) continues to lead the Historic Class 3 (pre-1990) from Southland's Noel Atley (Crossle 55F) and Andy Downs (Lola 642e).
There is one remaining round with three races and a maximum of 122 points on offer at Timaru International Raceway 7 March 2020.