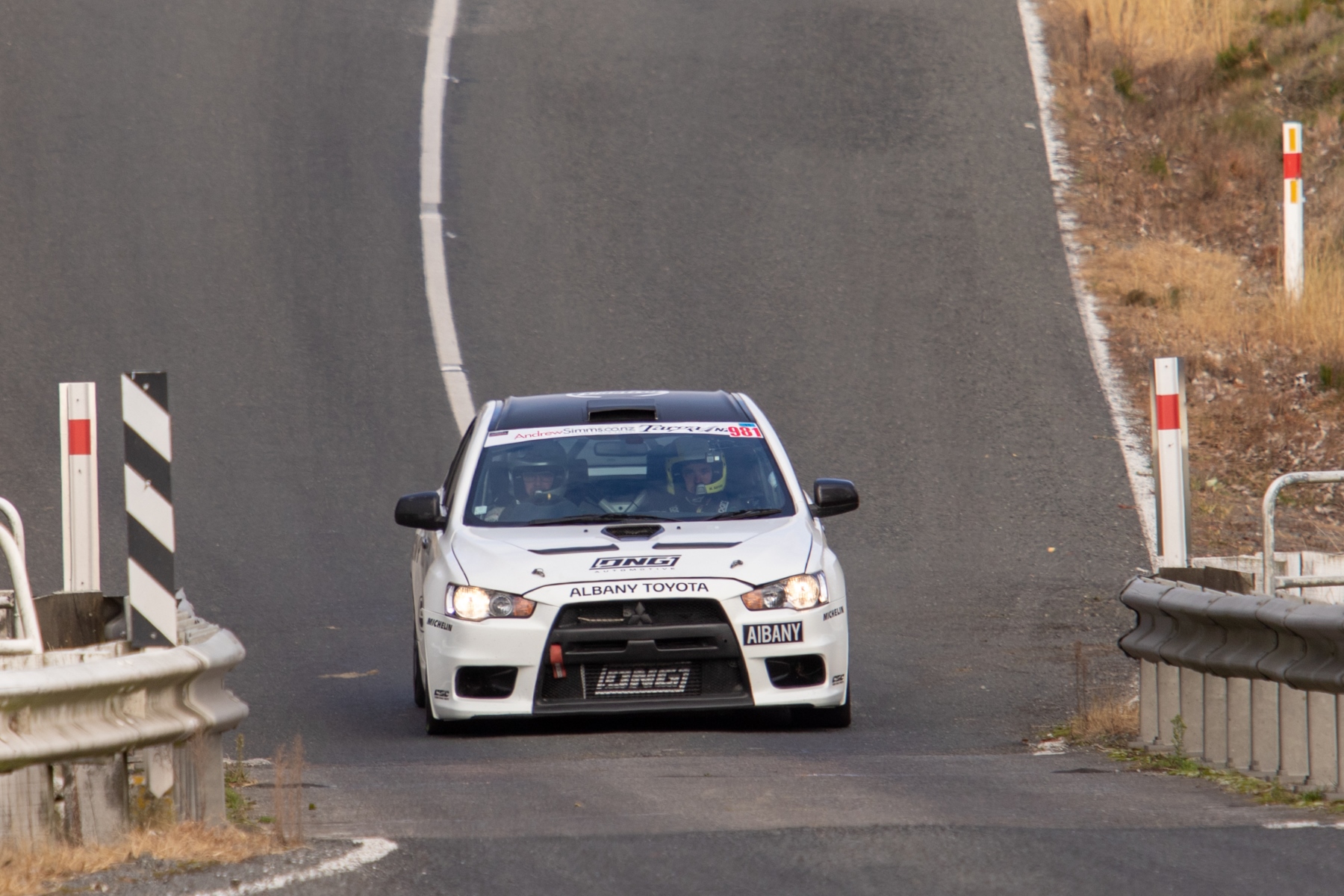 MCKENZIE & SAYERS RETAIN TARGA LEAD – BUT THERE'S STILL JUST SECONDS IN IT!
Haydn McKenzie and co-driver Matthew Sayers (Mitsubishi Evo 10 4WD) have retained their Day 1 lead at the end of the second day of competition in this year's Targa Hawke's Bay tarmac motor rally.
However, after the longest day of three, which took the 70+ field of Targa competition and Targa Tour cars over 400km from Rotorua in the Bay of Plenty this morning, to Havelock North in Hawke's Bay late this afternoon, there are still just seconds – 17 to be exact – between AndrewSimms.co.nz class teammates McKenzie & Sayers (Production 4WD Mitsubishi Evo 10) and second-placed David Rogers and his co-driver Aidan Kelly (Mod. Prod 4WD Mitsubishi Evo 10).
After losing his Day 1 morning lead with a mystery mechanical issue and languishing back in 36th place at the end of the first day, Orewa, Auckland driver Leigh Hopper and co-driver Michael Goudie have also been on a real charge, today.
Though Rogers and Kelly won the first two completed stages this morning, Hopper and Goudie won all three Gentle Annie stages this afternoon to win the day outright (from Rogers & Kelly, and McKenzie & Sayers) and head into the third and final day in 12th position and just over a minute from a spot in the top ten.
Hopper's pace – and amazing comeback – aside, the big story today in fact concerned HW Richardson Classic class leaders Mark and Chris Kirk-Burnnand. Though the son-and-father pair from Wellington were again comfortably quickest of the classic competitors through the morning stages their BMW M3 was suffering from a recurrence of an electrical issue which had originally raised its head on Friday.
And with no time to try and fix it before the long midday transport stage from Broadlands near Rotorua to Taihape, the pair were reluctantly forced to temporarily withdraw from the event and try and fix the problem for good so that they can return and complete the final stages in the Hawke's Bay tomorrow.
As it turned out arch Classic category rivals Rob Ryan and co-driver Paul Burborough (Toyota Corolla AE86) were also forced out of the event with a mechanical issue today, leaving yet another Kirk-Burnnand – Aucklander Barry and co-driver Dave O'Carroll – to assume the lead on the Classic class in their BMW M3.
Having won last year's event winner Barry's son Steven and co-driving brother Carl (BMW 318ti) are also still very much in the mix at the front of the field as well. The Auckland duo arriving in Havelock North late this afternoon in third place overall and with a solid lead in the in the Global Security Class 7 2WD class over 5th placed Robert Darrington and Dave Abetz (BMW M3).
In between the two Class7 2WD cars, former Mazda Pro7 champion and BNT NZV8s racer Eddie Bell and co-driver Blair Forbes from Christchurch were holding fourth place, and leading their Global Security class (Class 6), Bell really getting to grips with the concept of tarmac road rallying in his BMW M3.
Also impressing with their pace and persistence were one of the other son and father pairs in this year's field, Rory and Stewart Callaway (Subaru WRX), also from Christchurch, who now hold sixth place overall.
This year's three-day Targa Hawke's Bay event has been organised and put on in association with The Piako Group. It continues tomorrow with a further 162km of closed special stages in the Hawke's Bay and is due to finish back in Havelock North just after 4.00pm.
Once they complete the new three-day Targa Hawke's Bay event this weekend the country's tarmac rally specialists will then focus their efforts on preparing for the full five-day 25th anniversary Targa New Zealand event which starts in Taupo on October 29 and is set to finish in Palmerston North on Saturday November 02.
Targa New Zealand events are organised by the Ultimate Rally Group with the support of sponsors AndrewSimms.co.nz, Chicane Racewear, Global Security, HW Richardson Group, NZ Classic Car magazine, Race Brakes, Race4Life Trust, Racetech, TeamTalk, The Piako Group, TrackIt, and Writeraze.
2019 Targa Hawke's Bay, Day 2 Results
1. #981 Haydn McKenzie/Matthew Sayers/Mitsubishi Lancer EVO X RS) 1:49:53.0
2. #961 David Rogers/Aidan Kelly (Mitsubishi Lancer Evo X RS) 1:50:10.0 +0:17.0
3. #756 Steven & Carl Kirk-Burnnand (BMW E36 318ti) 1:51:35.0 +1:42.0/+1:25.0
4. #667 Eddie Bell/Blair Forbes (BMW M3) 1:52:43.9 +2:50.9/+1:08.9
5. #746 Robert Darrington/David Abetz (BMW M3) 1:54:27.2 +4:34.2/+1:43.3
6. #936 Rory & Stewart Callaway (Subaru Impreza WRX Sti) 1:55:15.0 +5:22.0/+0:47.8
7. #631 Mike Tubbs/Mike Vincent (BMW M2) 1:55:28.1 +5:35.1/+0:13.1
8. #966 Andrew Oakley/Steve Hutchins Audi RS5 1:55:53.3 +6:00.3/+0:25.2
9. #988 Graeme Wong/Kim Blatchley Subaru Impreza 1:56:53.4 +7:00.4/+1:00.1
10. #912 John Rae/Dave Leuthart (VW Polo R) 1:57:57.2 +8:04.2/+1:03.8
also
12. #969 Leigh Hopper/Michael Goudie (Subaru WRX) 1:58:41.6 +8.48.6/+0:01.3
CAPTION: At the end of Day 2 of 3 Haydn McKenzie and co-driver Matthew Sayers retained their class and overall lead in this year's Targa Hawke's Bay event in their #981 4WD Mitsubishi Evo 10. Photo credits: Fast Company/Ben Hughes@ProShotz
Prepared by FAST COMPANY on behalf of the Ultimate Rally Group.