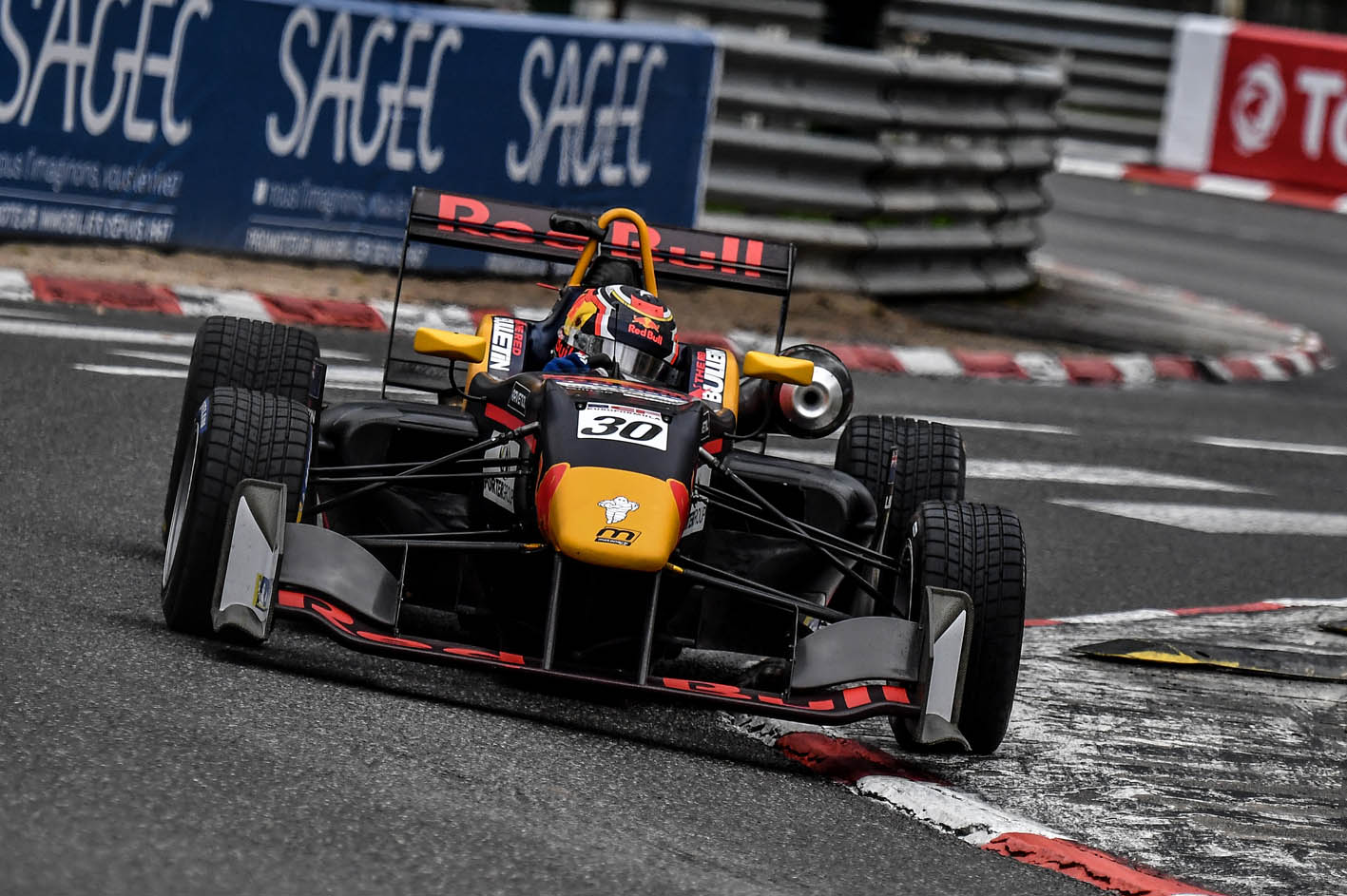 Lawson dominates wet sessions at Pau
Liam Lawson dominated the two free practices in the led up to the 78th Pau Grand Prix, the second round of the Euroformula Open championship.
The young Kiwi driver was unbeatable in the rain on the streets of the French city, snatching fastest times in a see-saw battle of both 40-minute sessions.
However, the 17-year-old Red Bull Junior driver is playing down his efforts as the teams head into the first qualifying session of the weekend the next day.
"This track is so fast and full on, we just have to take it as it comes over the weekend. There's a chance it may be dry for qualifying tomorrow so that'll be new for everyone. It's really nice to be back in this car again," said Lawson.
Lawson races a dual programme with the Euroformula Open F3 car and the all-new FIA F3 machine, both under the Red Bull banner.
In the first session Lawson led a Team Motopark lock-out of the top three places, with young German driver Julian Hanses and Japan's Yuki Tsunoda. In the afternoon session it was Hahn Christian (Brasil) behind Lawson with team-mate Sato Marino (Japan) third quickest.
"The first session was very wet and the last one was a drying track and the tyres were overheating. We had to try and cool them down as much as we could," he added.
Saturday's action will feature a morning qualifying before a race in the afternoon. Sunday's programme is the same, with the Grand Prix the feature of the weekend, raced over a time-certain 35 minutes.
Only one New Zealand driver has ever won the GP in the long history of the event, which first ran in 1933. Mike Thackwell took victory in both 1984 and 1986.
Euroformula Open: Practice 1 – Top 6
1. Liam Lawson (Team Motopark) 1min 21.846secs
2. Julian Hanses (Team Motopark) +0.204
3. Yuki Tsunoda (Team Motopark) +1.268
4. Christian Hahn (Carlin Motorsport) +1.385
5. Linus Lundqvist (Double R) +1.417
6. Teppei Natori (Carlin Motorsport) +1.480
Euroformula Open: Practice 2 – Top 6
1. Lawson 1min 19.491
2. Hahn +0.195
3. Sato Marino (Team Motopark) +0.566
4. Hanses +0.823
5. Tsunoda +0.919
6. Samaia Guilherme (Teo Martin) +1.075