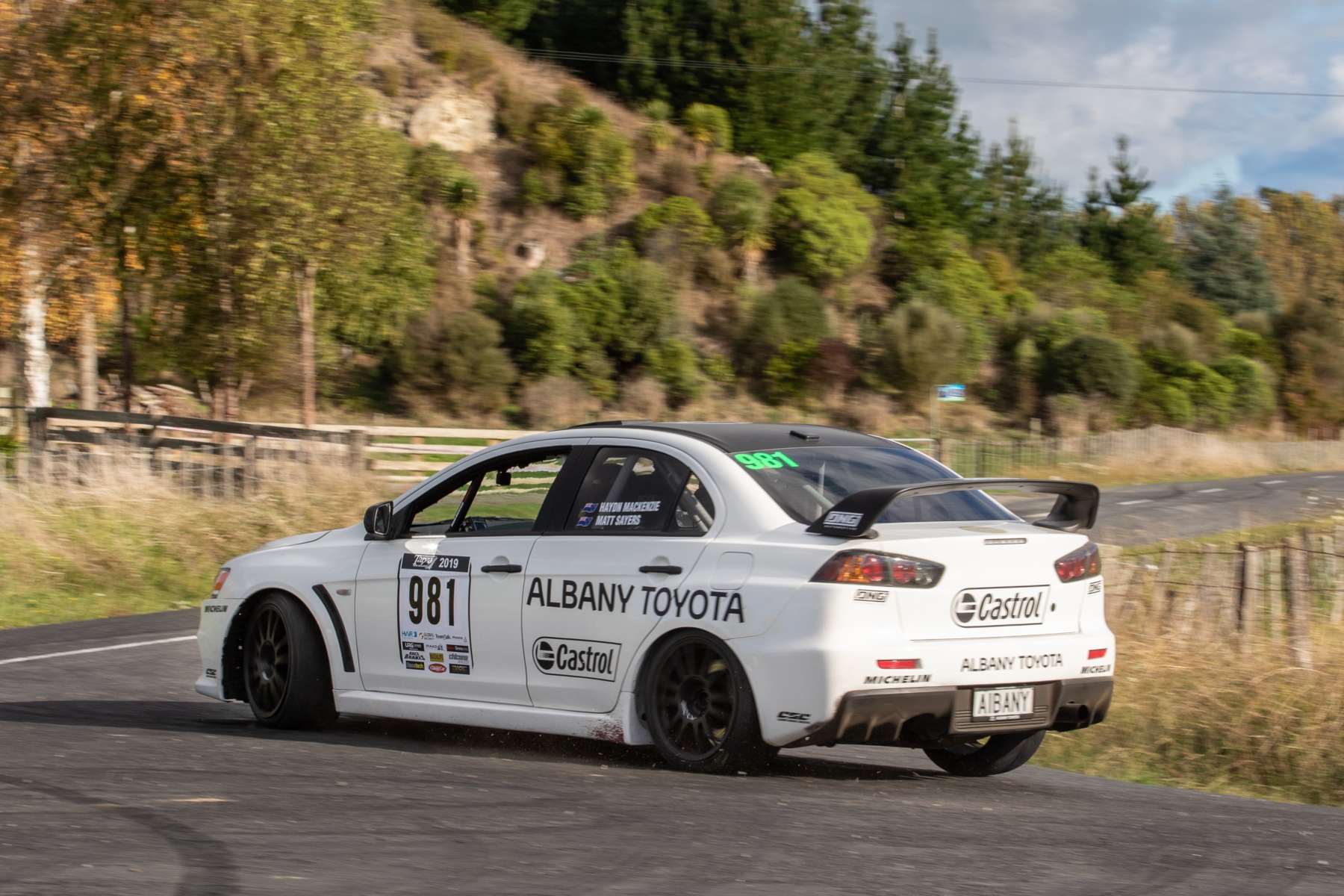 FIRST TARGA EVENT WIN FOR MCKENZIE & SAYERS WHILE BELL & FORBES MAKE THEIR MARK ON FINAL DAY
Haydn McKenzie and co-driver Matthew Sayers (Mitsubishi Evo 10 4WD) have won this year's Targa Hawke's Bay tarmac motor rally after managing a lead they held from midway through the first of three day's competition on Friday.
Arriving at event's end in Havelock North this afternoon with almost a minute up their sleeve, the Albany, Auckland pair led home teammates David Rogers and Aidan Kelly (Mitsubishi Evo 10) who were second, and finished just over two-and-a-half minutes up on the third placed BMW 318ti (and first 2WD car home) of last year's event winner Steven Kirk-Burnnand and his co-driving brother Carl.
As well as their overall places on the new three-day/1143km marathon Rotorua to Havelock North event each pair claimed a class win, McKenzie in AndrewSimms.co.nz 4WD Class 9 (Production), Rogers and Kelly Andrew Simms.co.nz 4WD Class 10 (Modified Production) and the Kirk-Burnnands in Global Security 2WD Class 7.
This year's event, organised in association with new naming rights sponsor, Morrinsville-based, Bay of Plenty-wide car and tractor dealership owner The Piako Group, was held in cool, crisp but largely fine weather though the roads across the lower Waikato on Friday and through the central Bay of Plenty on Saturday and Hawke's Bay today were made slippery early on until the sun burnt off the overnight moisture.
For Haydn McKenzie and Matthew Sayers the win was sweet vindication for the disappointment both felt after crashing out of the lead on the main Targa New Zealand tarmac motor rally at the end of the second day of last year's event in the South Island.
"I definitely didn't want to do that again," McKenzie, the dealer principal of the family's automotive business, Albany Toyota, said as he was surrounded by well-wishers in Havelock North this afternoon.
Despite leading the event from the lunch break on Friday to the finish in Havelock North today, McKenzie only won three stages outright, he and co-driver Sayers tying for second most stage wins (3 each) with fellow Aucklanders David Rogers and Aidan Kelly, and fellow former BNT NZV8s series racer Eddie Bell and his co-driver Blair Forbes from Christchurch.
The latter pair worked their way up to fourth place overall (plus victory in Global Security 2WD Class 6) by winning the last three stage of the event in Bell's late model BMW M3.
Left pondering what might have been, meanwhile, was early event pace-setter Leigh Hopper and co-driver Michael Goudie from Orewa on Auckland's North Shore. Together the pair won 10 stages in all, but ended up classified 38th of 41 official finishers after losing 10 minutes to McKenzie, Rogers et al with an engine throttle body issue on the first day.
Multi-time Targa Rotorua winner Hopper continued to set the pace when his Subaru WRX was back on song, completing the set on Friday before adding three Gentle Annie stages to his tally on Saturday to make the 10. However just as he had worked his way back into the top 10 (from being p36 at the end of Day 1) Hopper rolled the WRX on the third of today's six stages, the 20.64km Waimarama stage south-east of Havelock North, and his day – and event – was effectively done.
Also rolling out of the event today, after an impressive entry into the top six on Saturday, were Rory Callaway and his co-driving father Stewart from Christchurch in their Subaru WRX. And after matching pace and times with Eddie Bell and Blair Forbes for most of the event it was a real shame that Perth-based event regulars Robert Darrington and David Abetz (BMW M3) failed to make the finish of the final stage and lost what looked like a certain fifth place.
That place went to another Christchurch pairing, Andrew Oakley and Steve Hutchins, in Oakley's late model Audi RS5, albeit beating sixth placed Mike Tubbs and Mike Vincent in Tubbs' current model BMW M2 by just 17 seconds.
A further two minutes back but elated to claim a spot in the top ten (7th) were long-time Targa event entrants Graeme Wong and Kim Blatchley (Subaru WRX). Getting better with every km they covered over the three days, meanwhile, were Targa event freshmen Jeremy Friar and co-driver James West in Friar's BMW 318ti, who ended up 8th.
After several events sorting out minor teething issues with his exotic WRC-style VW Polo R, New Plymouth driver John Rae and co-driver Dave Leuthart enjoyed a strong and virtually trouble-free run this weekend, to finish ninth, holding off the fast-finishing Porsche 911 GT3 of Tim James and John Mulrennan.
The HW Richardson Classic class again went to a member of the Kirk-Burnnand clan. This time though it was the patriarch of the Auckland branch, and Targa event veteran Barry and co-driver Dave O'Carroll (BMW E30 M3).
They took  over a category lead they were never to even look like losing after defending event classic class winners, cousins Mark and Chris Kirk-Burnnand from Wellington were forced to retire with an electrical issue in their  own E30 model BMW M3 at the lunch break on Saturday.
Second HW Richardson Classic home was the locally conceived and built HQ Holden-based two-door Cheetah sports convertible of Tony Butler and co-driver Joanne Jenson, third the Porsche 911 of fellow Aucklanders Eddie Grooten and Wade Maurice.
Now the new three-day Targa Hawke's Bay event is over the country's tarmac rally specialists will focus their efforts on preparing for the full five-day 25th anniversary Targa New Zealand event which starts in Taupo on October 29 and is set to finish in Palmerston North on Saturday November 02.
Targa New Zealand events are organised by the Ultimate Rally Group with the support of sponsors AndrewSimms.co.nz, Chicane Racewear, Global Security, HW Richardson Group, NZ Classic Car magazine, Race Brakes, Race4Life Trust, Racetech, TeamTalk, The Piako Group, TrackIt, and Writeraze.
For more information go to www.targa.co.nz or check out the Targa NZ page on Facebook.
2019 Targa Hawke's Bay Fri-Sun May 17-19 2019 – Event results
1. #981 Haydn McKenzie/Matthew Sayers (Mitsubishi Evo 10) 3:03:29.1
2. #961 David Rogers/Aidan Kelly (Mitsubishi Evo 10) 3:04:24.4 +0:55.3/+0:55.3
3. #756 Steven & Carl Kirk-Burnnand (BMW E36 318ti) 3:06:07.3 +2:38.2/+1:42.9
4. #667 Eddie Bell/Blair Forbes (BMW M3) 3:07:09.2 +3:40.1/+1:01.9
5. #966 Andrew Oakley/Steve Hutchins (Audi RS5) 3:12:24.9 +8:55.8/+5:15.7
6. #631 Mike Tubbs/Mike Vincent (BMW M2) 3:12:42.7 +9:13.6/+0:17.8
7. #988 Graeme Wong/Kim Blatchley (Subaru WRX) 3:14:47.1 +11:18.0/+2:04.4
8. #583 Jeremy Friar/James West (BMW E46 318ti) 3:16:05.9 +12:36.8/+1:18.8
9. #912 John Rae/Dave Leuthart (VW Polo R) 3:17:12.4 +13:43.3/+1:06.5
10. #699 Tim James/John Mulrennan (Porsche 996 GT3) 3:17:57.5 +14:28.4/+0:45.1
CAPTION: Haydn McKenzie and co-driver Matthew Sayers won this year's Targa Hawke's Bay event in their #981 4WD Mitsubishi Evo 10. Photo credits: Fast Company/Ben Hughes@ProShotz
Prepared by FAST COMPANY on behalf of the Ultimate Rally Group.