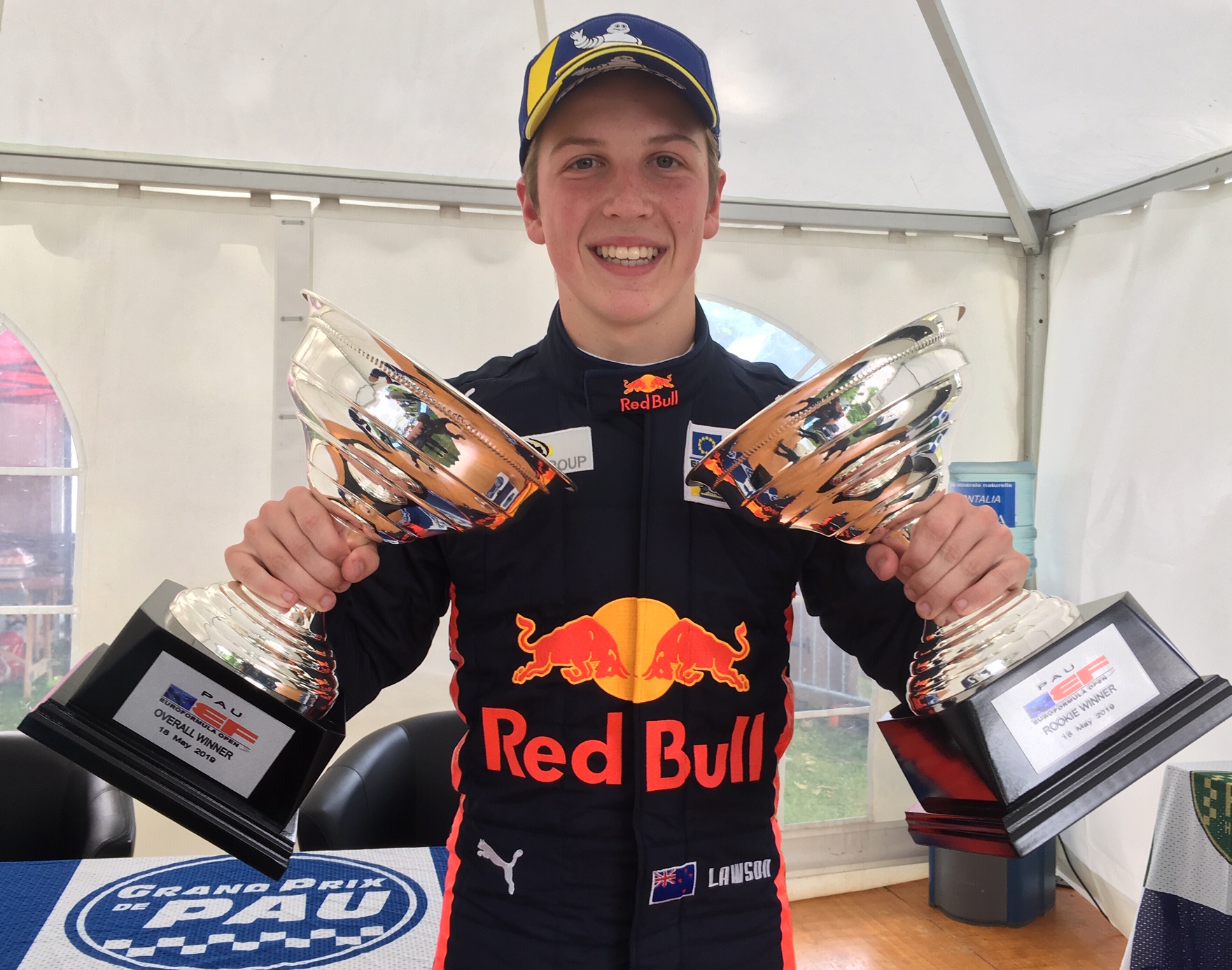 Lawson converts pole into runaway win on the streets of Pau
Red Bull Racing Junior driver Liam Lawson converted his pole position for Euroformula Formula 3 cars into a runaway win on the streets of Pau.
The race, a precursor to the 78th Pau Grand Prix, saw the young Kiwi champion immediately gap the rest of the field on the opening lap and then streak away lap by lap to take the chequered flag after 27 laps by an astonishing 16 seconds.
The victory, his second in the three races of the season so far, extends his championship lead heading into the prestigious Grand Prix feature race on French city's tight and twisty circuit.
Lawson's victory over German driver Julian Hanses and Japan's Marino Sato gave the Motopark team a clean sweep of the podium.
"Once you get into a rhythm on a track like this the laps just go down quickly. We've had a strong car all weekend in both conditions (wet and dry) so that made the job easier," said Lawson.
The 17-year-old grabbed his pole at the very end of qualifying with a lap time 3/10ths faster than Sato to set up his race one victory.
"It's important at a place like to make sure you do every lap of all sessions and important to build up slowly. It's too easy to push too hard too soon and crash in practice."
Lawson's Red Bull Junior teammate Yuki Tsunoda set the fastest lap of the race but hit a barrier and retired with damage trying to improve from his fifth place in qualifying.
With a delayed start to the race due to threatening rain, some drivers elected to start on wet weather tyres but it came to nothing and they were forced into pitlane so after the race started to change back onto slick tyres.
Reflecting on the victory, one commentator pointed out he'd been coming to the Pau event for over 20 years and said it was the most dominant race performance he'd seen in that time, matched only by Formula One champion Lewis Hamilton's win in 2005.
Hamilton raced in the era of the FIA F3 cars while this year is the first time these Euroformula specification versions have raced on the street circuit.
All focus now switches towards Sunday morning's qualifying (8.15pm NZ time) to set the grid for the Grand Prix, also to be run over 27 laps or a time certain 35 minutes.
Lawson also continues to lead the rookie driver standings, claiming race one honours over Linus Lundqvist (Sweden) and Billy Monger (Great Britain).
Lawson's racing campaign in Europe is proudly supported by the Porter Group, Turners, and Giltrap Group.
Caption: Liam Lawson, race and rookie winner on debut at Pau.     
Euroformula Open: Qualifying Race 1 – Top 10
1. Liam Lawson (Team Motopark) 1m 10.504secs
2. Marino Sato (Team Motopark) +0.342
3. Julian Hanses (Team Motopark) +0.345
4. Lukas Danner (Teo Martin) +0.428
5. Yuki Tsunoda (Team Motopark) +0.589
6. Nicolai Kjaergaard (Carlin) +0.657
7. Christain Hahn (Carlin) +0.704
8. Linus Lundqvist (Double R) +0.733
9.  Guilherme Samaia (Teo Martin) +0.936
10. Billy Moager (Carlin) +0.982
Race 1 – Top 10
1. Lawson
2. Hanses +16.100s
3. Sato +2.495
4. Dunner +0.769
5. Lundqvist +20,501
6. Cameron Das (Fortec) +0.370
7. Calan Williams (Fortec) +19.692
8. Aldo Festante (Teo Martin) +1 lap
9. Monger +1 lap
10. Samaia + 1 lap