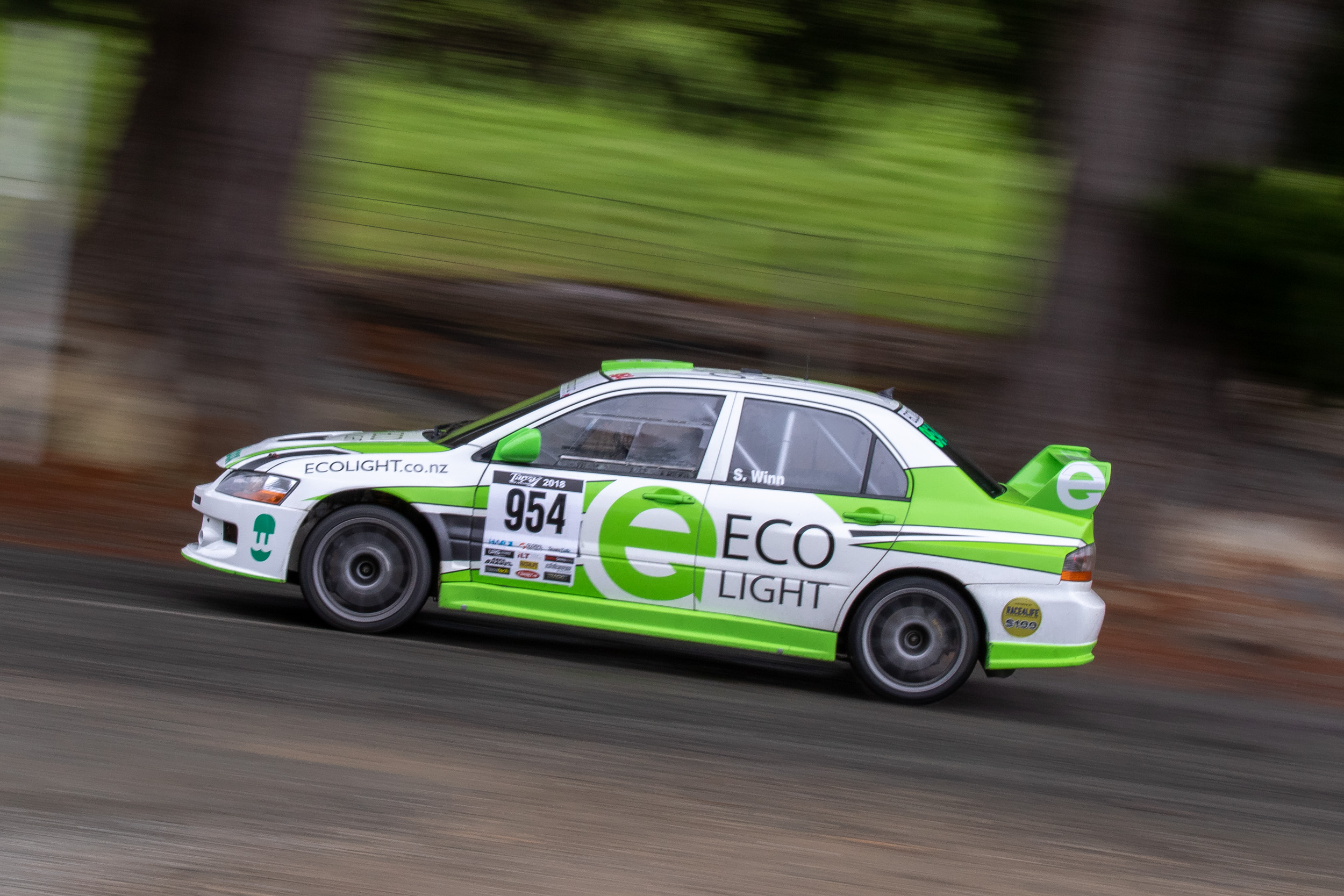 INKSTER & WINN BUILD ON LEAD AS CONDITIONS TURN TOUGH ON TARGA'S THIRD DAY
With his 'eye back in' and the exhaust manifold problems which slowed him on the second leg behind him defending Targa NZ title holder Glenn Inkster and co-driver Spencer Winn (Mitsubishi Evo 8) spent a wet, cold Thursday slowly re-building a lead in this year's southern South Island-based Targa New Zealand tarmac motor rally the four-time winner hopes to hold until the finish line in Queenstown on Saturday.
After two days of sultry, hot temperatures and – in the main – dry, fast roads, Thursday's rain and single digit temperatures favoured pairings used to such conditions – like Inkster and Winn, fellow former event winners (and leading locals) Martin Dippie and Greg Ball (Porsche GT3 RS) and Christchurch gravel rally specialists Marcus van Klink and Matt Richards (Mazda RX8); who managed to pip Auckland event regulars David  Rogers and Aidan Keely (Mitsubishi Evo 10) for third place on the final stage.
Runaway AndrewSimms.co.nz Allcomers class leaders Inkster and Winn went on to win seven of the day's stages, only conceding the return run through the 10.23km Trotters Gorge stage on the way back to the second overnight stop in Dunedin to the Porsche GT3 RS of Global Security Production 2WD class leaders Dippie and Ball.
Another Dunedin Porsche pairing, Regan Hall and Nathan Graham, were challenging Dippie and Ball at the end of the second leg on Wednesday. But they crashed out of the event on the first run through Trotters Gorge on Thursday morning.
Incredibly though, after crashing off the road and into a grove of small pine trees at the end of the tenth stage on Wednesday afternoon, early event leader, Aucklander Haydn Mackenzie was back in the event, and running at barely reduced pace, on Thursday.
Despite major damage to the rear suspension plus some panel damage an all-nighter by his crew and an army of local helpers saw the battered Mitsubishi Evo 10 leave the start at Dunedin's Forsyth-Barr Stadium and run competitively all day.
Proving the accident hadn't rattled him the former V8 Touring car ace who now races UTVs in the national off-road racing series, set the second quickest stage time behind fellow 4WD Mitsubishi Evo ace Glenn Inkster in three of the day's stages and was in the top 10 in the rest, returning to Dunedin (despite having missed the final two stages on Wednesday) fourth overall for the day and back up to 32nd place overall.
Third overall for the day as well – now – as third overall, behind Inkster and Winn, and Dippie and Ball, is Christchurch gravel rally specialist Marcus van Klink and co-driver Matt Richards. Making the most of his experience in slippery road conditions Van Klink split Inkster and Dippie to claim a day-best second place in the first stage of the day then remained a fixture in the top six until the final stage when they eased ahead of the Rogers/Kelly Mitsubishi.
The other big mover in the rain today was former Mazda RX7 and V8 Touring car ace, Eddie Bell, and co-driver Blair Forbes from Christchurch. Event rookie Bell admitted taking it easy on the first two days but said he was feeling more confident, both in himself and his BMW M3, today.
Finally, Derek Ayson and co-driver Gavin McDermott (Ford Escort Mk 2) spent the day closing in on early HWRichardson Classic 2WD class leaders, Mark and Chris Kirk-Burnnand from Wellington, and managed to finally turn the tables on the E30 BMW M3 of the Kirk-Burnnnads in the final stage.
After the second of two overnight stops in Dunedin the 24th annual Targa New Zealand event heads to Queenstown on Friday on a penultimate day which includes six stages between Mosgiel and Ettrick.
Targa New Zealand events are organised by the Ultimate Rally Group with the support of sponsors AndrewSimms.co.nz, Chicane Racewear, Global Security, HW Richardson Group, Invercargill Licensing Trust, NZ Classic Car magazine, Race Brakes, Race4Life Trust, Racetech, TeamTalk, TrackIt, and Writeraze.
For more information go to www.targa.co.nz or check out the Targa NZ page on Facebook.
TARGA NZ 2018
RESULTS
After Day 3 of 5
1..Glenn Inkster/Spencer Winn (Mitsubishi Lancer EVO 8) 2:17:28.8
2..Martin Dippie/Greg Ball (Porsche 991 GT3 RS) +2:50.4
3..Marcus van Klink/Matt Richards (Mazda RX8)    +5:33.5
4. David Rogers/Aidan Kelly (Mitsubishi Lancer EVO 10) +5:59.1
5. Robert Darrington/David Abetz (BMW E46 M3) +8:01.2
6. Tony Quinn/Kieran Anstiss (Porsche GT3 RS) +8:02.8
7. Rory & Stewart Callaway (Subaru Impreza WRX Sti) +8:10.5
8. Brian Green/Fleur Pedersen (Mitsubishi Mirage Evo) +8:11.2
9. Eddie Bell/Blair Forbes (BMW M3) +8:59.9
10. Andy Oakley/Steve Hutchins  (Audi RS4) +9:46.9
Also
12. Derek Ayson/Gavin McDermott (Ford Escort Mk 2) +10:57.7
13. Mark & Chris Kirk-Burnnand (BMW M3)+11:06.1 +0:08.4
CAPTION: Defending Targa NZ title holders Glenn Inkster and Spencer Winn (Mitsubishi Evo 8) revelled in the cold, wet conditions north of Dunedin on Thursday to shore up their lead in the 2018 event. 
Photo credits: Fast Company/ProShotz
Prepared by FAST COMPANY on behalf of the Ultimate Rally Group.