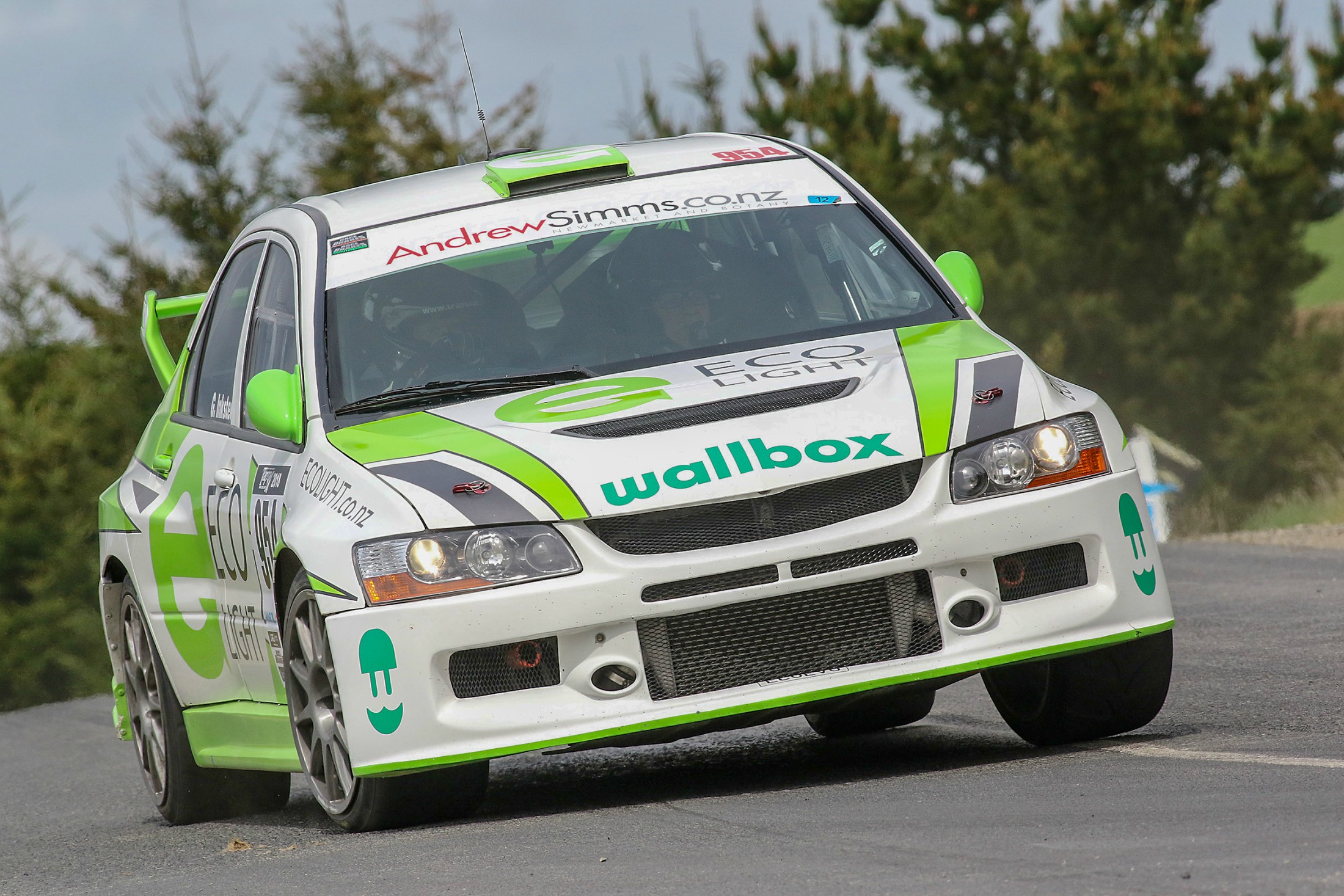 HAVE INKSTER & WINN DONE ENOUGH TO TAKE FIFTH TARGA NZ TITLE?
Have four-time and defending Targa New Zealand title-holders Glenn Inkster and Spence Winn (Mitsubishi Evo 8) done enough to claim a record-making fifth consecutive event win in Queenstown tomorrow?
That was the question being asked late this afternoon as the 57 remaining teams arrived in Heriot for the final stage of the penultimate day of the 24th annual multi-day Targa NZ tarmac motor rally, the 41.33km marathon over the epic Moa Flat road to Ettrick.
Having built up a lead of close to seven minutes after winning six of the seven stages held between Dunedin and Duntroon on Thursday the Auckland pair certainly looked hard to beat in the AndrewSimms.co.nz Allcomers Extreme 4WD Class 10 and overall.
They were also almost half a minute quicker than second-placed fellow Mitsubishi pair Haydn Mackenzie and co-driver Matty Sayers on the first of two runs through the 29.91km George King Memorial Drive north east of Mosgiel this morning.
Surprise early event pace-setter Mackenzie went on to win the next three stages, though his car-bending crash and subsequent missing out on the final two stages on Wednesday means he is no longer in the hunt for overall event victory.
If Inkster and Winn do falter through the Moa Flat stage this evening or any of the  four stages in and around Queenstown tomorrow, waiting in the wings are Auckland pair David Rogers and co-driver Aidan Kelly in Rogers' Mitsubishi Evo 10. They went into the Moa Flat stage in second place, seven minutes plus change behind Inkster and Winn, but almost a minute up on third placed Christchurch rally ace Marcus van Klink and co-driver Matt Richards who lead the AndrewSimms.co.nz Allcomers Extreme 2WD Class 7.
Like Glenn Inkster, van Klink revelled in the wet, slippery road conditions on Thursday from seventh place to third, though Rogers was back in front – and up to second in fact – after the second run through George King Memorial Drive this morning.
Fourth overall and leading the Global Security Production 2WD Class 6 heading into the final stage was top local pair Martin Dippie and Greg Ball in Dippie's Porsche GT3 RS. They were just 20 seconds behind van Klink and Richards, but enjoyed  a buffer of a minute-and-a-half over five-time event winner Tony Quinn and his co-driver Kieran Anstis.
In stark contrast to previous years, when circuit-owned entrepreneur Quinn has usually led from the front, this year he and Anstis have run very much under the radar, despite the Queensland-based Scot running one of the latest Porsche GT3 RS models.
Standout performances today were again put in by veteran gravel rally specialist Brian Green and co-driver Fleur Pedersen from Palmerston North in Green's locally-developed Mitsubishi Mirage Evo, and by Christchurch son-and-father combination Rory and Stewart Callaway.
Green and Pedersen were fourth overall up the 12.9km Mt Cargill stage this morning, then an event-best second overall to Haydn Mackenzie and Matty Sayers in the 11.9km Hillend stage in West Otago after lunch. That left them sixth overall heading into the Moa Flat stage, just 2.1 seconds behind Tony Quinn and Kieran Anstis.
The Callaways, meanwhile, were just a minute back in seventh place – and leading AndrewSimms.co.nz Production 4WD Class 9 –  after elevating themselves up the order in their Subaru Impreza WRX ST1 in the rain and cold of Thursday's stages north of Dunedin.
Up to eighth overall and back in the lead of the HWRichardson Classic 2WD class, were event and category stalwarts Mark and his father Chris, Kirk-Burnnand from Wellington in their familiar E30 BMW M3.
Classic gravel rally specialist Derek Ayson and co-driver Gavin McDermott (Ford Escort Mk 2) edged ahead of the BMW in the final stage of the day on Thursday but a determined Mark Kirk-Burnnand claimed the class lead back with a performance today which saw him clock the fifth quickest time overall through the second run through George King Memorial Drive and head into the days final stage eight overall, over half  a minute ahead again of Ayson and McDermott.
After a final overnight stop in Queenstown tonight the 24th annual Targa New Zealand event concludes with six further closed special stages, including the penultimate and highly anticipated 23.96km traverse over the Crown Range.
Targa New Zealand events are organised by the Ultimate Rally Group with the support of sponsors AndrewSimms.co.nz, Chicane Racewear, Global Security, HW Richardson Group, Invercargill Licensing Trust, NZ Classic Car magazine, Race Brakes, Race4Life Trust, Racetech, TeamTalk, TrackIt, and Writeraze.
For more information go to www.targa.co.nz or check out the Targa NZ page on Facebook.
CAPTION: Can defending Targa NZ title holders Glenn Inkster and Spencer Winn (Mitsubishi Evo 8) make it five consecutive event wins this year?
Photo credits: Fast Company/ProShotz
Prepared by FAST COMPANY on behalf of the Ultimate Rally Group.