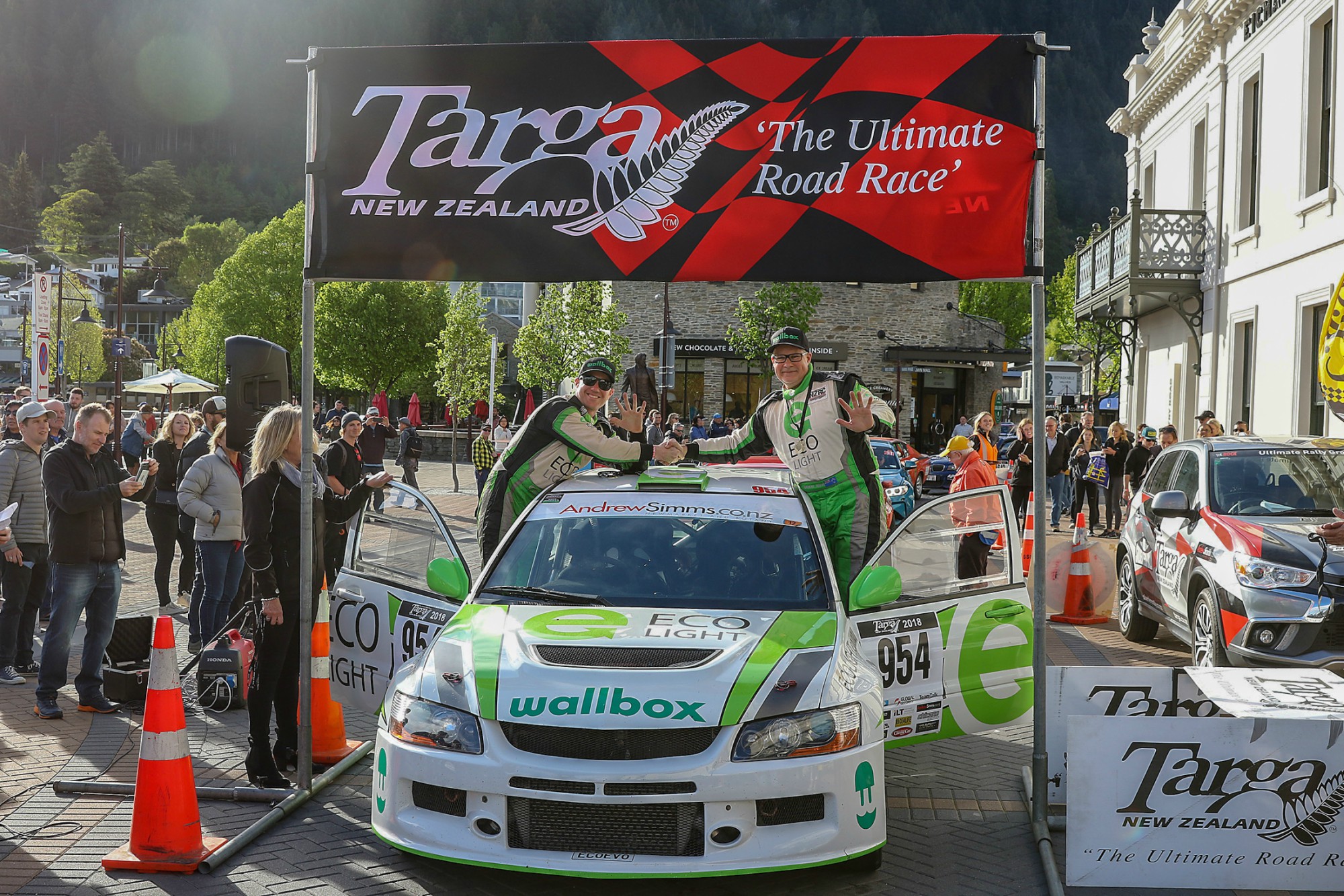 RECORD FIFTH TARGA WIN ON THE TROT FOR INKSTER & WINN
They've done it! Glenn Inkster and Spencer Winn (Mitsubishi Evo 8) have won the annual multi-day Targa New Zealand tarmac motor rally for a record-setting fifth consecutive time.
The pair, Inkster a multi-talented gravel and tarmac allrounder from Patumahoe south-west of Auckland, who works as a sales manager for electrical supply industry specialist TransNet, and Winn, the owner of the company and Inkster's boss, did it in style too.
They played second fiddle to fellow AndrewSimms.co.nz Allcomers class Mitsubishi Evo pair, Haydn Mackenzie and co-driver Matty Sayers, on the first day of this year's southern South Island event, in and around Southland on Tuesday. But they assumed a lead they were never to lose when Aucklander Mackenzie and his Hamilton-based co-driver Sayers crashed heavily late on the afternoon of the event's second day south of Dunedin.
As they have been in previous events, Inkster and Winn were particularly impressive in wet and cold conditions brought by a southerly change on the third day, winning six of the seven stages and setting up a lead of over two minutes from local pair and Global Security Production 4WD class leaders Martin Dippie and co-driver Greg Ball (Porsche GT3 RS).
Dippie and Ball remained a threat through Friday only to cop a total of six-and-a-half minutes of time penalties for exceeding a stage's average speed. This effectively gifted the battle for the runner-up spot to Auckland pair David Rogers and Aidan Kelly in Roger's Andrew Simms.co.nz Allcomers Class 10 Mitsubishi Evo 10 and Christchurch gravel rally specialist Marcus van Klink and his co-driver Matt Richards in van Klink's unique 20B turbocharged Mazda RX8.
After elevating himself up the rankings with some spectacular tail-out driving on the wet roads of North Otago on Thursday, then edging past Rogers and Kelly on elapsed time on Friday van Klink held the narrowest of advantages – just seven seconds – heading into the final day today. However, Rogers and Kelly were back in front after being quicker over the 23.68km climb up and over the Crown Range.
A determined Dippie and Ball were also able to dispatch the by-now hard-pressed van Klink/Richards combination thanks to a quicker time through the event's final stage at the Tony Quinn-owned Highlands motor racing circuit on the outskirts of Cromwell, to take third place.
However the time penalties allowed van Klink and Richards to retain third, from Dippie and Ball in fourth, and event regular Brian Green and his co-driver Fleur Pedersen from Palmerston North a standout fifth in Green's locally-developed late-model Mitsubishi Evo-powered 4WD Mirage.
Green revelled in the conditions this year and claimed a breakthrough stage win in the short, tight 7km Littles Rd stage near Arthur's Point this afternoon.
Tony Quinn driving the latest Porsche GT3 RS. was another event veteran to save his best to last, winning both stages (today's first and last) at the circuit he owns (and helped design and develop), Highlands Motorsport Park at Cromwell.
That initially saw he and co-driver Kieran Anstis finish sixth overall, however that morphed into 11th when Quinn was also penalised six-and-a-half minutes for exceeding predetermined speed averages.
Perth-based expat Robert Darrington and co-driver David Abetz moved up a spot to sixth as a result, after another stand-out performance in Darrington's E46 BMW M3 for the long-time event regulars.
Another, albeit later model, BMW M3 was seventh in the hands of event rookies, Eddie Bell and Blair Forbes with fellow Cantabrians Rory and his father Stewart Callaway eighth and first AndrewSimms.co.nz Production 4WD class pair home in the family's Subaru Impreza WRX STi.
After battling back and forth from the first day until the last there was also a BMW M3 on top in the HWRichardson Classic 2WD class. This was the earlier E30 model of event stalwarts Mark and Chris Kirk-Burnnand from Wellington.
The pair finished ninth overall, albeit just 43 seconds in front of arch event rivals Derek Ayson from Gore and co-driver Gavin McDermott from Wyndham in classic gravel rally specialist Ayson's Silver Fern Rally-winning Ford Escort MK 2, who completed the top 10.
And what of Haydyn Mackenzie and co-driver Matty Sayers? After a mammoth overnighter repairing the beaten up Mitsubishi Evo 10 Mackenzie returned to the event on Thursday barely slower. They won three of the five stages between Dunedin and Queenstown on Friday then Mackenzie underlined his potential as an outright winner of future Targa events by being quickest over the iconic Crown Range stage today.
That helped elevate he and Sayers back up to 16th place overall in a true case of what might have been.
Targa New Zealand events are organised by the Ultimate Rally Group with the support of sponsors AndrewSimms.co.nz, Chicane Racewear, Global Security, HW Richardson Group, Invercargill Licensing Trust, NZ Classic Car magazine, Race Brakes, Race4Life Trust, Racetech, TeamTalk, TrackIt, and Writeraze.
For more information go to www.targa.co.nz or check out the Targa NZ page on Facebook.
2018 Targa NZ tarmac motor rally Ingill-Dund-QTown)
Tues-Sat Oct 23-27
Final finishing order (Top 11)
1. Glenn Inkster/Spencer Winn (Mitsubishi Lancer EVO 8) 3:29:13.8
2. David Rogers/Aidan Kelly (Mitsubishi Lancer EVO 10) 3:38:23.8
3. Marcus van Klink/Matt Richards(Mazda RX8) 3:38:44.9
4. Martin Dippie/Greg Ball (Porsche 991 GT3 RS) 3:39:58.6
5. Brian Green/Fleur Pedersen (Mitsubishi Mirage Evo) 3:40:14.4
6. Robert Darrington/David Abetz (BMW E46 M3) 3:41:09.0
7. Eddie Bell/Blair Forbes (BMW M3) 3:42:10.1
8. Rory & Stewart Callaway (Subaru Impreza WRX Sti) 3:43:12.9
9. Mark & Chris Kirk-Burnnand (BMW M3) 3:45:04.7
10. Derek Ayson/Gavin McDermott (Ford Escort) 3:45:49.5
11. Tony Quinn/Kieran Anstis (Porsche GT3 RS) 3:46:04.7
CAPTION: It was a 'High 5' for Glenn Inkster and Spencer Winn (Mitsubishi Evo 8) who have now won the annual multi-day event for five years in a row! make it five consecutive event wins this year?
Prepared by FAST COMPANY on behalf of the Ultimate Rally Group