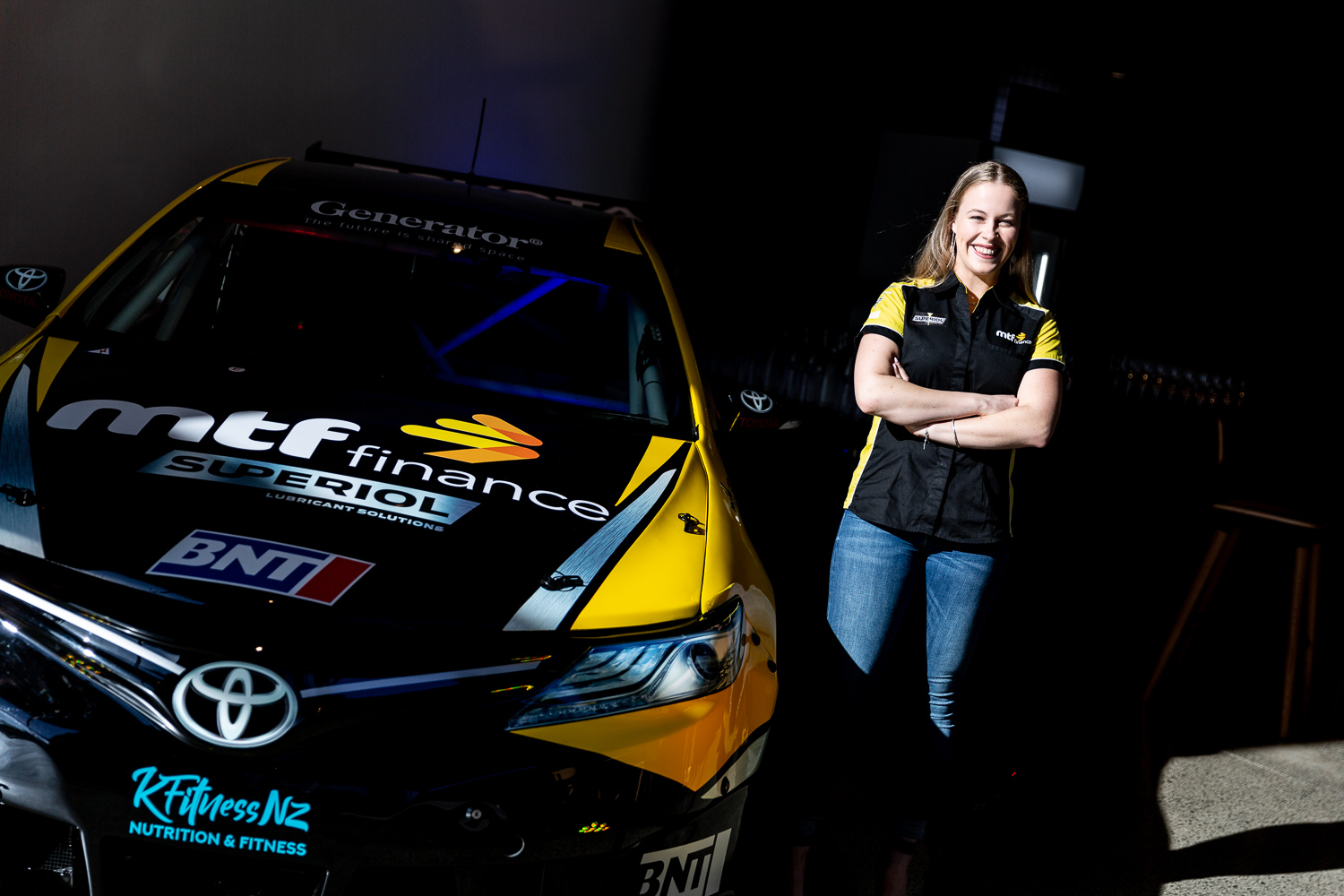 Chelsea Herbert takes Class One step in BNT V8s
Chelsea Herbert will graduate to class one of the BNT V8s this season when the championship gets underway at Pukekohe in November.
Herbert competed in class two during the 2017/18 season, the 19-year-old becoming the first female to win a V8 Touring Car race in New Zealand, also finding herself a contender for the championship before eventually finishing third overall.
Herbert will step into class one with Richards Team Motorsport aboard a Toyota Camry. The Richards Team winning the championship last season with Andre Heimgartner.
Herbert says she is eager to get the season underway in a team with a proven track record and also her first time driving in a larger team environment.
"It's exciting, since I was seven it has just been dad and I mainly, so now to step into a team where dad has to take a back seat in the mechanical side of things is strange, but it's a taste of what's to come further down the track with my career," says Herbert.
"I am really enjoying be part of Richards Team Motorsport and I think we will be able to achieve great results over the six race weekends."
With eyes on an international driving career, Herbert says that she is eager to benchmark herself against some other drivers who have more experience in these types of cars.
"I'm excited for the season that lies ahead and I can't wait to push myself further as a driver. There are a few drivers from Australia in the championship this season who will be great benchmarks for what the competition is like over there."
Herbert will once again be supported by MTF Finance as well as support from new oil brand, Superiol.
"I'm very proud and pleased to welcome MTF Finance back for another season. I have been thankful enough to have an outstanding amount of support from MTF for the previous three seasons and this year we have turned everything up a notch.
"It is also a privilege to have the support from Superiol this season. This is a new oil brand which has been recently launched and exclusively available through BNT. It will be great to be racing around with the fresh new MTF finance logo accompanied by Superiol."
Herbert has already done some testing aboard her new Toyota Camry and will cut more laps before the first round in November.
"I've had about half a day out at Pukekohe so far, which went really well. The car is a lot easier to drive than what I had anticipated. It also seems physically a lot easier to drive than the Class two car which surprised me a little.
"I have been training even harder this off season with my trainer Kate at KFitnessNZ to help me stay as fit as possible.
"The biggest challenge for me at the moment was not getting the full brake pressure down quick enough. I have a couple of test days coming up to get that nailed down before we move onto the finishing touches prior to round one."
Herbert will be part of a three car effort with Richards Team Motorsport, with Australian drivers Brenton Grove and Scott Taylor also campaigning the championship.
The BNT V8s Championship has six rounds starting at the Pukekohe Virgin Australia Supercars round November 2-4 and finishing at Hampton Downs in March.
Media release: BNT V8s
Photo: Michael Tuck