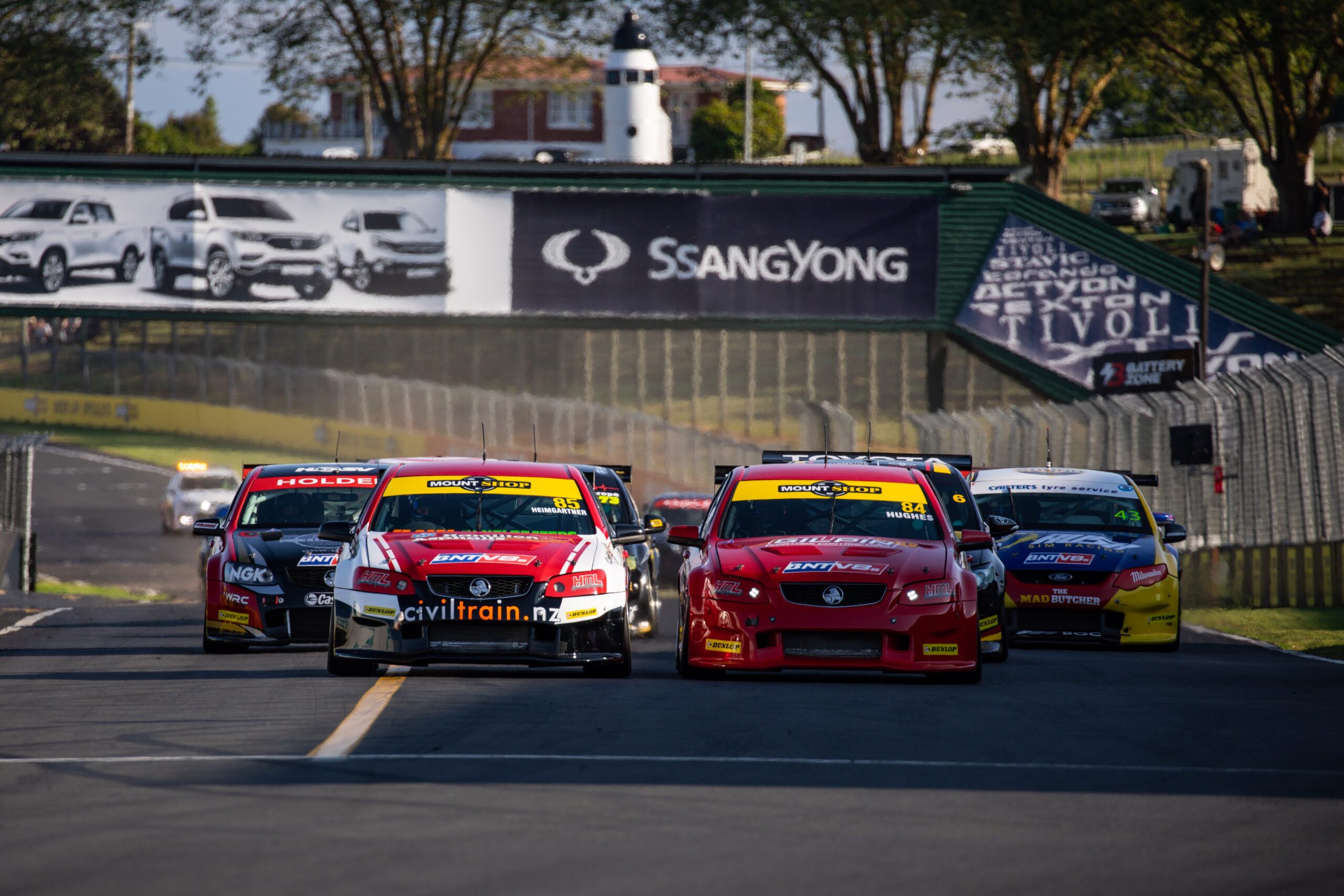 Heimgartner Wins BNT V8s Opener at Pukekohe
Virgin Australia Supercars Championship regular André Heimgartner has triumphed on his return to the BNT V8s.
Heimgartner led the field to the green flag with Hamilton Motorsports teammate Lance Hughes alongside him.
Fellow Holden Commodore VE pilot Rob Wallace started third with series debutante Alexandra Whitley in fourth for Richards Team Motorsport in the sole Toyota Camry.
Whitley was quick to pass Wallace for third off the start but had to defend hard to maintain the podium position.
At the front, Heimgartner and Hughes skipped away from the rest of the field in the opening stanza of the 16-lap affair.
BNT V8s Open competitor Sam Collins demoted Wallace and Whitley in quick succession on Lap 3 with his NASCAR-powered Ford Mustang. Cast out wide, Whitley lost out at the hairpin and ceded position to Wallace.
Perhaps most surprisingly in the early stages of the race was Hughes getting by Heimgartner at Turn 5. A lap later and Heimgartner was straight back through with an almost identical move that had been done on him.
Hughes lost a ton of ground to Heimgartner on Lap 6 when Collins got in on the battle for the lead of the race.
Whitley was handed a class podium on Lap 8 when Wallace spun at Turn 4. He eventually dropped to seventh in the outright order.
Ultimately, Heimgartner was untouchable. He came home 4.2 seconds clear of nearest rival Sam Collins who claimed BNT V8s Open honours. Lance Hughes completed the outright podium and was second in class.
"Good start to the weekend with a pole position and a win, the Mustang of Sam Collins was pretty fast there. Had a good battle with Lance too," said Heimgartner post race.
"I saw Lance coming, and just got out of the way, I didn't want to damage either of the cars as they are both his!"
"Looking forward to the next two races tomorrow."
Blair McDonald was fourth overall (second in BNT V8s Open) while Whitley completed the top five and was third in the BNT V8s podium.
Race 2 of the BNT V8s gets underway at 1:10 pm on Sunday and will be broadcast live on Sky Sport 5. Race 3 will take place at 5:45 pm.