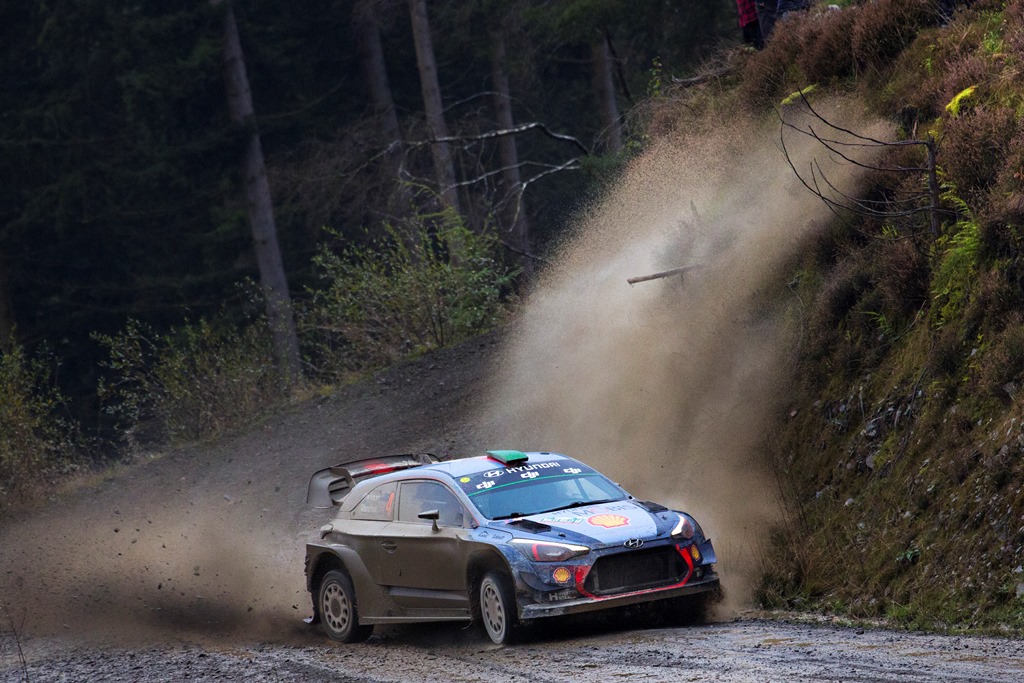 Paddon and Marshall aim for consistency in Wales
Kiwi rally driver Hayden Paddon and his British co-driver Seb Marshall want to continue their recent form as they head to Marshall's home event, Wales Rally GB, this week.
The eleventh round of this year's FIA World Rally Championship, running 4-7 October, takes in familiar roads in north and mid-Wales. Paddon has competed here seven times previously; Marshall has competed every year since 2010.
After their measured approach to Rally Turkey last month netted the pair their first third place of the season, Paddon says a podium finish is always the goal. "But this is a rebuilding year where we have focused on consistency, so minimum we're aiming for top five. The weather and road conditions will play a part of what is realistic for us to achieve on day one, then we'll reassess after that."
They tested their Hyundai i20 WRC car last week – Paddon says it was a nice smooth test. "Really just fine tuning for the conditions. It's nice to be in the position of fine tuning since I turned a corner with the car this year, so we hope to take that confidence into this week's rally."
Wales Rally GB offers a very different challenge to the rough and punishing stages in Turkey. Inclement autumn weather can often play a key role with the fast tree-lined routes into the Welsh forest made treacherous and muddy in wet conditions.
This week Paddon and Marshall complete reconnaissance for the 318.43 kilometres of competition and will get a better idea of likely road conditions for the event, which is being run three weeks earlier than the calendar slot it's occupied in recent years.
Paddon says: "We tested in dry conditions, but it could go either way for the rally. Regardless there will still be damp/slippery sections under the trees, but slightly drier conditions would mean we are less disadvantaged on day one, so that's what we are hoping for."
A key change is the organisers' ability to close public roads and therefore link traditional gravel stage with short asphalt sections to create lengthier tests. Competitors also tackle a complete asphalt stage – the 8.03km Great Orme Llandudno special stage – on gravel tyres twice. "It will be great to finish with this spectacular tarmac stage around the northern corner of Wales, dropping into the town centre where the stage finishes, and podium celebrations take place. It's a very nice way to finish the rally."
Marshall has been to every running of Wales Rally GB since 2001, except one, and competed every year since 2010, making his home event also one he has most experience of.
"Of course, it's always special to compete on home soil, with the familiarity of things where I started my career, and nice to be able to drive to a rally not get on a plane!" says Marshall, who makes sure the pace notes are marked with extra visual references in case of fog and dark, like a log pile with a reflective marker or a marshal post where people in high-vis clothing will be standing. "Each day has quite a different feel to it, the stages used in mid Wales on Saturday are generally more natural, fast and flowing roads that follow the contours of the land, whereas Friday and Sunday roads are more managed, narrower with lots of junctions to disrupt the rhythm.
"Traditionally, Rally GB is one of those events where you want to run closer to the front because the roads are in a better condition, not as slippery. But given the hot and dry summer we've had in the UK we won't really know what to expect until we've done the recce."
Key facts for Wales Rally GB
Dates: 4-7 October 2018
Stages: 23 (318.34 competitive km)
Total distance: 1401.35km
WRC competitors: 11
Location: Deeside
The action blasts off with a 1.7km dazzling curtain-raiser under the spotlights at Tir Prince Raceway on Thursday evening.
Friday's110.86km of stages includes a new super special at Slate Mountain and new configurations of established stages.
At 150km, Saturday is the longest individual day of the event and features well-known stages Myherin, Sweet Lamb Hafren, Dyfi, Gartheiniog and Dyfnant. With no lunchtime service, it promises to be a decisive day of action.
Five stages on Sunday means there will be plenty left to play for, with the power stage unusually taking place as the second test of the final morning.
Paddon and Marshall – in the #6 Hyundai i20 WRC car – join Hyundai Motorsport team-mates Thierry Neuville and Nicolas Gilsoul, and Andreas Mikkelsen and Anders Jaeger in Wales.
With just two more WRC events this season after Wales Rally GB, there's plenty of attention on which drivers will be with which WRC teams in 2019. Paddon and Marshall maintain their focus on finishing the year with the best possible results but are naturally involved in the process. "Discussions have started in the background and we are sure more will become apparent in the coming weeks. We have options and that is the most important thing for now."
Paddon and Hayden Paddon RallySport Global (HPRG) Ltd appreciate the support of their exclusive partners, Hyundai New Zealand, Pak'nSave, Winmax Brake Pads and Z Energy.
Media release: Relish Communications
Photo: McKlein Images