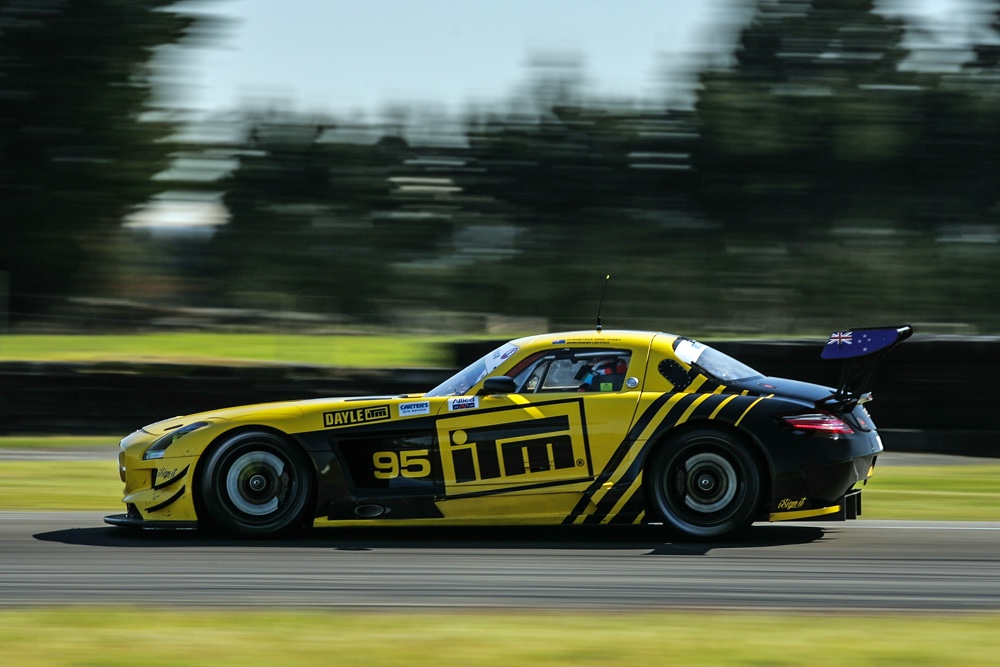 Torque issue results in an early exit for Dayle ITM Mike Racing at Ruapuna
The Dayle ITM Mike Racing team's three-hour race at Mike Pero Motorsport Park was unfortunately all over before it really got going yesterday, at the second round of the Carter's Tyres South Island Endurance Series.
After less than 10 laps on the Ruapuna circuit, near Christchurch, team driver Christina Orr-West was forced to pull off into the pits with a torque issue hampering the performance of the Dayle ITM Mercedes SLS AMG GT3.
In qualifying, fellow driver Brendon Leitch says he felt "we didn't quite have the pace" when he first drove the Mercedes in the Friday shakedown. He then qualified ninth on Saturday morning, finding that the usually powerfully-swift Mercedes was "not feeling too sharp."
He briefed Orr-West about how the car was performing before she began her customary 90-minute stint in the car first.
"I went out into the race and straight off the start line, it didn't feel quite right," she says.
Hoping that it was just taking the Mercedes several laps to warm into its work, she persevered but after failing to keep up with rival cars she had been lapping at the opening round at Teretonga Park, in Invercargill, Orr-West radioed back to the team that the Dayle ITM Mercedes was struggling and wouldn't pull into fifth gear.
They suggested a series of adjustments she could make on-track, to attempt to alleviate the issues. When they were unsuccessful, Orr-West was called into the pits, so the team could examine the car. Returning to the track, she says it started sounding "like a tractor," so the team made the decision to pull the pin on the race to avoid risking further damage.
The team are still investigating the issue but it is believed to be something to do with the shift cut holding on and not wanting to shift. This takes the torque out of the engine and may have caused cumulative problems.
Although Leitch was disappointed not to get a drive this weekend, he is well aware that "these things happen – it's just part of the sport."
Sitting on the sideline meant he was able to watch his brother Damon dice for the win in his team mate Tony Quinn's Aston Martin Vantage GT3, eventually settling for second behind Neil Foster/Jonny Reid in the Audi R8 LMS GT3.
Media release: Catherine Pattison
Image: Terry Marshall
Caption: The Dayle ITM Mike Racing Mercedes SLS AMG GT3 in action at Mike Pero Motorsport Park, near Christchurch