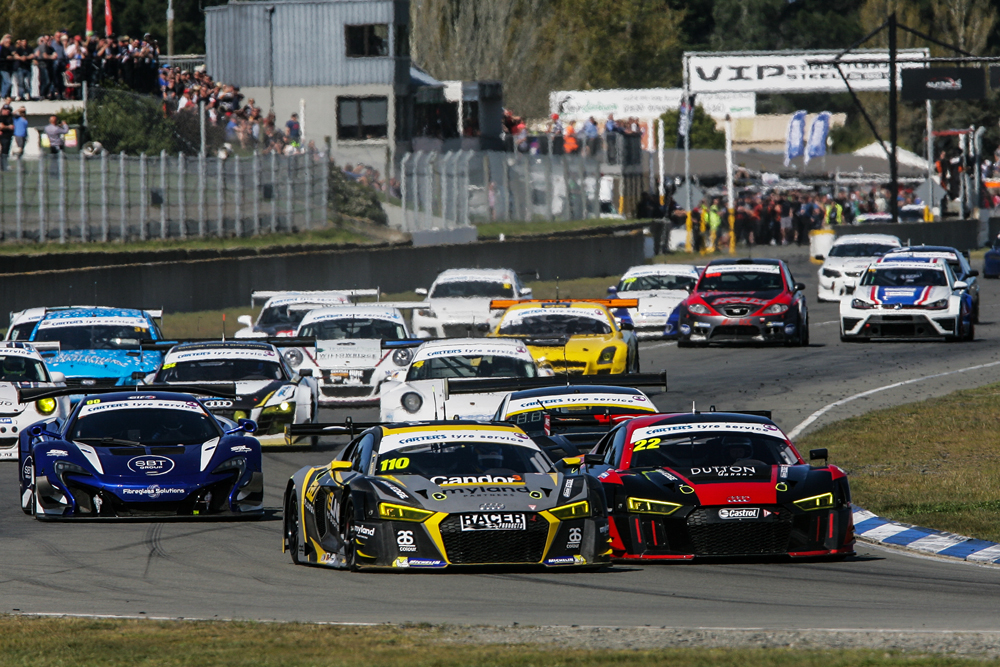 Two from two for Foster/Reid Audi in Southern endurance battle
A second win in the Carter's Tyres South Island Endurance Series Three Hour race for the Neil Foster/Jonny Reid Audi R8 was the result of a hard-fought battle at the Mike Pero Motorsport Park just outside of Christchurch on Saturday. Taking the win was never certain until the drop of the chequered flag with pressure from the second placed Aston Martin of Tony Quinn and Damon Leitch.
With three quick Audi R8s in the field it was no surprise for one of them to hold the lead lap. First it was the Andrew Fawcet/Gene Rollinson Audi R8 LMS GT3 in the hands of Rollinson that stormed to a significant lead in the first hour. Never far behind was the Aston Martin in the hands of Leitch followed by Foster and the George McFarlane/Jack Milligan Porsche 997 GT3 R.
Unfortunately, the series sponsors very quick Mercedes AMG SLS GT3 driven by Dwayne Carter and Shane Hodgeson did not start due to engine problems. Also side-lined was the Christina Orr/Brendon Leitch Mercedes AMG SLS GT3 which parked up in their garage after 30 mins of racing with an engine mis-fire.
Just after a third of the race time, several teams began their first pitstops and driver changes, with Leitch first to pit in the Aston followed by the Foster and Rollinson's Audi.
A safety car period at the halfway mark closed the gap right up between the top three. Having replaced Foster, Jonny Reid was then able to pass both the Aston, now in the hands of Quinn, and the Fawcet Audi to take the lead.
However, contact between Quinn's Aston and Fawcett's Audi saw both spin at the hairpin allowing Reid to get away. But it was Reid who the steward's blamed for the contact resulting in a driver through penalty.
Again, several laps later both Quinn and Fawcett spun at the hairpin, this time Quinn got a drive-through penalty while Fawcett became stranded on the curb with damage to the car resulting in a retirement. The resulting Safety Car period saw both Quinn and Reid make a splash-n-dash for more fuel, with Quinn handing over the reins to Damon Leitch.
With 30 minutes remaining, Reid held just an eight second lead over Leitch which came down to just four seconds with 20 minutes remaining. Leitch clearly had speed and closed right on Reid only to puncture with minutes remaining but enough time to pit and return to settle for second overall.
"It was all on in the last ten minutes," said Tony Quinn as his co-driver Damon Leitch (Aston Martin) hunted down the leading Audi.
"Jonny must have had something left," commented Leitch. "We were gaining but then I ran over something and I knew I had punctured. It was a matter of getting it back to the pits without incurring any more damage and securing second."
"I was confident of holding the lead," commented Reid. "Damon is very quick, and I respected that. It was a matter of staying out of mischief as we had a 'contentious' drive through issue earlier in the race."
Third home was the older Audi R8 of Ben Byers and Jaxon Evans. 'To be honest I thought third was always possible," commented Evans. "We had a bit of luck, but we also had to work for it as we are up against some very competitive cars and drivers."
As well as the round win Foster/Reid took the Class E honours ahead of Quinn/Leitch, Byers/Evans and McFarlane/Milligan.
The Scott O'Donnell/Alan Dippie pairing finished sixth overall and took their second win in Class D, having won at the opening round at Teretonga. This time they beat the Ford Mustang of Rick Cooper/Dean Cooper with Rob Williams/Phil Blythe (Porsche 997 Cup) third.
The "Kiwi built" Class C (3501cc+) was won by Grant Williams/Ben Williams/Rick Matheson (Mazda RX8 V8) from the Ford Falcon NZV8 of Kevin Underwood/Jordan Michels. Class winners at the opening round, the twin turbo Toyota 86 of Scotty McDermid/Craig McDermid, retired in the last hour with engine problems while holding a top 10 position overall.
Defending NZ Class A (0-2000cc) champions Arron & Stu Black (BMW E46 WTCC) took their second class win of the series and 12th place overall. Darryl & Terence Phillips (Integra) took 2nd in class ahead of the Toyota Altezza of Matt Moore/ Phil Schumacher.
As the quick-fire three round Carters Tyres Series now heads to tackle the tight & twisty Levels Raceway circuit in Timaru on 13th October for the Series Grand Finale where the overall series champion will be awarded the 'South Canterbury Toyota Cup' as Carters Tyres SI Endurance Series winners. Thanks to Series sponsor Carters Tyres Service as well as Allied 24/7/fuel, the Series will again have a massive prizemoney pool of over $30,000- that will be paid out for 2018, as well as major spot prizes up for grabs to a competitors in either the One Hour or Three Hour Series.
For more information on the South Island Endurance Series, race entries, or to be added to the South Island Endurance Racing Drivers Club's e-mailing list, please contact Chris Dunn via e-mail at sierdc@xtra.co.nz ph 021-107-9293. Club information can also be found on facebook at www.facebook.com/sierdc
Media release: SB Networks on behalf of the SIEDRC
Photo: Terry Marshall/Euan Cameron
Caption: #22 Foster-Reid Audi #110 Fawcet-Rollinson Audi start of 3 Hr SI Endurance race Ruapuna 2018