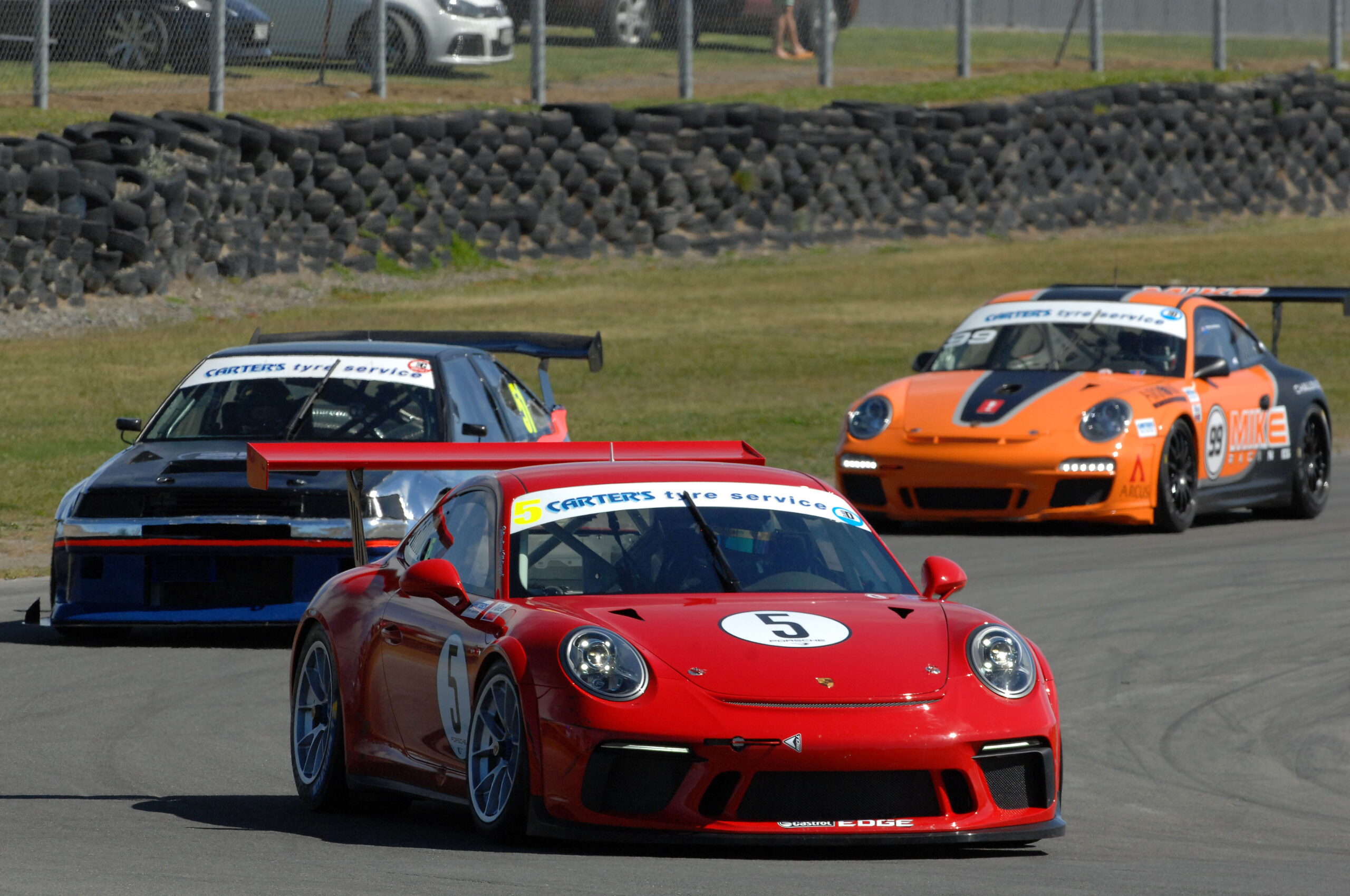 Whittaker dominates One Hour SI Endurance race in Christchurch
A five-second penalty was not enough to make a dent in the win by Mark Whittaker at the second round of the One Hour Carter's Tyres South Island Endurance Series. Adjudged to have followed an incorrect restart procedure, Whittaker still won comfortably by 17 seconds from BNT V8s driver Nick Ross (Ford Boss Mustang) ahead of Rowan Shepherd (Porsche 997 GT3 Cup) at the Mike Pero Motorsport Park, Ruapuna, Christchurch.
Whittaker was debuting his brand-new Porsche 991 Carrera Cup, having missed the first round two weeks ago at Teretonga Park, Invercargill.
"The car was great," commented Whittaker. "The car is fresh out of the box and it is great. Very similar to our previous car."
Second home Nick Ross was satisfied with his day's work. "We had a good setup today. It was great to finish between two Porsche, like a rose between two thorns."
"We lost our front splitter very early on," commented a satisfied Sheppard. "That made quite a bit of difference in the corners but overall stoked with third."
The winner of the first round in Invercargill two weeks ago and last season's series Chris Henderson could only manage fourth.
"Disappointed with that as we should have got second," said Henderson. "Things didn't go well for us with the safety car period which dropped us back from where we could have been and that changed the race for us.
"We were never going to beat Matt (Whittaker) and was prepared to let him go so it was a matter of finishing well. While we won here last year, it is not a track that suits our car as we struggle with brakes. Hey, we finished so happy with that."
Forty-five cars took to the track competing in four different classes.
In the first round at Teretonga, it was the Allan Dippie/Scott O'Donnell (Porsche 997 Cup S) that took Class D line honours. They finished well down the order this weekend in seventh overall. Whittaker takes the win ahead of Shepherd and the Porsche 997 Cup of Jonny Small/Chris Small.
Class C (3500+) was won by Ross ahead of Henderson and Bruce Davidson (Chev Corvette C6R) and Garry Derrick/Ben Derrick (Porsche 996 Cup). Henderson will head to the final round with the lead in this class.
Class B (2001cc-3500cc) saw a battle between the BMW's of Marco Schelp (BMW KK WTC 3.5 M3) and Matthew O'Donnell (BMW M1 GTR) with the Seat Leon Supacopa of Mike Driver and Phil Hodd third.
Twelve cars took part in the Class A (0-2000cc) battle which was won by Brayden Phillips/Dennis Phillips (Honda S2000) ahead of Paul Martin (Honda S2000). Third home was Teretonga class winners' and series rookies Clark Scott/Jim Boult (Integra).
The Carter's Tyres One Hour Race Series moves to Timaru's Levels Raceway on Saturday 13th October for Series' Grand Finale, where a Series Champion will be crowned. Thanks to Series sponsor Carters Tyre Service as well as Allied 24/7/Fuel, the Carters Tyres Series will again have a huge prizemoney pool, with One Hour competitors in for a share of over $30,000- that will be paid out as prize money for 2018, as well as major spot prizes up for grabs to a competitors in either the one hour or three hour series.
For more information on the South Island Endurance Series, race entries, or to be added to the South Island Endurance Racing Drivers Club's e-mailing list, please contact Chris Dunn via e-mail at sierdc@xtra.co.nz ph 021-107-9293. Club information can also be found on facebook at www.facebook.com/sierdc
Media release: SB Networks for SIERDC
Image: Terry Marshall/Euan Cameron Photography
Caption: #5 Matt Whittaker leads #51 Chris Henderson and #99 Rowan Shepherd, Rnd2 Chch 2018