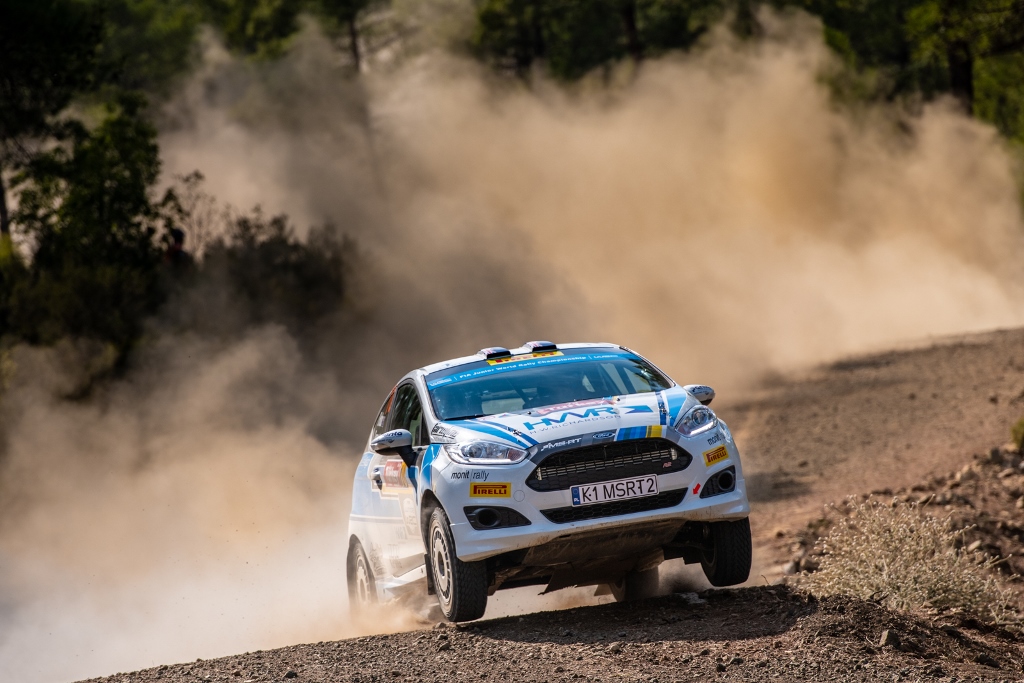 Holder and Farmer finish Rally Turkey at speed
New Zealanders Dave Holder and Jason Farmer have finished Rally Turkey, their final event of their debut FIA Junior World Rally Championship season, with two stage wins, the honour of being the fastest JWRC crew for Sunday, and a seventh-place finish in their class for the rally.
Of Sunday's very encouraging results, Holder says: "It was a pretty successful day for us being the fastest JWRC crew for the day and winning the last two stages. Jason and I are really happy with that, but can't help thinking about what could have been if we hadn't had the three punctures on Friday – we would have lead and won the rally, but that's just part of it all!"
The 13-19 September running of Rally Turkey delivered on its promise of rough, rocky stages and high temperatures. It was the last of five brand-new rallies in 2018 for Holder and Farmer – from Mount Maunganui and Hamilton respectively. They went into the event, having trained for the heat and made tweaks to the way they wrote their pace notes – a skill they've been working hard on all year.
Holder said Friday was one of the best day's rallying they've had all year, despite three punctures in quick succession. "It was a promising morning, a nice consistent run, and the times were good. They are really, really rough conditions, even on the first pass; it was Russian roulette what was going to be around each corner. It was definitely a matter of dodging the big rocks, but our pace was nice and easy, and thought we managed the car quite well. So we were quite happy to finished sixth in the morning [in a JWRC field of 12] but still in touch in with the leaders."
Holder's plan for the afternoon was to navigate around the bigger rocks safely. "In SS5, the first 6km is pretty nice, then there's about 10km of really rough stuff. The first puncture we changed pretty quickly, then got another one about a kilometre along the road. We pulled over to change that and noticed we had another puncture! So that makes a total of three and only two spares in the car. We couldn't get back to service with another 40km of stages to go, so had to retire temporarily and cop the time penalties to restart tomorrow."
They made the most of Saturday's 130.62km of competition, setting two second-fastest stage times in their class and they were third-fastest on the combined times for Saturday's six stages.
Of Saturday, Holder said: "We're really happy with the day, pretty consistent all round. Most importantly we looked after the car really well. We were rewarded with being third fastest for the day and a couple of second fastest stage times this afternoon. These are positive results for us. We know a few of the front guys are still pushing for stage wins so it's a nice feeling that we're on the pace where we could be. If we look at the results from today without yesterday's punctures and having to restart, we'd be leading the rally – that is pretty disappointing but that's also rallying – there are always some challenges."
With just four stages on Sunday, the pair wanted to get to the finish safely – which they did while also securing their first class stage wins on a WRC event. "We did have one small incident in SS15," Holder said. "I say small because a bunch of our competitors had big incidents in the same spot. We touched a bank and rolled on our side, whereas there were a couple of very big crashes from the JWRC boys, so we were fortunate to only lose about 20 seconds and then carry on.
"All in all, one mistake for the event in pretty challenging conditions isn't bad. I don't think I'll drive in stuff like this again in my career, but who knows – but very valuable and positive experience.
"We're just really thankful for the people who have helped us to get here this year. It's been pretty tough and a huge learning experience. We've got a lot of experience and knowledge to take away from this year and build on for future years. We're really happy where we finished up, just a shame we couldn't put it all together like this earlier in the year. Now we focus on next year!"
With his first international season of competition now complete, Holder is already working on plans for 2019.
Holder appreciates the continued support of HWR Group, Farmline Machinery, Amplified Customs, Magnum Compliance Services Ltd, Sheehans Motorsport, Stadium Cars Ltd, Stadium Finance, Monit Rally Computers, Mount Bikes, A little bit sideways, KPMG Tauranga, Cooney Lees Morgan Tauranga, Chicane Racewear, Mt Wheel Alignment, Truck Moves New Zealand, VINZ – Vehicle Inspection NZ, Allied Petroleum, Allied Concrete, Woodnet and Relish Communications.
More information about Holder's rally competition is available on www.daveholderrally.com, https://www.facebook.com/DaveHolderRally/, https://twitter.com/DaveHolderRally and https://www.instagram.com/daveholderrally/.
2018 Junior WRC calendar for Holder and Farmer
Rally Sweden, 15-18 February
Rallye Tour de Corse, 5- 8 April
Rally de Portugal, 17-20 May
Rally Finland, 26-29 July
Rally of Turkey, 13-16 September
Media release: Relish Communications
Image: Honza Fronek