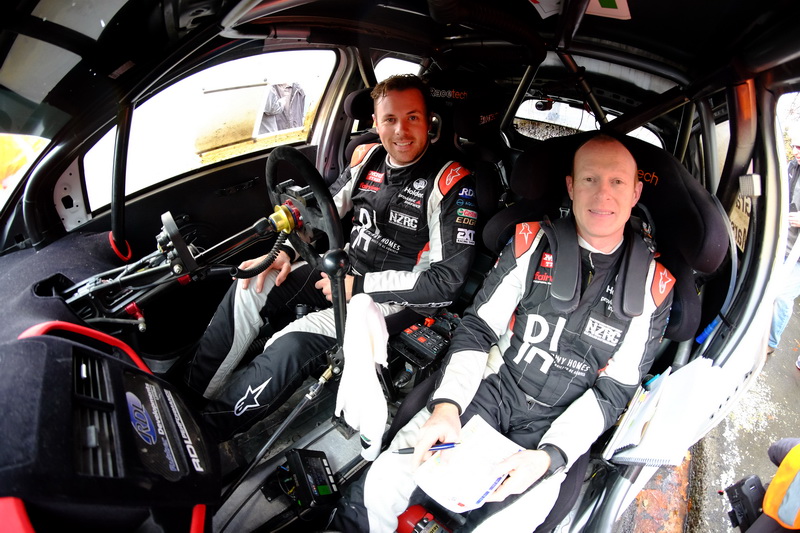 Annual rally rankings announced
The Grey Roots Group today published their 13th annual rankings of the nation's fastest rally drivers.
However, in a break from previous years, they have included overseas drivers who have competed on New Zealand soil during 2018.
Group spokesperson Tracy Spark explains the reason for the change.
"We have seen a real upsurge in interest from offshore drivers with what we're doing here – not just with AP4 and the national championship, but in classic rallying too. You're as likely to hear a French or Aussie accent in the service parks these days as a Kiwi one."
"The benefits are obvious – not only are these foreign competitors providing  colour, they're also a benchmark, forcing the locals to lift their own standards."
As in previous iterations, the rankings have been determined by a selection committee largely composed of current competitors. "We feel it provides not just credibility but a sense of pride – you're being judged as the best by your own peers."
The rankings are solely determined by outright speed in special stages, thus ignoring the effects of mechanical issues or punctures. "Admittedly it's an ego thing, but everyone wants to know – just who is the fastest?"
The 2018 rankings are as follows (with their 2017 position in brackets).
Top ten gravel 2wd drivers                                Top ten tarmac drivers
1.     Mads Ostberg                                       1. Glenn Inkster (1)
2.     Regan Ross (2)                                      2. Hayden Mackenzie
3.     David Holder                                         3. Nic de Waal (5=)
4.     Marcus Van Klink (8)                           4. Martin Dippie (7)
5.     Deane Buist (1)                                     5= Clark Proctor
6.     Derek Ayson (3=)                                 5= Regan Hall
7.     Bruce Herbert                                       7. Steven Kirk-Burnnand (9)
8.     Anthony Jones (5)                                8. Jason Gill (4)
9.     Matthew Robinson                              9= David Rogers (11)
10. John Silcock (12)                                 9= Marcus Van Klink
On the cusp of selection, Jeff Judd, Graham Ferguson and Welshman Meirion Evans narrowly missed out on the 2wd gravel list whilst Ivan Knauf was unlucky not to make the top ten asphalt ranks.
Earlier in the week the Group announced the winner of the Ballast Trophy for codrivers, acknowledging the Most Valuable Passenger for the year.
"The winner again was John Kennard – his sixth win since the Trophy's inception in 2011. He continues to set the standard for professionalism in this country."
A less sought-after award is the Crash of the Year, this time a unanimous vote for Daniel Alexander and Christopher Gracie at South Canterbury. "Invariably in Subaru versus tree contests, the vegetation wins."
Top twenty-five Outright gravel drivers
1.     Hayden Paddon (1)
2.     Ben Hunt (6)
3.     Brendan Reeves
4.     Andrew Graves (7) – Andrew was remarkably also the 5th ranked codriver!
5= Darren Galbraith (14=)
5= Andrew Hawkeswood (2)
7. Matt Summerfield (5)
8= Emma Gilmour (10=)
8= Dylan Turner (12)
10. Josh Marston (17)
11. Greg Murphy (18)
12. Phil Campbell (16)
13. Graham Featherstone (9)
14. Raana Horan
15. Mads Ostberg 2wd
16. Grant Blackberry
17. Nathan Quinn
18. Geof Argyle
19= Matt Jensen
19= Richie Dalton
21. Jeff Judd (20)
22. Job Quantock
23. Regan Ross 2wd
24. Michael Tall (21)
25. Carter Strang
with Clinton Cunningham and New Caledonian visitor Eugene Creugnet just failing to make the top 25 cutoff.
While Group members are enjoying Rallying's elevated public profile these days, there are still some concerns.
"While the South Island is experiencing strong numbers at all levels, the North Island is struggling to provide events. For young drivers to progress, there is practically nothing available to make that step between the two regional rallysprint series and the NZRC. We'd like to see more clubs concentrate on providing clubman rallies. The roads are still out there; if they don't have the manpower or expertise then they should be looking to combine with another club."
The NZRC has also become a little 'vanilla' too.
"It's a little too PC at the moment. Where are the mind games, the gamesmanship of the past? When is the last time someone reached for the rulebook?"
They are however buoyed by the recent announcement of Rally Otago becoming an Asia-Pacific qualifying round. "Anything that exposes a new set of competitors to the highest FIA standards helps lift their game. It's too easy to get complacent playing in your own back yard with your mates – guys like David Holder and Raana Horan can't help but become a better all-round package by mixing it in the WRC this year."
"We're all really looking forward to the 2019 season."
Media release: Grey Roots Group
Image: Andrew Graves (right) featured highly on both the drivers' and the co-drivers' rankings this year.
Photo: Geoff Ridder