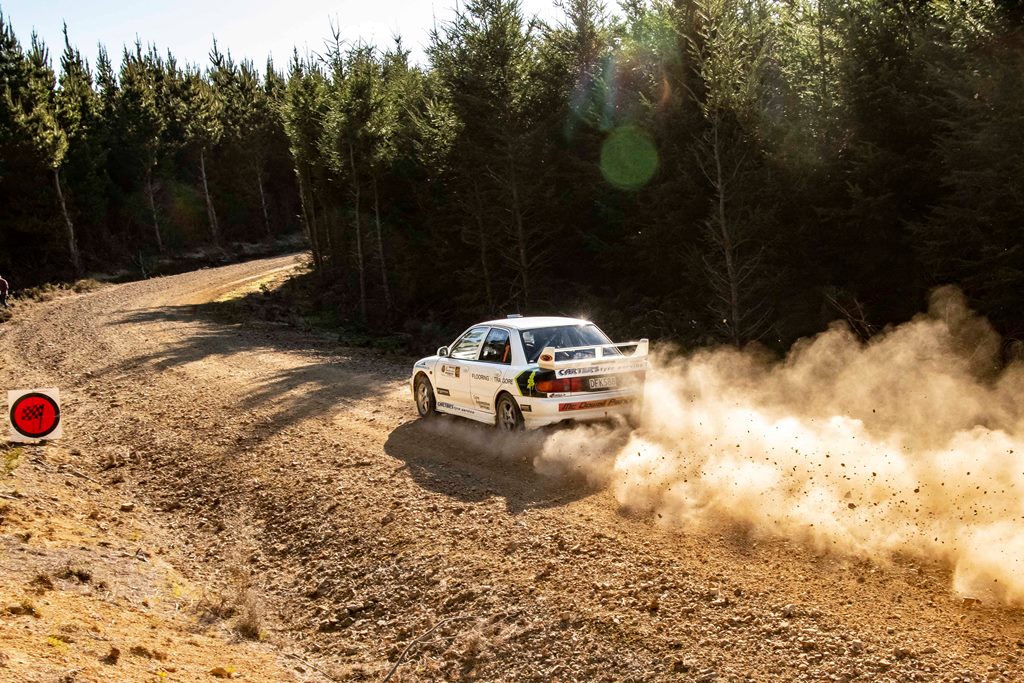 GRAVES GRABS ANOTHER
Gore driver Andrew Graves, in his Mitsubishi EVO 3, continued his phenomenal run of success when he won the 2018 Rankleburn Rally in West Otago on Saturday. Graves completed the event, which he also won in 2012 and 2014, with a 28 second margin over Job Quantock of Ohoka in a Skoda Fabia AP4 with Oamaru driver Scott Simpson (Volkswagen Polo) third.
The event, organised by the Eastern Southland Car Club, and supported by MLT / Heartland Hotels and Ernslaw One Limited, saw 36 cars face the start.
Graves won three of the five Special Stages with his son Hayden sitting alongside in the co-driver seat but said it was far from easy. "I'm really stoked but it was really tough. It was really stiff competition. We had our share of lucky escapes. I almost had two spins and just about went up the wrong road in the opening stage. I was pushing hard. It was great to have Hayden on board and I have to thank my crew, family, friends and sponsors. I'm now looking forward to the Lawrence Rally." Graves said it was a shame that the driver he is co-driving for in the New Zealand Rally Championship, Josh Marston, had to withdraw after an engine problem prior to the event.
Job Quantock, with sister Emma co-driving, finished second in his Skoda Fabia AP4 car. Quantock was quick all day and won the final stage. Scott Simpson/Mike Crook of Oamaru finished third in their Volkswagen Polo, a further 52 seconds behind Quantock. Runner-up Quantock said the roads were some of the most enjoyable forestry roads he had encountered. "I'm very happy, we are starting to head in the right direction with the car."
David Clearwater of Christchurch was fourth in his Mitsubishi EVO 4, ahead of Rhys Gardner of Dunedin (Impreza WRX RA), Vaughan Edie of Invercargill in an EVO 8, Jeremy McIlwrick of Winton in an EVO 4 with Murray Marshall of Kaitangata (Impreza), Australian John Spencer (Datsun 1600FJ) and Carter Strang of Wallacetown (EVO 6) rounding out the top ten.
Fourth seeds, Garet and Gemma Thomas of Darfield, won the first stage in their Subaru Impreza only to leave the road in the second. They rejoined the event and continued to set good times but were out of contention for an overall result. Thomas said,"it was a really good start and Stage 2 was looking good too until we went into a corner a bit too quick and ran wide and down a bank. It was a real good day nevertheless and the event was well run."
The class battles were tight in many cases with Clearwater and co-driver Graeme Begley taking Class D honours from Gardner/Zeke King and the father/daughter combination of Vaughan and Greer Edie while Spencer/Tony Johnson took Class C from Gavin Read/Glenn Howden of Invercargill (BMW 328 RS) and Craig Barclay/Blair McLaren of Balclutha (Ford Escort MKII).
Richie & Rachel Chadwick of Dunedin won Class B in their Toyota Corolla GT in eleventh overall from Craig Cormack/Paul Clement of Gore (Toyota Levin) and Jarrod Glass/Katie Read of Mosgiel (Corolla FXGT) while Scott & Tim Ashton of Dunedin secured Class A in their Datsun 1200.
Jarrod Glass of Mosgiel won the Novice Driver award despite a brush with a tree after having problems with dust in a stage while Greer Edie took the Novice Co-driver award. A special prize supported by Harrisons Supplies Limited in Gore saw Christchurch driver Dean Johnston, who debuted his Toyota Starlet at the event, win a socket set by improving his time by the biggest margin in Stage 3 which was a repeat of Stage 2. Johnston improved his time by over 32 seconds on the second pass over the stage while Jarrod Glass was the runner-up.
Those who failed to finish included Ray Casey of Cromwell in his Nissan Pulsar GTiR which suffered overheating after a good start, Steven Thompson of Mosgiel in his Ford Escort MKII with engine dramas in Stage 2, Joshua Lankshear of Invercargill who went off the road in his Ford Escort on Stage 2. Steve Gill of Winton had a mixture of gearbox and engine issues in another Escort and Richard Clark of Wendonside in a Subaru Legacy RS had his rally ended by mechanical issues.
Release: Lindsay Beer/ Eastern Southland Car Club
Caption: Rally winner Andrew Graves of Gore crosses the line at the end of Special Stage 5
Image: Becky Ladbrook / Fast Exposure Photography