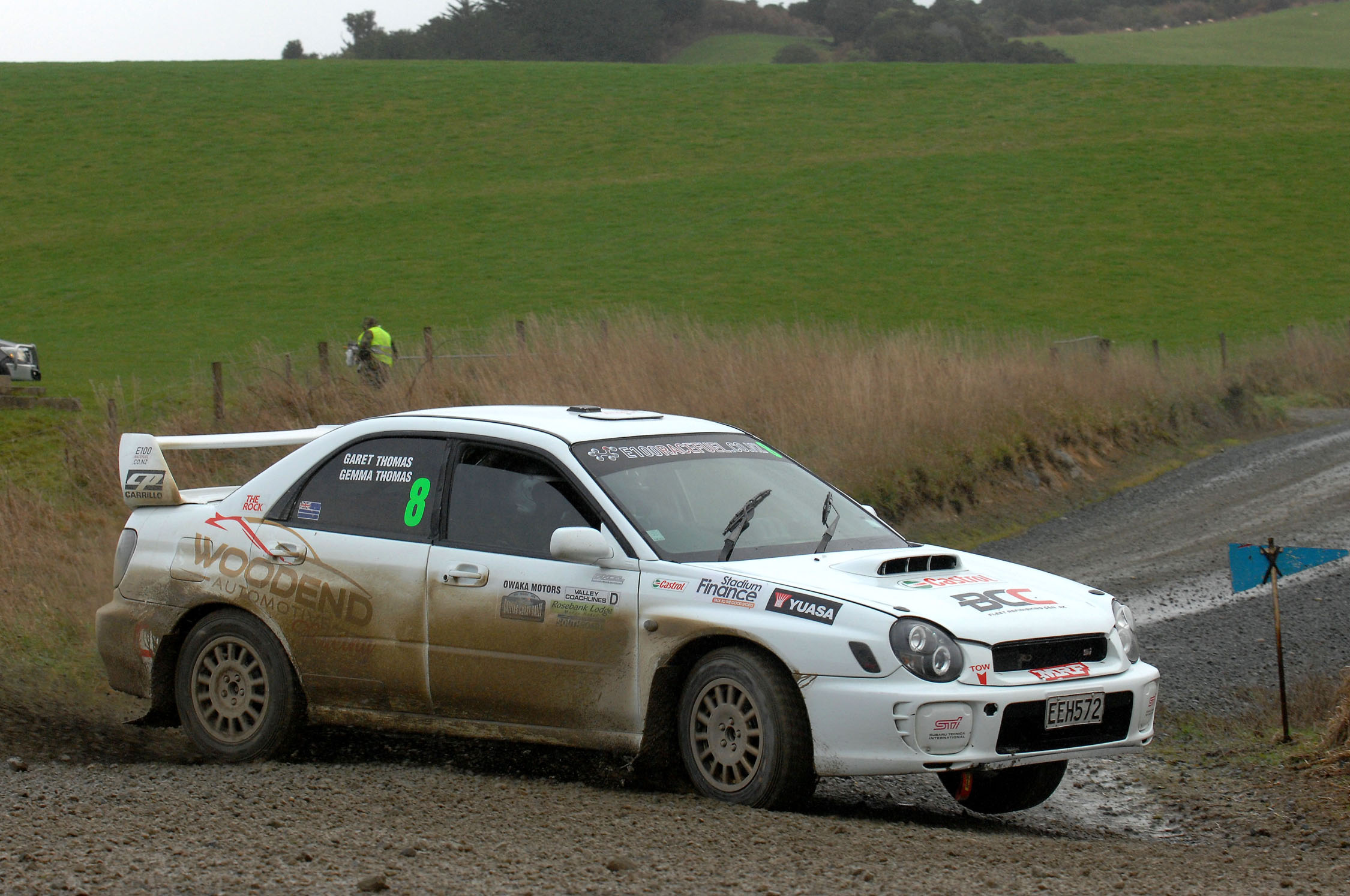 MAINLAND RALLY SERIES TO BE DECIDED AT CATLINS
This year's Catlins Coast Rally is also the fifth and final round of the Mainland Rally Series with the series overall title and several of the classes still wide open, giving extra edge to the result of the rally this Saturday.
In the drivers overall championship Josh Marston of Christchurch currently leads on 82 points but will not contest this event leaving it wide open. Garet Thomas of Darfield is just two points behind Marston while Job Quantock of Kaiapoi on 74, Matt Summerfield (Christchurch) on 73, Regan Ross (64), Marcus Van Klink (60) and Matt Wright (54) all still have a mathematical chance to take the title. In the co-driver points Gemma Thomas leads on 82 with Regan Ross' co-driver Samantha Gray just one point behind. The next four on points Andrew Graves, Nicole Summerfield, Grant Marra and Dave Neill will not add to their points tallies at Catlins.
In the Class battles Tim Smith of Christchurch has a comfortable lead in Class A while his co-driver Brett Maddren is 16 points behind Blake Murch who will sit in the co-driver seat alongside Peter Murch.
Robbie Stokes of Waikuku and Kevin Lynch are tied on 54 points in Class B but Lynch is not entered this weekend so Nick Marston of Rolleston, just three points behind is Stokes' biggest threat. Dean McCrostie leads the co-driver points by one point from Amy Stokes but is not competing while Marston's co-driver Pete Calvert plus Quinn Blanchfield retain a chance of taking the honours.
Marcus Van Klink has a 12 point lead over Deane Buist in Class C but in the co-drivers points Van Klink's usual co-driver Dave Neill is not competing, leaving Buist's co-driver Karl Celeste the opportunity of overhauling the deficit.
Class D is very competitive with Garet Thomas leading on 58 points from the absent Josh Marston then Summerfield, Job Quantock and Sean Haggerty. Gemma Thomas leads the co-driver points on 59 with Sean Sands the only co-driver present with a chance of catching her.
Phil Collins and Tracy Spark lead the Class E drivers and co-driver points respectively with 65 points each but neither will be at Catlins, opening the door for the driver/co driver combinations of Matt Wright/Stephen Lloyd on 60 points each and Garry Cliff and his co-driver James Cowles on 58 to take away the title.
Regan Ross leads Class F on 62 points ahead of Eddie Gray (57) and Jeff Judd (54) while Gray's co-driver Josh Skafer leads the co-drivers points on 63 from Sarah Brennan (Judd's co-driver) on 54 and Samantha Gray (Ross) on 42.
The 4M and 2M classes which are designed for North Island and Australian competitors look fairly clear cut. Mark Parsons of Drury leads Palmerston North's Brian Green by 28 points in 4M while Green's co -driver Fleur Pedersen has the co-drivers class sewn up. In 2M Daniel Alexander and Glenn Goldring respectively, neither who are competing at Catlins, have the titles already in the bag.
The Catlins Coast Rally starts in Owaka at 10am on Saturday 10 August and the Eastern Southland Car Club is delighted to have the support of the Clutha Licensing Trust through their Rosebank Lodge Balclutha establishment, plus  Southroads, Owaka Motors, Yuasa Batteries and Stadium Finance. The club is also especially grateful to Rayonier Matariki Forests, the Clutha District Council and the McNab Family for their assistance with the event.
Media release: Lindsay Beer