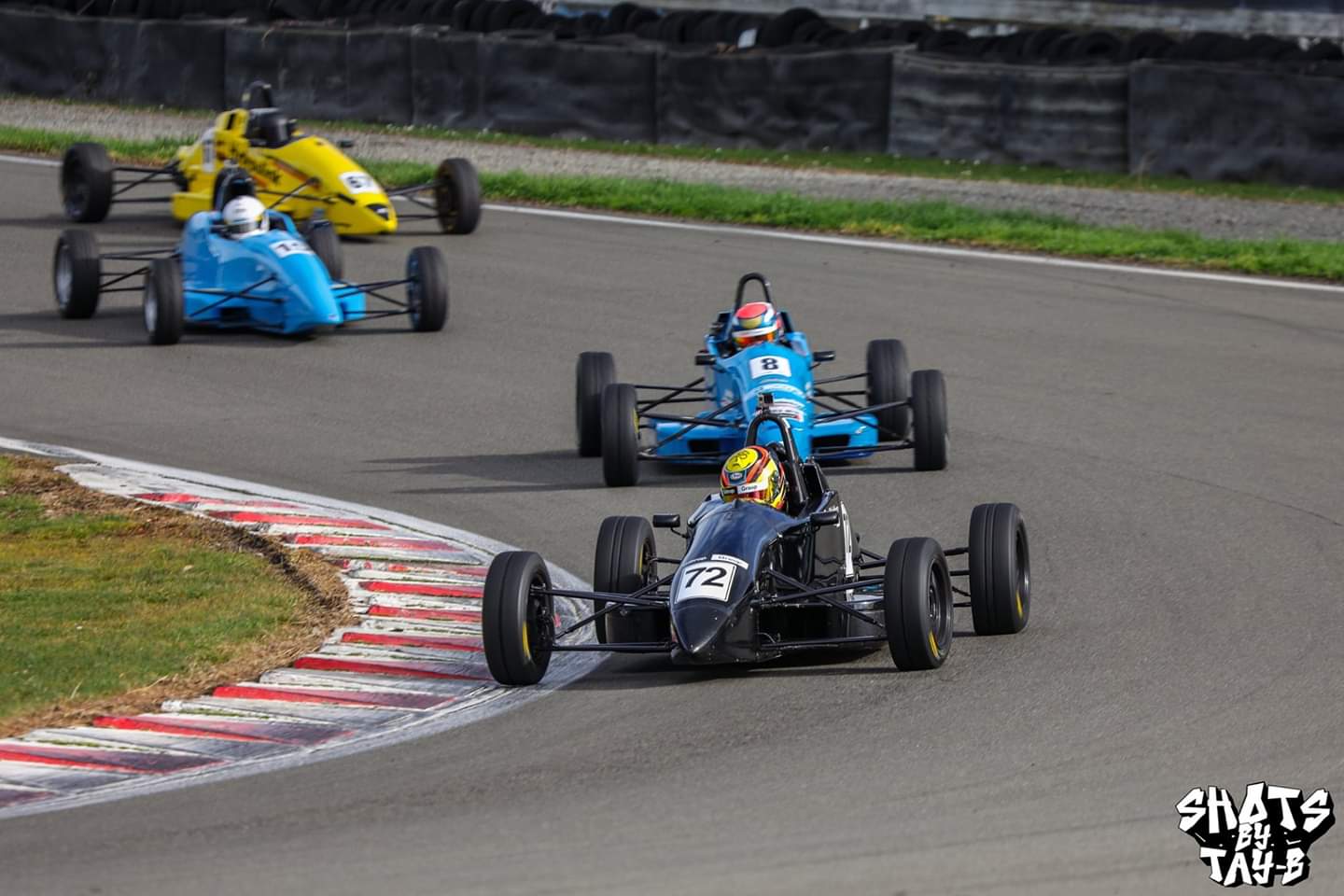 Billy Frazer slices points gap as series leaders strike drama in the North Island Formula Ford Winter Series
It was a day of shakeups and mistakes during round three of the winter series held at Manfeild. The weekend was short-lived for Ronan Murphy, a miss-timed gear change during testing on Saturday left the Hawkes Bay local with a blown engine, forcing him to sit out the rest of the weekend, dropping Murphy from second to third in the points.
Qualifying kicked off in damp conditions with ten cars, and Billy Frazer was early to set the pace. Thomas Boniface, on debut in the class, brought out an early yellow flag with a spin into the gravel at Higgins. With the car beached, the youngster was forced to abandon the yellow Mygale. Cameron Tanner also had a tough session, the team still chasing a misfire in the car.
Brodie McConkey finished up on top with a 1:21.246, from Billy Frazer (+0.199) and Callum Crawley (+0.349). Zac Stichbury and Kaleb Ngatoa rounded out the top half of the field, followed by Blake Evans, Thomas Boniface, Alex Hawley, Cameron Tanner and Keith Miller
Race one proved to be exciting from the get-go. Callum Crawley and Billy Frazer got the jump on Brodie McConkey into turn 1, only for Crawley to make a rare mistake on the exit of Higgins, running wide and touching the grass, a trajectory that sent him straight into the wall. With both left-hand side hubs broken, he was forced to DNF. Further down, Thomas Boniface was making his way back up through the field after a shocking start, re-passing Hawley and Tanner before a race-long tussle with Blake Evans. It was all smooth sailing upfront for Billy Frazer, finishing with a comfortable eight-second margin over Stichbury and Ngatoa. Evans and Boniface crossed the line with only half a second between the pair, followed by Tanner, Hawley (who had been battling engine issues) and a steady Keith Miller, still adjusting to the flowing nature of a Formula Ford compared to his old tin-top. Brody McConkey had engine gremlins of his own, finishing last on the road one lap down.
Race two resulted in a storming drive from Crawley, to move from last on the grid up to second place. An impressive opening lap saw him make up five places, his charge halted by a broken rear anti-roll bar preventing him from mounting an attack on eventual race winner Frazer. Stichbury and McConkey were a close third and fourth place, Ngatoa, Boniface, Evans, Tanner and Miller rounding out the field. Alex Hawley was the unfortunate DNF after a race-long battle with Tanner, the earlier engine gremlins becoming terminal
The final race arrived to Mother Nature throwing a curveball at the teams, a short rain shower providing a damp track for the race start. Crawley got the jump off Pole Sitter Frazer, to lead from turn 1 to the chequered flag, a decent result for the birthday boy. Further down the field, Tanner made a customary good start to go three-wide into turn one with Evans and Ngatoa, an ultimately short-lived battle. Overall, it was a win in tricky conditions for Crawley, a mere 1.7-seconds ahead of Frazer who topped off a great weekend with 2nd place. McConkey rounded out the podium with third place, just two tenths ahead of Stichbury. Ngatoa and Boniface rounded out the top-six, while Blake Evans had his best weekend yet in a Formula Ford to finish all three races without trouble in seventh, while Tanner and Miller rounded out the field.
With only one round to go, Crawley leads the series on 150 points, Frazer and Murphy lurking behind on 93 and 90 points respectively. A close battle for fourth is sure to come down to the consistency of the drivers and cars, Tanner on 83 points is ahead of Stichbury (80) and Ngatoa (79). Brodie McConkey sits in 5th (50), Hawley (37), Boniface (31), Evans (30), Miller (29), Jordan Mountfort (27) and Henry Thomas-Kircher (24) round out the field.
The Feilding Auto Electrical Winter Series wraps up on the first of September before the Formula Ford community heads to Pukekohe for the first round of the NZ Formula Ford National Championship as part of the support bill for the ITM Auckland SuperSprint. It is set to be one of the most exciting seasons yet! Keep tuned on the North Island Formula Ford and Formula Ford Racing NZ Facebook pages for information about the coming season.
Report: Cameron Tanner
Photo: Shots by TayB