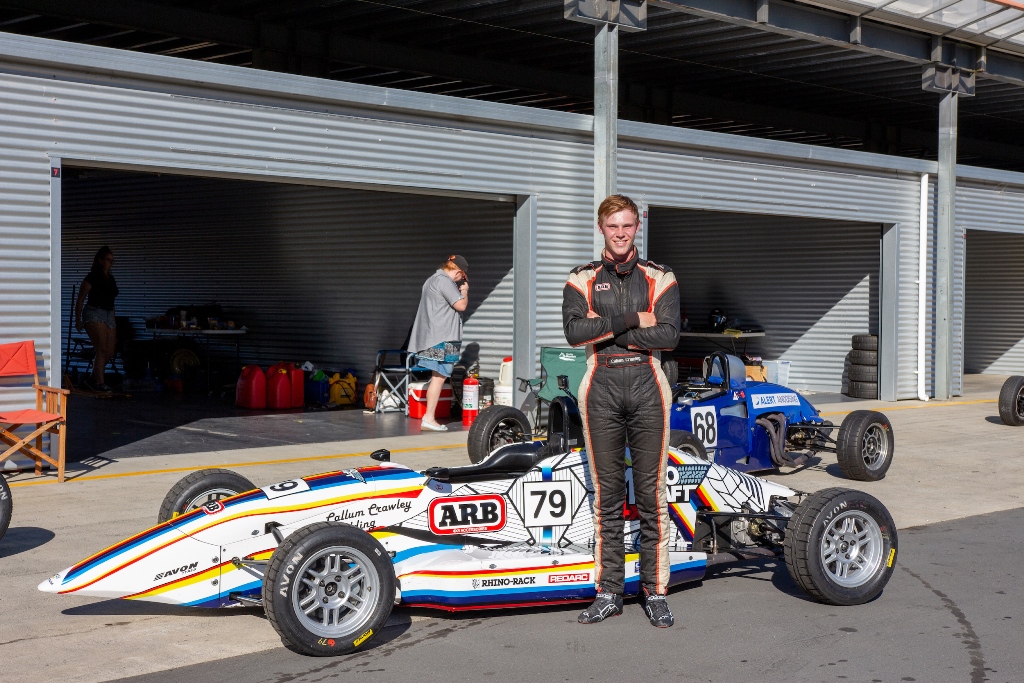 Callum Crawley set to take North Island Formula Ford winter Series title!
Sunday 1st September is set to be the final round of the 2019 Formula Ford winter series, and fast man Callum Crawley is in the box seat to take his second North Island Formula Ford tite in the space of a year
After winning the 2017/18 Formula First Championship, Crawley stepped up to Formula Ford for the 2018 season, where he clinched the North Island Formula Ford title in his debut season, and finished 3rd in the National Championship, being a consistent front runner since receiving his new Spectrum chassis.
A re-incarnated winter series kicked off in June, 4 rounds in 4 months at Manfeild Circuit Chris Amon, the goal was to provide drivers with a chocolate fish series to hone their skills before the New Zealand Formula Ford Championship starts September 13-15 at Pukekohe.
It was a modest field at round 1, with 5 cars still putting on a great show, Alex Hawley and Henry Thomas-Kircher were in-seperable throughout the weekend, having some tight battles that unfortunately ended early, as both were sidelined with car troubles. The fighting had allowed Crawley and class debutante Ronan Murphy to stretch their legs, claiming 1st and 2nd in each race. Cameron Tanner had been battling car issues himself all weekend after losing first gear on Saturday, but fought through to achieve his first podium in race 3.
Round 2 had proved a massive gain in numbers. With an extremely high quality field of 11 cars, each race saw a new winner. Crawley started the weekend where he left round 1, gaining the bonus point for pole and race 1 victory, before the weather turned for the worse, race 2 was won by Kaleb Ngatoa, his first weekend in Formula Ford having graduated from the Toyota 86 Championship, a superb result for Ngatoa and his team, having also debuted a brand new Spectrum 015 car. Race 3 and the weather had improved slightly to a damp track, and saw many offs for competitors. Crawley and Brody McConkey running off the road at turn 1 trying to out-brake each other, allowing Ronan Murphy to complete a strong drive to take line honours. However a post race penalty for lapping a slower Formula First under yellow flags promoted Zac Stichbury to the win in his Mygale SJ08.
Round 3 had not been as dramatic, and Billy Frazer had finally settled into his Spectrum 015, campaigned by Tom Alexander at selected rounds the previous season, to take Pole position and the first 2 race wins of the day. Race 3 was taken by Crawley with Billy Frazer a close second. Unfortunately Ronan Murphy had terminally damaged his engine in testing on Saturday, as a result Crawley leads the championship, while Frazer has jumped into 2nd, 57 points off Crawley. Murphy sits in 3rd only 3 points behind Frazer, while Tanner is holding onto 4th, just 3 points clear of Zac Stichbury and 4 clear of Kaleb Ngatoa.
Alex Hawley sits in 6th after a bad run of engine issues had caused multiple DNF's. Thomas Boniface, Blake Evans, Keith Millar, Jordan Mountfort and Henry Thomas Kircher round out the points table.
Round 4 is set to be the closest weekend yet. Separated from the Formula First field for the first time this weekend, Ronan Murphy and Billy Frazer are sure to be on the top of their game, ready to capitalize on any mistake or upset that may befall Callum Crawley to claim an unlikely series win. Race starts are sure to be the hardest fought battle for the leading trio, as any advantage gained can prove pivotal especially on a damp track, however the drafting nature of Manfeild and Formula Ford cars means a passing opportunity is certainly not impossible
However, the equation is pretty simple for Crawley, if Billy Frazer gains the maximum of 61 points (Pole, 3x race wins), Crawley must finish at least one race 12 or higher to clinch the win.
Tanner is set to hold onto 4th place in the leaderboard. Kaleb Ngatoa unfortunately is due to miss this round due to commitments overseas, while Zac Stichbury and Blake Evans are fully focused on the Supercars round at Pukekohe in just 2 weeks time and have taken the weekend to prepare their cars.
Despite this, it is expected to still be a strong showing. Thomas Bonniface is showing great promise in the ex – Jordan Michaels championship winning Mygale and will be one to look out for this round as the series rookie has shown great progress over his first two rounds.
Series regular Jordan Mountfort in his Stealth and newcomer Keith Miller with his Van Diemen are both looking for a strong showing as they hit the track on Sunday with close racing brewing up between the pair!
The New Zealand Formula Ford Championship will begin its 2019/20 season September 13-15 as apart of the ITM Auckland Supersprint weekend, While the North Island Formula Ford season starts October 6th at Pukekohe Park Raceway, before the two series join together at Circuit Chris Amon Manfeild October 19/20.
Report: Cameron Tanner