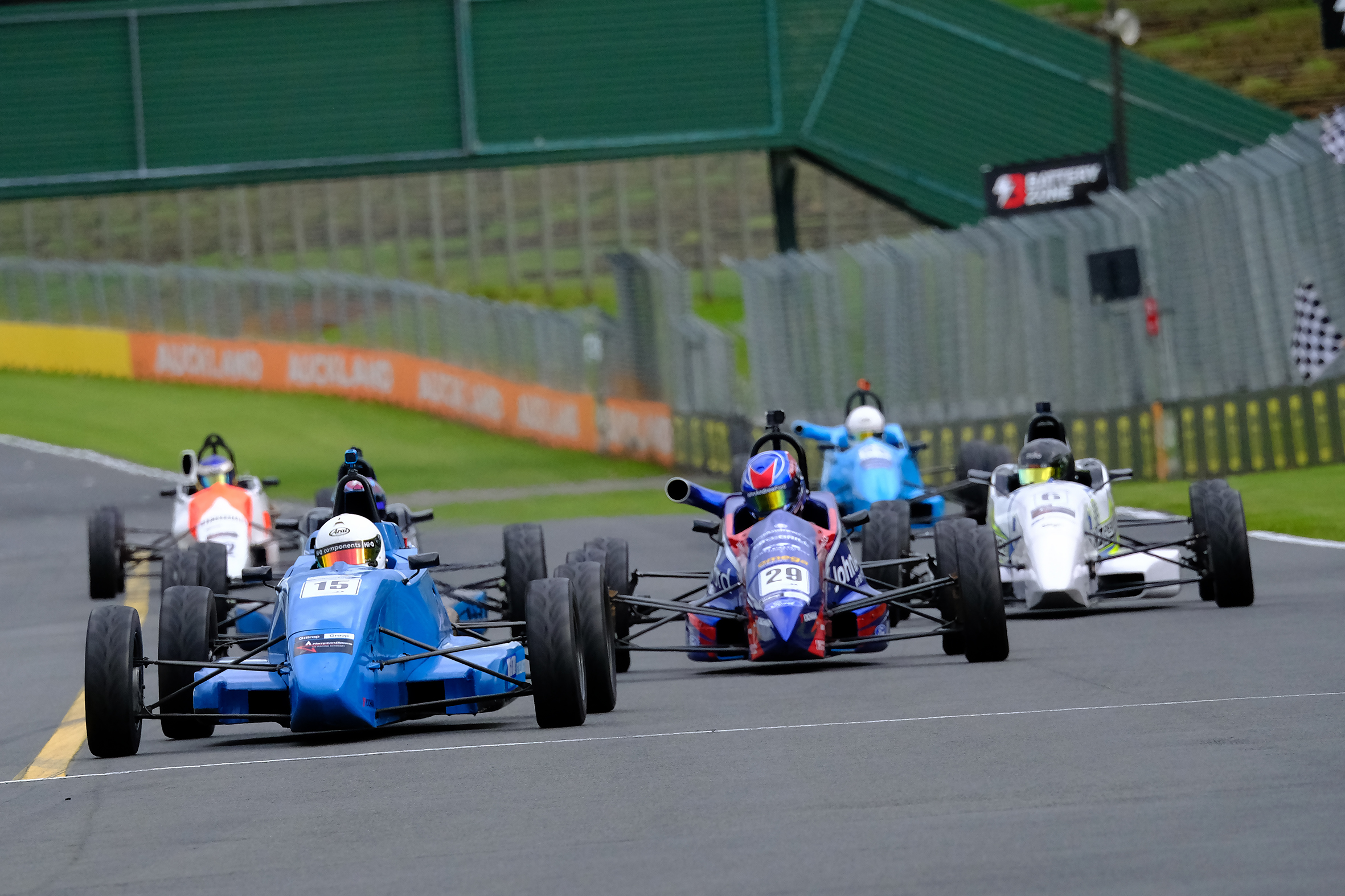 Wins for Grant as Sceats increases lead in North Island Formula Ford Series at Pukekohe
Dylan Grant may have come away from the third round of the 2022 Giltrap Group North Island Formula Ford Series with two wins from three races, however, current series leader Liam Sceats' consistent performance has won him the round and extended his overall points lead.
"I'm really happy how the day went," commented Sceats (Van Diemen Stealth). "With using the long back straight at Pukekohe, it always means there will be lots of passing and all three races were really competitive.
Pukekohe Park Raceway held the third of seven rounds as part of an Auckland Car Club meeting with qualifying and three races across Saturday. Sceats was awarded the Hampton Downs NZ Racing Academy $500 cash prize for setting the fastest lap in qualifying (1:02.999) ahead of Blake Dowdall (Spectrum 015) (1:03.463) and Sebastian Manson (Spectrum 015) (1:04.503). Unfortunately for Grant (Van Diemen RF03), he was immediately on the back-foot for the opening race having to settle for fifth fastest qualifying time.
"Our gear linkage was out of position so didn't get a decent lap in qualifying," commented Grant. "So, I started in fifth and finished fourth in the first race. The car was good so we focused on trying to get a fast lap for a better grid position for the next race which we achieved. I couldn't quite make the positions I wanted as the racing was so close."
As with all three races across the one-day event which saw up to seven cars battling for the lead each lap, the opener saw numerous lead changes with competitors taking advantage of the slipstreaming that the long-track offers. Sceats went on to win a close Race 1 from Leo Scott (Spectrum 05) and Dowdall with Grant fourth and Sebastian Manson fifth.
"It was whoever was leading on the last lap would have the best chance of winning," said Sceats. "It was hard to defend and hold position and it came down to who wanted it more. In the first race on the last lap, I was able to make a move into Turn 1 and hold onto the lead down the back straight to the end."
For both the second and third races, Grant and Sceats had a close battle for the win.
"It was tough racing," said Grant. "I knew if I got in front, it would be difficult to defend so my aim was to follow Liam (Sceats) which I did. I was quicker down the straight and he was able to stay within the draught. Every lap seemed to have a different leader so there was a lot of strategy about positioning the car for the last lap."
"Dylan's speed didn't surprise me," said Sceats. "I have raced him before and he was definitely the quickest on track today.
With Grant winning both R2 and R3 from Sceats, Leo Scott took his second podium in R2 finishing third while Dowdall took third in the final race and third overall for the weekend.
Sceats won the round from Grant and now extends his Series lead to 135 points from Dowdall who has worked for the last month to repair his car after a massive crash at the second round in support of the Supercars event, also at Pukekohe. The next round takes place at Taupo International Motorsport Park 20 November 2022.
On the line is a $500 cash prize for fastest qualifier provided by the Hampton Downs NZ Racing Academy. The award is part of the increased $66,000 prize pool from the Tony Quinn Foundation with funding for travel and testing opportunities with TOYOTA GAZOO Racing NZ.
The Giltrap Group North Island Formula Ford Series is also supported by Yokohama, the Tony Quinn Foundation and NAPA Auto Parts.