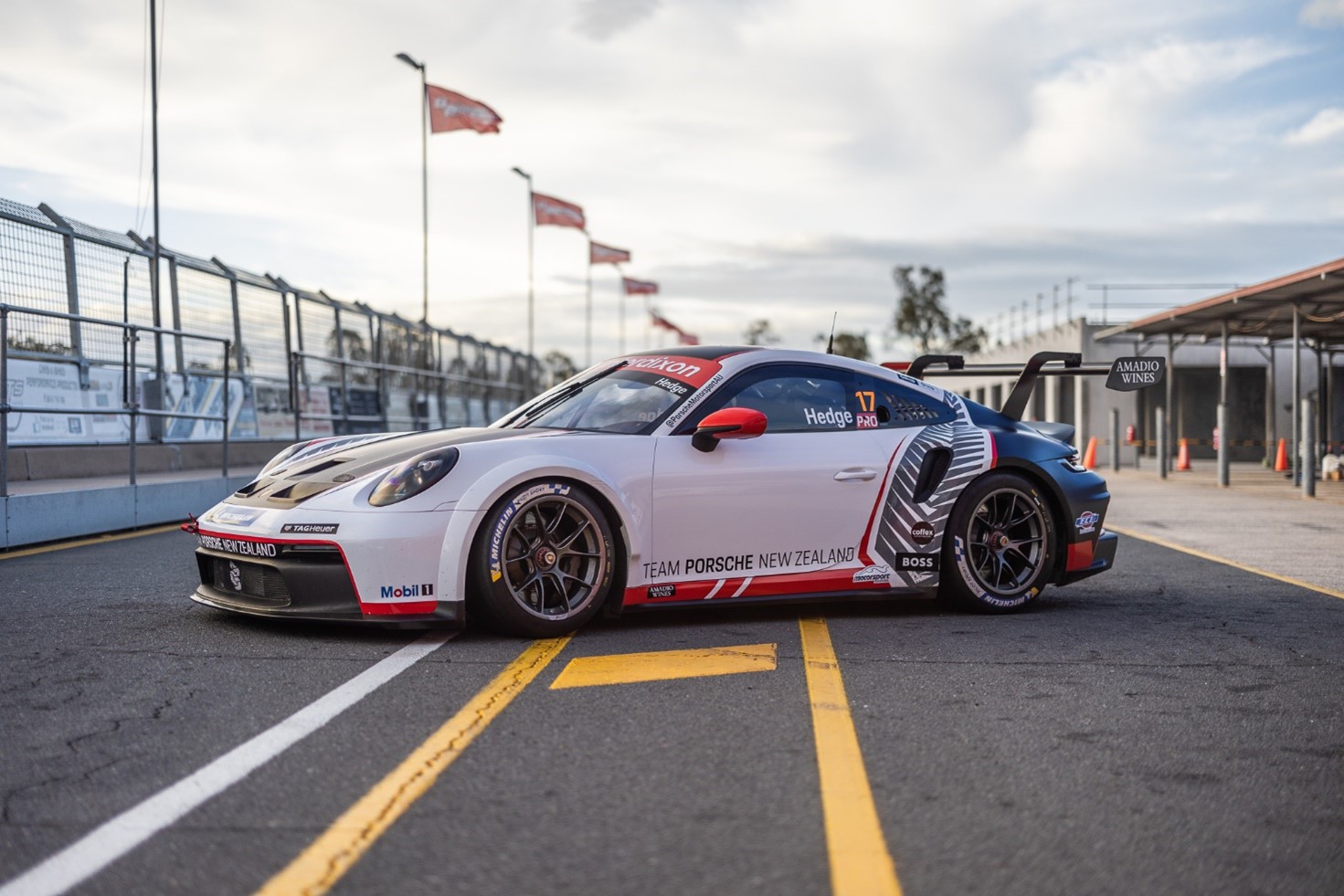 Finalists confirmed for the 2023 Team Porsche New Zealand Scholarship
Team Porsche New Zealand (TPNZ) have announced their top five finalists in the application process for its 2023 Scholarship programme. The programme is designed to support a young kiwi talent to drive in the Porsche Paynter Dixon Carrera Cup Australia and Porsche Michelin Sprint Challenge Australia series.
The finalists have been invited to put their skills to the test at a shootout in the 991.2 GT3 Cup Car at Hampton Downs Motorsport Park on 11th October 2022. The team from Earl Bamber Motorsport will be coming to New Zealand to meet the applicants and test their abilities on the track. In addition, the applicants will undergo athletic fitness and reaction testing, character interviews and media testing to identify the best applicant(s) to represent Porsche New Zealand in Australia in 2023.
The 2023 Scholarship recipient(s) will be announced on Sunday 6th November on the New Zealand current affairs show Sunday – airing on TVNZ 1 from 7.30pm.
The 2023 Team Porsche New Zealand Scholarship finalists (in alphabetical order):
Kaleb Ngatoa (21)
Starting his career in 2011 Kaleb Ngatoa has taken out five KartSport titles including three titles in 2015 at national, school, and North Island level.
In 2016 he won the Giltrap Group Kartsport New Zealand Sprint Championship in the Junior Rotax class and transitioned to circuit racing in the same year, winning the Formula First winter series, followed by second in the national championship in 2017.
After a season in the Toyota 86 Championship in 2018, he graduated to the Castrol Toyota Racing Series where Ngatoa took pole position for the New Zealand Grand Prix at Hampton Downs Motorsport Park on debut. Ngatoa finished second in the 2021 Toyota Racing Series before taking up a chance to race in the S5000 Australian Drivers' Championship and he won in his fifth race at Sandown International Motor Raceway.
Matthew Mccutcheon (19)
Matthew Mccutcheon's racing career began in Speedway at age 9 after watching his father race at Western Springs as a child. After competing in Midget cars Mccutcheon made the transition to tarmac in 2019 with a Formula First scholarship and was the 2021 North Island Formula Ford champion with 14 race wins and 5 pole positions.
In 2022 Mccutcheon has taken out the Tony Quinn Foundation Scholarship to help him compete in the Toyota 86 Series, already achieving a race win in his rookie season.
Ronan Murphy (21)
Inspired by his father Greg Murphy, racing has been Ronan's passion since a young age. Murphy took out the NZ Speedsport Scholarship Winner in 2018 and the NZ Formula First 'Rookie of the Year' award.
In 2019, Ronan competed in Formula Ford and won the Elite MotorSport Academy camp in July. In May 2020, Murphy was awarded the prestigious Ian Snellgrove Award as the overall Academy winner.
In 2020, Murphy competed in the Formula 4 United States Championship and Formula Pro Western Series achieving 2 podiums. Since 2021, he has been competing in the Toyota Racing 86 NZ Championship. In 2022, Murphy started his Porsche racing career competing in a 991 GT3 Cup Car in the South Island Endurance Championship (SIERDC) One-Hour race where he is currently 2nd in points in the class with 2 podium and a pole position.
Ryan Wood (18)
Ryan Wood is currently driving for Team Porsche New Zealand in the 2022 Porsche Michelin Sprint Challenge Championship Australia. He hopes to secure the TPNZ sponsorship for another year to compete in the 2023 Carrera Cup Australia. Wood is currently placed 2nd in the championship with 3 rounds remaining, including taking out 3/3 poles and 3 race wins.
Throughout his karting career in 2014-2019, Wood took out 10 karting championships across NZ and Australia, including competing in 4 world championships.
In 2021, he was the outstanding driver in the One-Hour South Island Endurance Series, winning all 4 races, and took out the most wins in the 2021 Toyota 86 Championship.
Zac Stichbury (21)
Following in the motor racing footsteps of his late father Ashely Stichbury, Zac began his career in karting in 2014. In 2018, Stichbury won the NZ Schools Championships and the New Zealand Rotax Max Challenge, then went on to represent New Zealand in the World Grand Finals in Brazil. He has since progressed through Formula Ford and had success with pole positions and top 3 finishes.
In 2022 Zac has been pursuing the completion of his degree in Industrial Design at Auckland University of Technology whilst securing a drive in the Toyota 86 Championship gaining a pole, race win, and a rookie of the round award.
Earl Bamber: "This year we've had an amazing group of applicants for the Team Porsche New Zealand scholarship. It's been incredible to see how much momentum we've had and also to see how much talent there is in New Zealand racing in all the categories. It's been very difficult to select the finalists, however we're very proud of the final 5 drivers that we have for the shootout test that we have coming up at Hampton Downs. We look forward to being able to judge them all and we're really interested to see how they go in the Porsche 911 GT3 cup car, and to choose the next person to become the Team Porsche New Zealand scholarship winner"
Porsche New Zealand General Manager, Greg Clarke: "We're pleased to receive such a high calibre of young motorsport talent in the initial application process. We are looking forward to seeing how their skills on paper translate in person, not only to judge their performance on the track, but we also want to get a sense of who they are as a person and see if they are the right fit to represent Porsche New Zealand on a global scale."
About Team Porsche New Zealand:
Team Porsche New Zealand was formed by Porsche New Zealand in conjunction with Earl Bamber Motorsport (EBM) in late 2019 to provide young New Zealand talent the opportunity and pathway to advance their motorsport career in Australia. The scholarship programme sees drivers competing in the Carrera Cup Australia which is a key component in the Porsche Motorsport Pyramid, and the feeder series, the Porsche Sprint Challenge.
The team is based in Brisbane and run by EBM, whose principal is two-time Le Mans 24-hour winner Earl Bamber. Earl himself progressed his motorsport career via the Porsche Pyramid through Carrera Cup Asia, Porsche Super Cup and ultimately as a factory driver for Porsche in both the World Endurance Championship and the North American International Motor Sports Association.
It is intended that each year a scholarship will be offered to support an exciting young New Zealand talent achieving a drive in the Carrera Cup Australia, and a second driver in the Sprint Challenge Australia. The combination of Bamber's international motor racing and Porsche Motorsport experience providing a unique opportunity to develop their skills and succeed.