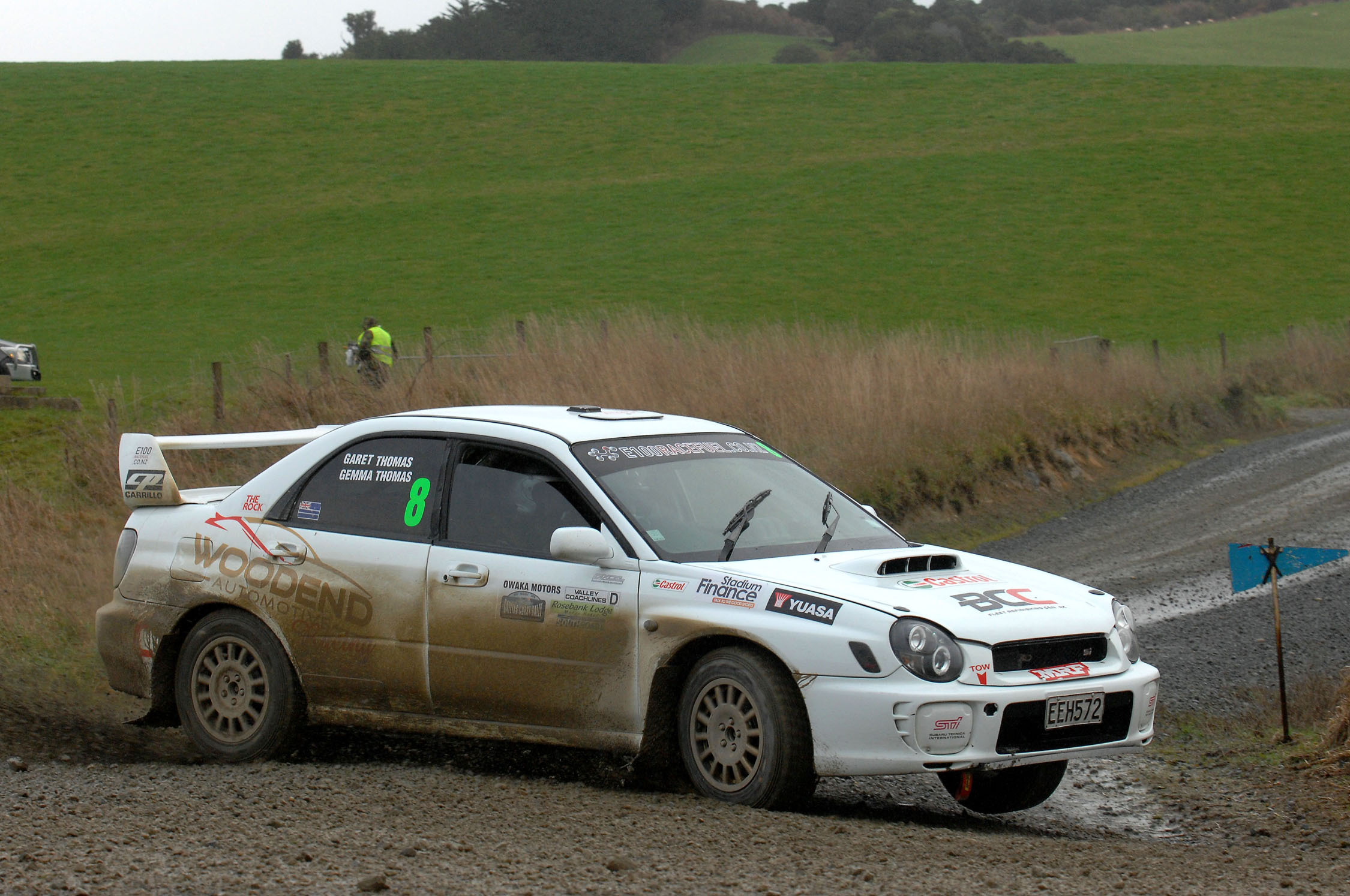 THOMAS PREVAILS AS LEADERS FALL IN CATLINS COAST RALLY
Garet and Gemma Thomas of Darfield won the Catlins Coast Rally on Saturday in a dramatic finish. The husband and wife team only took the lead on the final stage in a Subaru WRX Sti. The duo had cause for double celebration as their victory also gave them the Mainland Rally Series drivers and co-drivers titles respectively.
Defending champion and four-time winner, Andrew Graves of Gore, had won the opening four Special Stages and held a comfortable lead of over three minutes when he lost a wheel and went off the road on the penultimate stage handing the lead to Deane Buist of Christchurch in his Volkswagen Golf GTi MK2. Buist headed to the final stage twenty-five seconds ahead of Carter Strang of Wallacetown in his EVO 6 with Thomas third, thirty-three seconds off the lead. Both Buist and Strang suffered problems in the final stage leaving Thomas to come home to take an unexpected win and secure the Darryl Robinson Memorial Trophy.
"Real happy," was how Thomas described the result. "We couldn't ask for better. We came down primarily to try and win the Mainland Series and I was driving my father-in-law, Dave Ollie's car. "We were roughly there all day but I never thought we would beat the locals. We had no problems we just put in fuel and cleaned the windows, which was good as we were short on crew."
Job Quantock of Kaiapoi was second with Malcolm Read in their Mitsubishi Lancer EVO 8 seventeen seconds behind. Quantock said it had been "a pretty interesting day. At times there was heaps of grip at others absolutely none. It caught a lot out." Third was three-time winner Dean Bond of Balclutha in his EVO 6.5 despite several problems throughout the day. "I knew this rally often has a sting in the tail so I kept chipping away."
Sean Haggerty of Ohoka finished fourth ahead of Matt Wright, Regan Ross, and Jeff Judd. Mark McMillan of Invercargill drove impressively in his Subaru Legacy RS from thirty-nine to finish eighth with the top ten rounded out by Marcus Van Klink and Barry Mills of Balclutha in his Hillman Avenger.
The Kerry O'Donohue Memorial Trophy for the first South Otago crew home went to Dean Bond and his co-driver Scott Milne while the Glen Shirlaw Memorial Trophy for the first Otago Sports Car Club driver home went to Nigel Lawson of Mosgiel.
Graves, co-driving with son Hayden, and looking for his fifth win in the event grabbed the lead early in his EVO 3 and was cruising with a comfortable lead only to slide off the road in Stage 5 after a wheel parted company with the car. "It happened just before a really dangerous corner and we were just passengers," said Graves. "It was really slippery. We blew a strainer out of the ground and did a bit of damage to the car including blowing an oil cooler to bits so we couldn't continue. I am more gutted for my sponsors, my team and my son." Graves' demise left Deane Buist of Christchurch in the lead in his VW Golf and heading for an unlikely win in a 2 litre front wheel drive car only for the car to grind to a halt when a coil lead came out when they hit a bump in the final stage. Co-driver Karl Celeste eventually found the problem but too much time had been lost and they dropped to eighteenth in the final classification. Buist said the VW was "going really good" and that he had not found the conditions too bad. Fourth seed and last year's third placegetter, Carter Strang of Wallacetown, ran strongly all day in his EVO 6. He was third in the first stage but ran out of fuel in the second, losing time and dropping to nineteenth. He finished third and second in the next two stages before winning the penultimate stage which took him back to second place. However like Buist, he struck problems in the final stage damaging a transfer case 10 kilometres in which caused the back wheels to lock ending his rally.
Second seed Matt Summerfield was running second in his Impreza behind Graves until he ran off the road in Stage 4. His father, Les a former winner of the rally, was running down the order and stopped and towed him out and Matt was able to win the final stage of the event and finish, albeit well down the field.
Other prominent competitors to strike trouble were sixth and seventh seeds Michael Tall and John Giltrap, David Quantock, Class C frontrunner Jason Keach who went off the road in Stage 3, and Class B ace Richie Chadwick who went off on Stage 2. Jeremy McIlwrick of Winton was having a tremendous run starting twenty-third and climbing up to eighth after two stages only to go off the road in Stage 3 and Steven Thompson of Mosgiel had an engine problem while sixteenth.
The Stadium Finance Southern Challenge for drivers who crossed the water to compete was won by Brian Green/Fleur Pedersen of Palmerston North while the two recipients of Stadium Finance Novice Drivers Challenge prizes were Caleb MacDonald of Queenstown and Brayden King of Invercargill and the Stadium Finance Novice Co-Drivers Challenge went to Will Bathgate and Caleb Kirk.
With the top three finishers ineligible for class prizes, the Class D Valley Coachlines 4-wheel-drive honours went to fourth placegetter Haggerty in his Impreza while the Ritchies Class E for Pre 96 4-wheel-drive cars went to fifth placed Matt Wright in another Impreza. Regan Ross won the Derek Ayson PGG Wrightson Real Estate Class G for 1701cc & over classics in his MKII Escort while Balclutha driver Craig Barclay took the Window Tint South Class C for 2-wheel-drive cars of 1601cc & over in his Ford Escort in twelfth place while eleventh earned Robbie Stokes the Alexandra Auto Electrical Class B victory. Nigel Marshall of Wyndham drove an exceptional rally to take the NJL Building  Class F for 0-1700cc Classics with thirteenth place in his Datsun 1200 and Tim Smith of Christchurch of secured the Balclutha Auto Electrics Class A for 2-wheel-drive cars of 0-1300cc.
The Eastern Southland Car Club is delighted to have the support of the Clutha Licensing Trust through their Rosebank Lodge Balclutha establishment, plus  Southroads, Owaka Motors, Yuasa Batteries and Stadium Finance. The club is also especially grateful to Rayonier Matariki Forests, the Clutha District Council and the McNab Family for their assistance with the event.
Media release: Lindsay Beer for Catlins Coast Rally
Photographs: Garet & Gemma Thomas winners of the 2019 Catlins Coast Rally – please credit  Euan Cameron