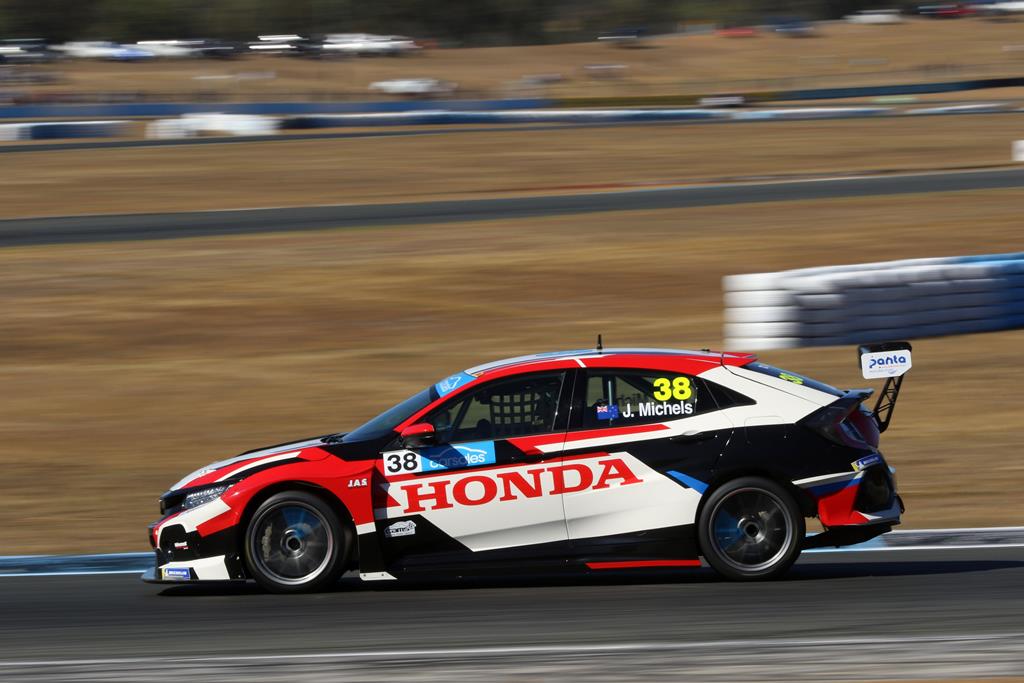 MICHELS ENTHUSED AFTER TCR ROUND IN AUSTRALIA
Jordan Michels of Invercargill has returned from his initial outing in the carsales TCR Australia Series at Queensland Raceway full of enthusiasm.
Michels had received a last minute opportunity to drive a Wall Racing Honda Civic Type R and impressed despite battling illness part of the weekend.
Michels had introduced himself to Wall Racing Team Manager, David Fyfe at the TCR launch in New Zealand and shortly afterwards Fyfe rang offering a drive. Six days later Michels was on a plane to Australia.
Race weekend started with a 7am track walk on Friday where Michels met his engineer with whom he instantly got on well and one of his team mates – DJR Team Penske endurance star Tony D'Alberto who gave plenty of tips. Two practice sessions followed – Michels chipping away as he got to grips with a new circuit, team and car. "I took a lot away from the team debriefs with Tony and John Martin" (Jordan's other vastly experienced team mate).
After qualifying 15th on Saturday Jordan had to master the start procedure in a TCR car for the first time. "It's complicated – you have to co-ordinate the clutch, handbrake and launch control."
The start was not a bad one and Michels settled into a good drive. A small mistake during the race cost him but his lap times were good and he was eventually classified 11th in a pleasing debut.
Michels was not feeling well by the end of the day and when Sunday dawned he had a fever but armed with Panadol he rolled up for the two Sunday races. Once again he had a good race, dicing with Jason Bright eventually getting the better of him and chasing Alex Rullo hard before the car lost front grip, a legacy of a slightly deflating tyre leaving him twelfth. Michels was "super stoked" particularly when he found his lap times were now only half a tenth of a second off D'Alberto's best. Race three followed almost immediately as Jordan had another good race battling with Bright and Aaron Seton to again finish twelfth.
Michels was full of praise for the team. "There was a good vibe similar to our team at home. They picked us up from the airport and provided amazing hospitality. My team mates Tony and John were really approachable, friendly and welcoming. Best of all, my Dad Rick, was able to be there. We set off on our motor racing journey together 10 or 11 years ago and it was great to share the moment with him.
Photograph – Jordan Michels in action in the Wall Racing Honda Civic Type R at Queensland Raceway.
Media release: Lindsay Beer, on behalf of Jordan Michels