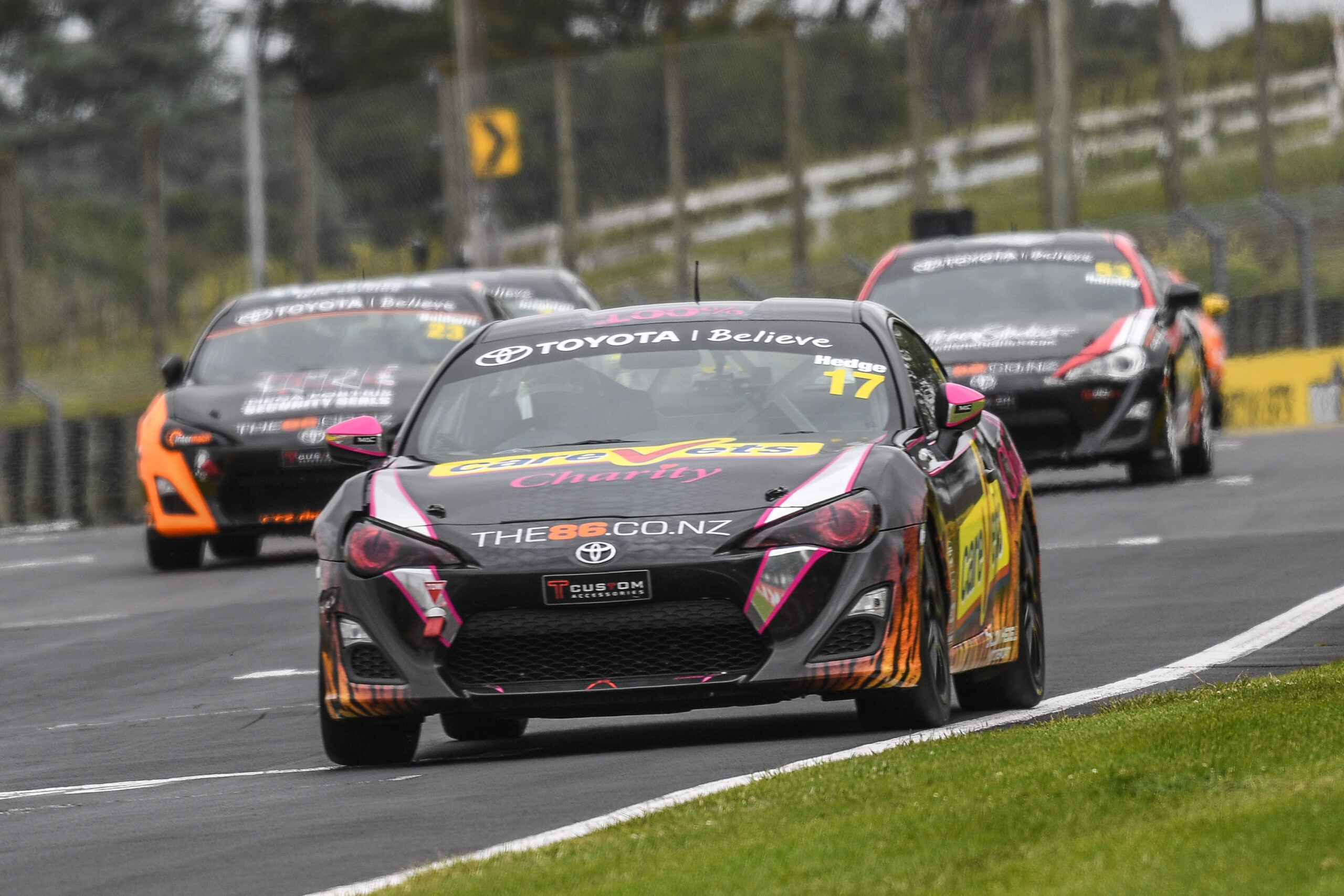 Hedge secures round after dramatic third race
Fifteen year old Callum Hedge took his first round win in the Toyota 86 Championship season with an outstanding victory in one of the best races ever seen in the category at Pukekohe Park.
For much of the final fifteen lap race on the iconic, original Pukekohe layout a leading pack consisting of Hedge, CareVets team mate Arran Crighton, Saturday race winner Jaden Ransley and Peter Vodanovich went toe–to-toe on almost every corner of every lap.
Hedge had it far from easy having only started fifth on the grid for the final feature race. And it wasn't until lap 14 – the penultimate lap of the epic encounter – that the CareVets racer made his decisive move, out braking Jaden Ransley in the Miles Toyota/Kitchen Studio car at the hairpin for the lead and grabbing a car length lead to take into the final lap. He held on to win and afterwards was quite relaxed about what had been an intense battle throughout.
"Jaden was blocking pretty hard and once he moved and I gave him the big dummy," explained the young racer. "I let off the brake and sailed on in through the inside. I'd had a go at Turn 4 and he'd shut the door but I wasn't really close enough so that was fair enough."
Behind him, the scrap for the remaining podium places was as intense as it gets in motorsport and at the flag it was Jordan Baldwin who took second in the Intermach NZ car, Arran Crighton who took third on the road but was later penalised 15 seconds which dropped him to 12th. That left Ransley in third after running wide on the grass on the exit of the hairpin in his duel with Hedge.
Baldwin's drive was particularly notable. A differential failure before the meeting had hampered his form in qualifying, and between race two and race three his crew also changed a gearbox.
Brock Gilchrist bagged his best result of the season so far with a fighting fourth place in the Nexus Logistics car, and Connor Davison got his best result in the championship so far with fifth in the Hampton Downs/Highlands racer. Connor Adam ended a difficult weekend with a sixth place, followed closely by Kaleb Ngatoa in seventh in the JJ Wallers 86 and Vodanovich in eighth in the CMC Markets car after a wild ride over the turn one grass eliminated him from the lead battle. Jacob Cranston also excelled to take ninth in the Best Bars/Vista Lite car with Justin Allen rounding out the top ten for Battery Town.
Once the dust had settled Hedge was confirmed as the round winner and series points leader with two of six rounds completed. Connor Adam, who had led the series points after the first round in the Post Haste car, slipped back to second in the title hunt after a challenging weekend. Jaden Ransley sits third, with Jordan Baldwin and Brock Gilchrist completing the top five points positions.
Toyota 86 Championship – Round 2 Race 3 Result
1. Callum Hedge – CareVets NZ Ltd
2. Jordan Baldwin – Intermach NZ/Carters
3. Jaden Ransley – Miles Toyota/Kitchen Studio
4. Brock Gilchrist – Nexus/Giltrap Group
5. Connor Davison – Hampton Downs/Highlands Park
6. Connor Adam – Post Haste/Weigh Northland
7. Kaleb Ngatoa – JJ Wallers/Capture Signs
8.  Peter Vodanovich – CMC Markets/MacClure's ITM
9. Jacob Cranston – Best Bars/Vista Lite
10. Justin Allen – Battery Town/Thunder Adventure
11. Leo Bult – North Shore Toyota
12. Arran Crighton – CareVets NZ Ltd
13. Sam Wright – Tony Richards Toyota/Premier
14. Mitch Hughes- Gilpin Cartage Contractors
15. Campbell Stewart – NZPGS/Hydraulink
16. Tony Austin – Genweld
Points after two rounds
1. Callum Hedge – 378
2. Connor Adam – 364
3. Jaden Ransley – 363
4. Jordan Baldwin – 348
5. Brock Gilchrist – 262
6. Peter Vodanovich – 247
7. Kaleb Ngatoa – 232
8. Arran Crighton – 225
9.  Campbell Stewart – 184
10. Jacob Cranston – 180
11= Sam Wright – 177
11= Connor Davison – 177
13. Jake Klein – 143
14. Mitch Hughes – 141
15. Justin Allen – 134
16. Andrew Jackson -111
17. Tony Austin – 102
18. Leo Bult – 80
Caption:  Callum Hedge was class of the field at Round 2 for CareVets.  
Picture: Bruce Jenkins
Media release: Toyota Racing NZ http://www.toyota.co.nz/racing/