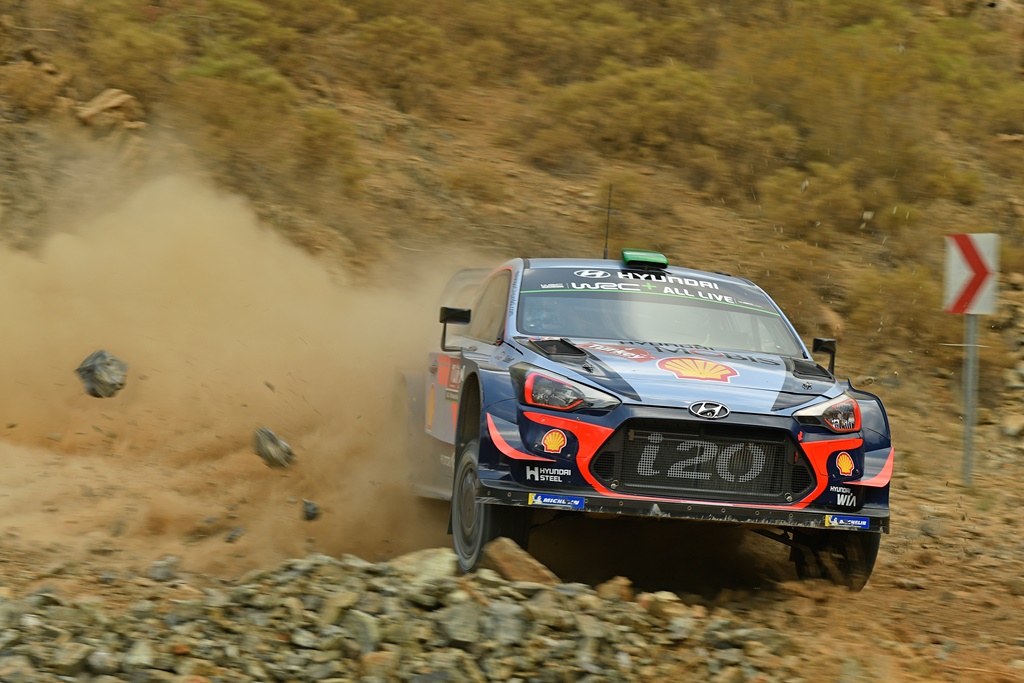 Finely-judged third for Paddon in Turkey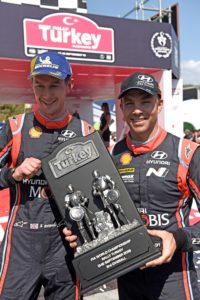 Kiwi rally driver Hayden Paddon has secured his first podium finish of the 2018 World Rally Championship season in Turkey. With his British co-driver Seb Marshall, Paddon stuck to their plan of being consistently fast and clean to finish Rally Turkey with a strong result for Hyundai Motorsport and bring home his seventh WRC career podium finish.
The 13-16 September running of Rally Turkey was the first time the current group of WRC crews had competed in Turkey, which last hosted a WRC event in 2010. The event comprised a compact route around the host city of Marmaris in south-west Turkey on the Mediterranean.
Paddon and Marshall started the Turkish event on Thursday evening slightly handicapped by a malfunctioning handbrake in their Hyundai i20 WRC, securing only the 17th equal time on the opening super special stage in the streets of Marmaris.
Expectations of hot, rough and rocky roads were met, particularly during Friday's six special stages (a repeated loop of three stages). Running 11th on the road, they were second fastest on the rally's longest stage of 38.1km, one that WRC commentators named the toughest of the season, to jump up the leader-board to fourth.
The incredibly rocky roads challenged all 13 WRC competitors and didn't provide the slight advantage of clearer lines for those further down the running order that is normally expected. Despite that, Paddon and Marshall continued to set top five and six stage times in a close-fought battle all day. They were sixth on the leader-board by day's end, just 3.2 seconds off Ott Tanak in fifth place and 35.1 seconds from Hyundai team-mate Thierry Neuville in first – so well within touch of the top three.
Of Friday, Paddon said: "It has been a hard day's work for pretty much everyone out there today. Some of the roughest conditions I have ever seen! We had a plan from the start, aiming to be sensible, look after the car and keep the driving nice and clean. We didn't really get an advantage from our road position so we just stuck to our pace notes. The afternoon was even harder, and it is testament to the strength of the cars that they withstood the stages as much as they did. We had a broken damper on the final stage, which didn't help matters but we're P6 in an incredibly close fight. Considering the conditions, that's not a bad start."
Paddon and Marshall kept their cool in Saturday's 30+ degree temperatures in a drama-filled day of rallying as Hyundai Motorsport team-mates and other leading WRC crews struggled with broken suspension, drivetrain issues and more. They stuck to a plan of fast and clean, moving from sixth on the leader-board to third throughout the day. While tyre wear was a major issue for the pair, they continued their consistent run with top four and five stage times throughout Saturday's 130.62 competitive kilometres of six special stages (three repeated stages).
Paddon said of Saturday's action: "It has been complete mayhem out there today. We have stuck to our plan, and it seems to have paid off. It didn't quite work out yesterday but this has, at times, felt like a different rally compared to Friday. It's been much more loose and particularly tough on the tyres. In the afternoon loop, we had to take it a bit steady towards the end because our tyres were practically bald. I have learned my lessons from previous rallies, where we've gone out too fast too early and ended up by the side of the road. It can be frustrating when you look at the stage times, but it seems to be a good tactic. I'm happy to be in P3, although sad for my team-mates who were forced to relinquish their respective leads of this rally."
The pair went into Sunday in a clear third place – behind second-placed Jari-Matti Latvala by 57.4 seconds and ahead of fourth-placed Teemu Suninen by a safe margin of over two minutes. Paddon described the need to preserve his third place with a calm, measured approach as like being in no man's land.
"It's about playing the long game in this rally. When you're in 'no man's land' it can be really hard because you have to look after the car. It can be really painful but it's what you have to do."
With steady sixth and seventh-fastest stage times, they got to the final special stage – the bonus-points earning power stage – still easily in third, and bought home their best result of 2018 with a safe run through the exciting power stage which ended next to the Marmaris rally service park.
Paddon said: "I am really happy to take our first podium of the season. It has been a very tough rally. We have adopted a particular strategy this weekend that has required us to hold back and be patient. Thankfully that approach has paid off and we have been rewarded with third place – it's been a while since we've been on the podium! It hasn't been the rally that the team wanted or deserved. I am fully behind them coming back in the final rounds of the season and I am personally looking forward to Wales Rally GB."
Hyundai Motorsport team-mates Andreas Mikkelsen and Anders Jæger, who had led the rally on three separate occasions before technical issues on Saturday afternoon, finished in fifth place. Following their retirement on Saturday morning, Thierry Neuville and co-driver Nicolas Gilsoul re-joined under Rally 2 on Sunday and went on to bank the five important points from the power stage to maintain Neuville's lead in the WRC drivers' championship standings.
The 15 points for third place moves Paddon from 13th to 10th in the WRC drivers' championship.
Paddon's next event is the Ashley Forest Rallysprint in North Canterbury, New Zealand next weekend, 22-23 September, with his Hyundai i20 AP4++ rally car, before he returns to Europe for the 4-7 October running of Wales Rally GB where he'll again compete for Hyundai Motorsport.
Paddon and Hayden Paddon RallySport Global (HPRG) Ltd appreciate the support of their exclusive partners, Hyundai New Zealand, Pak'nSave, Winmax Brake Pads and Z Energy.
Media release: Relish Communications
Image: Marcin Rybak, Rallyart Photo