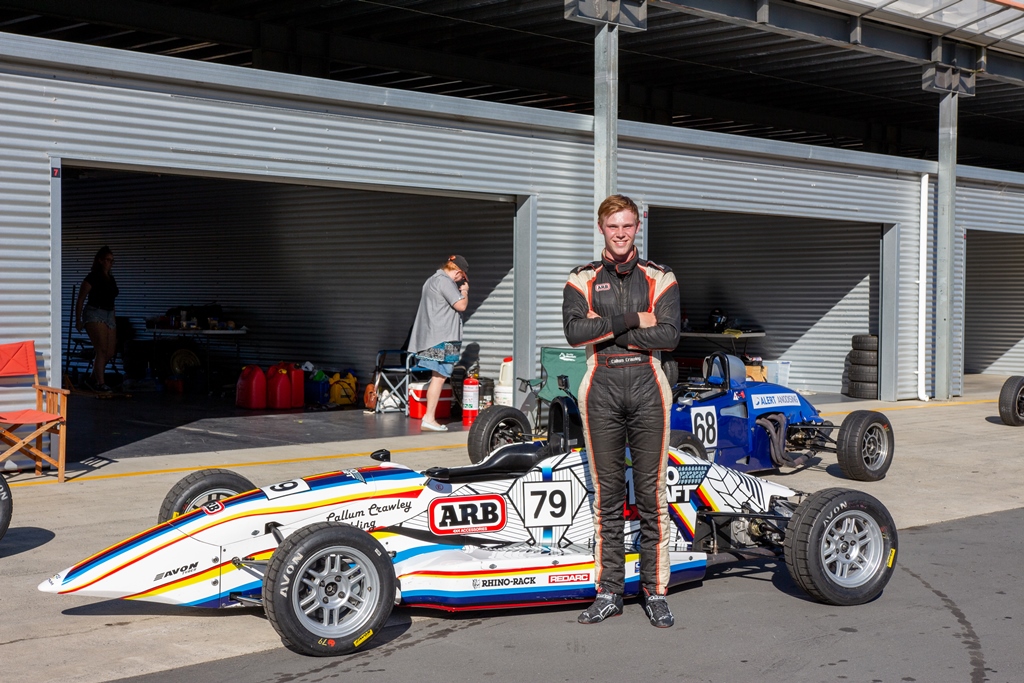 Callum Crawley Seals North Island Formula Ford Championship!
Callum Crawley has won the North Island Formula Ford Series in his rookie season. The 2017/18 NZ Formula First champion and 2018/19 NZ Formula 1600 Rookie of the year finished his first season in Formula Ford racing in style, claiming 3 wins from 3 races aboard his Spectrum 016.
Leading into the weekend, only 22 Points separated Callum Crawley of Feilding and Alex Hawley of Pukekohe.
Many drivers in the 20 car field, consisting of 13 Formula Fords and 7 Formula Juniors, were caught out in the cool conditions of Qualifying. Cameron Tanner (Van Diemen #68) locked a wheel and ran into the turn 2 escape road on his first flying lap, hindering the progress of others with yellow flags. Most notably though was the absence of Callum Crawley, who was affected by engine issues resulting in loss of power. The session was eventually redflagged early, a result of Alex Hawley (Stealth #41) spinning into the gravel at turn 3.
Hawley had set the fastest time by a convincing 1.3 seconds over Kim Crocker (Van Diemen #6), however the deletion of his fastest time for the red flag promoted Crocker to his first pole of the season, David Silverton lined up P2 on the grid and Hawley finishing P4 with his second best time. Callum Crawley would start from the back of the Formula Ford grid in 13th, a long way behind title rival Hawley.
Race 1 was an impressive affair for Crawley, who had a dream start to make up 8 spots on the first lap and eventually win with a 2.4 second lead over Kim Crocker, the podium being completed by Alex Hawley who once again had engine dramas slowing him down on the exit of Hamptons downs' multiple hairpins. Tony Graham was 4th and Nick Buxeda completed the top 5, both managing to pass David Silverton who finished 6th, the top 10 being completed by Grant Campbell, Phil Foulkes, Paul Dold and Cameron Tanner.
The second race was a lights to Flag triumph for Crawley. Due to setting the fastest lap of the day in the first race, a 1:10.552, Crawley started on pole and was not troubled all race, taking the checkered flag with an impressive 9.4 second lead. Kim Crocker made the most of his starting position to gain another 2nd place, Nick buxeda making it onto the podium for the second round in a row in his near identical Van Diemen. Tony Graham finished impressively in 4th once again, while Cameron Tanner gained a season best finish of 5th after some close racing with David Silverton (6th) and Grant Campbell (7th). The top 10 was filled by Phil Foulkes, Geoff Bogue and Paul Dold.
Alex Hawley failed to make the start line for Race 2, pulling into the pit lane after the formation lap, ironically having a similar issue to that of championship rival Callum Crawley in qualifying.
The final race of the season was much like the previous race, Crawley once again had a convincing win with a margin of 10 seconds, Kim Crocker, Nick Buxeda and Tony Graham continuing on their 3 way scrap for 2nd, all 3 cars separated at the line by only 2.2 seconds. Alex Hawley managed to make the grid, however slowed going through turn 2, this allowed David Silverton and Grant Campbell to seize the opportunity to pass the boxed in Cameron Tanner and the slowing Alex Hawley. Tanner managed to re-pass Silverton and Campbell to gain 5th place back before a bent valve resulted in a DNF, while Silverton fell back towards the end of the race, resulting in Campbell finishing 5th, and Silverton in 6th. Paul Dold, Geoff Bogue, Vic Clarke and Robert Corbett completed the top 10
After 5 rounds of racing, 3 different winners and pole sitters, the title was awarded to Callum Crawley of Fielding. Alex Hawley Finished 2nd after a very strong start in October, eventually losing out due to reliability woes. Missing the first 2 rounds did not seem to affect Kim Crocker. Bouncing back in a strong way with two 2nd round placings and one 4th, Crocker was only 7 points behind Hawley at the seasons end.
Alex Hawley did take out Class 2 honours by a comfortable 111 points, while Dave Silverton was top in class 3, 36 points clear of Tony Graham.
The North Island Formula Ford series will continue in the 2019/20 season, with some more great action and close racing assured!
Article: Cameron Tanner