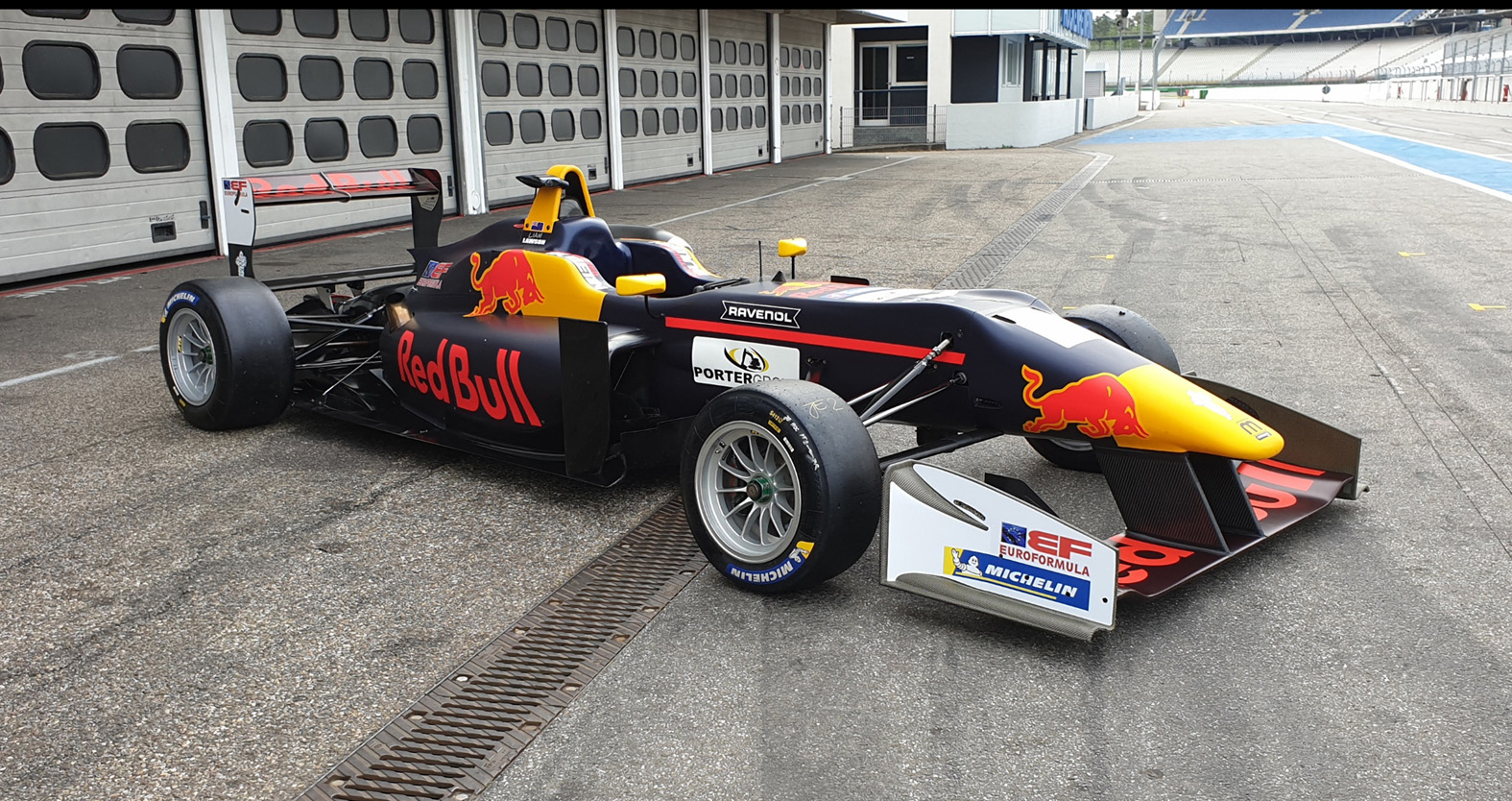 Lawson top on debut at the first day of Euroformula Open in France
Liam Lawson had a dream debut in Euroformula Open when testing started for this weekend's opening round at Paul Ricard in France overnight.
The Red Bull Junior Driver showed his lack of any previous testing didn't stop him from stamping his mark on the first day and he was the only one to record a sub 1-minute 58-second lap time.
"This car is completely different to drive than the FIA car we've been testing recently, so for a good part of the morning session I was having to think about that and get used to this car," said Lawson.
"The more laps in it the more comfortable I'm getting. I've had to also completely change my driving style to the way I was taught to drive this car before, because of the way Motopark set their car up, so that's taken a little time to adjust.
"We made heaps of changes today and going faster, so it's great to be pushing on."
Driving for German team Motopark, Lawson set the benchmark at 1:57.850 to Swedish driver Linus Rundqvist, with Cameron Das (USA), Yuki Tsunoda (Japan), Julian Hanses (Germany) and Lukas Dunner completing the top six.
With Motorpark making a late switch to Euroformula Open [EFO] when the proposed Formula Masters series for similar cars fell over, the team missed the official testing at Barcelona and Monza in February. They've organised their own testing recently but with Lawson committed to FIA F3 testing and unavailable, respected Swedish driver Joel Eriksson was assigned testing duties.
The Motopark cars needed to be altered to EFO rules from when the team ran them last year in the now defunct European F3, and principal Timo Rumpfkeil said the lack of pre-season mileage won't be a disadvantage to them this weekend.
"We have on one side a slight disadvantage being low mileage with the cars in EFO configuration, but on the other hand we have very good data base and knowledge of these cars.
"I think our biggest challenge will be to get Liam comfortable in the car in very short time. We will support him maximum to ensure there is enough time for him to challenge at the very front."
Lawson also outpaced his other Red Bull Junior team members, Tsunoda (4th) and Australian teenager Jack Doohan (12th), son of five-time world motorcycle champion Mick Doohan.
Lawson's racing campaign in Europe is proudly supported by the Porter Group, Turners, and Giltrap Group.
Private Test 1 – Top 10
1. Cameron Das 1:58.570
2. Liam Lawson (Motopark) 1:59.068
3. Calan Williams 1:59.113
4. Lukas Danner 1:59.262
5. Yuki Tsunoda 1:59.416
6. Guilherme Samaia 1:59.593
7. Petru Florescu 1:59.597
8. Linus Lundqvist 1:59.597
9. Billy Monger 2:00.007
10. Julian Hanses 2:00.151
Private Test 2: Top 10
1. Lawson (Motopark) 1:57.850
2. Lundqvist 1:58.052
3. Das 1:58.201.
4. Tsunoda 1:58.334
5. Hanses 1:58.601
6. Dunner 1:58.738
7. Williams 1:58.872
8. Samaia 1:58.954
9. Teppei Natori 1:59.092
10. Marino Sato 1:59.233
Calendar 2019  – Euroformula Open 
27-28 April, Paul Ricard, France
18-19 May, Pau, France
25-26 May, Hockenheim, Germany
8-9 June, Spa, Belguim
6-7 July, Hungaroring, Hungary
13-14 July, Red Bull Ring, Austria
7-8 September, Silverstone, England
21-22 September, Barcelona, Spain
12-13 October, Monza, Italy
Caption: Lawson's Euroformula Open car.    
Media release: Grant McDonald